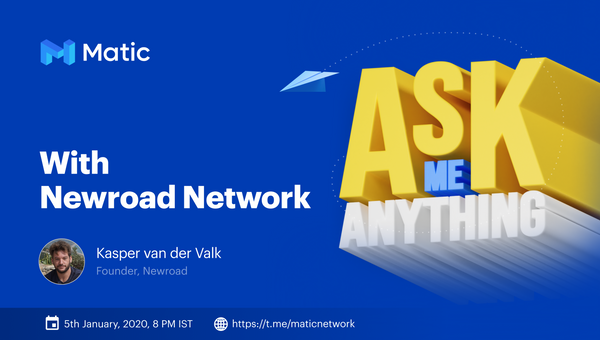 On the 5th of January, 2021, Kasper van der Valk, the Founder of Newroad Capital, was live at the Matic Network telegram AMA Session, to provide the Matic community with insights on their validation infrastructure and why users should stake on their validator node. The session was moderated by Delroy, one of Matic Network's Telegram Community moderator.
In order to ensure clarity to my readers, this article has been divided into two segments; the first segment, gives full account of the questions asked by the moderator of this AMA session (Delroy), while the second segment, gives account of the questions asked by Matic community members.
SEGMENT 1
Delroy — Hey Kasper, Thanks for joining us today. How are you doing? I hope you had a good start to the year.
Kasper —
Hi, I'm doing good. Exciting tart of the year. Thanks for having me
Delroy — Great! So would you like to tell us something about Newroad Network? Maybe a brief introduction would really help the community.
Kasper —
Sure, Newroad Network is an independent staking, delegation and oracle services company with experience on multiple networks. We are based in the Netherlands and are excited to scale to enterprise delegation and governance requirements as the (PoS) blockchain space grows.
###Delroy — Nice! You're the only validator group that I know are from the Netherlands. I hope the restrictions in the Dutchland have been eased wrt to Covid now. I remember when we last spoke there were imminent lockdowns.
Kasper —
For Matic I believe that is the case. Sadly no. The Netherlands is still in lockdown. And the cases are still high.
Delroy — That is too bad. I hope everything is good with you all.
Kasper —
Luckily the team and I are doing fine.
Delroy — Great. So Kasper, could you also tell us about the networks / projects that you're operating nodes on?
Kasper —
We run nodes on multiple networks like Tezos, Cosmos, Oracle service on Chainlink, ICON, CELO and more. We support projects that we believe will have an impact on real world usages and have an honest potential for improving markets and help building on a sustainable economic future. We try to be diverse in our node portfolio by looking at Layer 1 and 2 networks, the goals that they have set and their geographically origin.
Delroy — Thanks for the info. I'm sure the community will love to hear more about that. So what made you choose Matic Network as one of the projects to operate a node on?
Kasper —
We work a lot on the Ethereum network and make many transaction per hour. And especially the last year (and the last couple of days) due to high gas spikes it can be real tough and expensive to make the necessary transaction. Matic is/will be a great addition and make Ethereum scalable.
Delroy — Absolutely! And that is one of the profound reasons that we have started Matic as well. To ensure that you operate your node efficiently, what measures do you take for that?
Kasper —
We have an excellent monitoring system in place that will notify the on call engineer 24/7 in case of an incident with impact high/critical. We also have a same setup as back-up. So in case of an disaster we can easily switch our validator signer key and we are back up and running.
Delroy — That's really good. I know for a fact that your node has been running excellent since you guys onboarded on Matic. Kudos to you and your Team for maintaining such high efficiency node.
Kasper —
Thanks.
Delroy — In terms of Delegation, why should delegators stake on your node? What would be the benefits for them?
Kasper —
The security and strength of a network is utmost important and mainly the task of a Validator to provide this. For us this means Enterprise hardware located in our private datacenter, 24/7 monitoring with on call engineer, active back-up validator, our own eth nodes.
We also provide help where needed (mostly for newcomers and Matic-Chainlink node runners) and we are on the board of advisory for Matic. We see a lot of potential in Matic and Newroad Network will be here for the long road and help making it a success.
Delroy — That's really good info. Thanks for sharing that with us. What would be the commission rate that you are planning to set for your node?
Kasper —
For now it will be 5%. We have to see how everything goes but I expect for the long run it will go up to 8%.
Delroy — Alright. Once operating, what are some big challenges validators are met with from a business and personal perspective? This is a question for the new and coming validators who are looking to join projects.
Kasper —
From our perspective the main priority for a validator is to provide a secure and stable validator in a decentralized network. We need teams to do 24/7 monitoring with the capability to respond quickly to problems. Keep up to date with the network updates/changes. etc. To do this each team need to earn enough (delegations) to provide these services to make it stable and secure. This is a big challenge for many networks. And from a and personal perspective, a validators never sleep. Just kidding but be prepared to be available on every hour of the day.
Delroy — Well said Kasper. Absolutely! And my next question too would be on the same lines. What are the first things you'd encourage someone like up and coming Validators on POS networks to consider before getting started?
Kasper —
Take your time to really get to know the network. It sometimes can be overwhelming but just take it step by step and ask for help when you are stuck.
Delroy — And we're always available if you have any questions.
Kasper —
We sure are.
Delroy — Lastly, would you like to add anything else?
Kasper —
If you ever need help with Matic our have a question about our service just reach out to us and let's make 2021 the year of Matic.
---
SEGMENT 2
Community Question 1— What are you currently focused on? What are the main goals of Newroad Network for this first quarter of 2021? What can you tell us in advance?
Kasper —
Matic is a big focus for us and we would love to start a Chainlink oracle node for Matic.
Community Question 2— Could the commission rate determined for the node change? What are the factors that determine commission rates?
Kasper —
It can change. When we are planning this we will always communicate this way in advanced. A reason of changing the commission can be the Matic token price.
Community Question 3 — How did the idea of building Newroad Network come about? What motivated you to develop this project?
Kasper —
In 2011 i heard for the first time about Bitcoin and I got interested. I followed the progression from the sideline. But when Ethereum launched I really got excited about blockchain and its potentials. Not much later in 2014 I read about Tezos and PoS and started to follow this project closely. In 2018 We started our company and where one of the first delegations service on Tezos. After that we partnered up with a Dutch wealth manger company and we expanded to multiple other PoS networks and Oracle service.
Community Question 4— What are the competitive advantages of the Newroad Network project, and when we as investors or casual users what benefits does Newroad Network give us? What is the main mission of this Newroad Network project?
Kasper —
Our mission is to use real resources to support projects that we believe have an honest potential for improving markets and help to build a sustainable (and honest) economic future.
Community Question 5— What tasks do you undertake for Matic-Chainlink knot runners and for Matic? Will the cooperation in Matic and Newroad Network continue in the future
Kasper —
We are in close contact with the Chainlink team.
Community Question 6— How many years of experience does NewRoad Capital have being validators and in which blockchains do you have your own nodes?
Kasper —
As an PoS validator we have around 3 years of experience. Most of the nodes run on own hardware. We make use of sentry nodes and some of them run in the cloud.
Community Question 7— How can you build a sustainable economic future in times of pandemic? Is Covid19 not a limitation for your project?
Kasper—
Interesting question. Since 90% of our work is online and digital it hasn't much effect on us business wise. but it is interesting to think about this.
For more information and resources about Matic Network, visit: