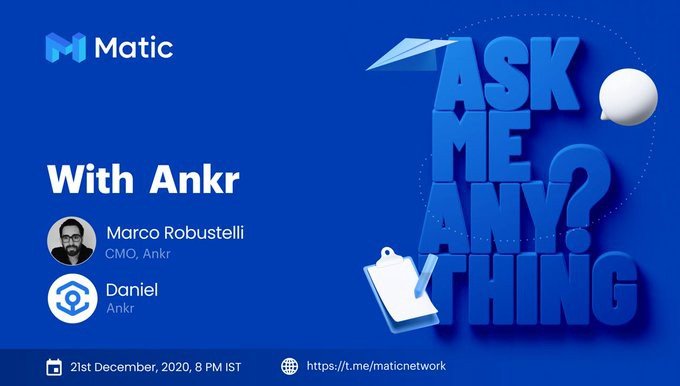 On the 21st of December, 2020, Marco Robustelli and Daniel, key members of the Ankr team, were live at the Matic Network telegram AMA Session, to provide the Matic community with insights on the Ankr validator infrastructure and why Matic stakers should delegate to Ankr node. The session was moderated by Delroy, one of Matic Network Telegram Community moderator.
In order to ensure clarity to my readers, this article has been divided into two segments; the first segment, gives full account of the questions asked by the moderator of this AMA session (Delroy), while the second segment, gives account of the questions asked by Matic community members.
---
SEGMENT 1
---
DelRoy — Hey Everyone! Please welcome Marco and Daniel from Ankr Network Team. They have joined us today for yet another Validator AMA in the series of AMA that we are conducting with various Validators. Marco and Daniel would you like to go ahead and introduce yourselves to the Community?
Marco —
Hey all, it's great to be here today in the Matic community!
Daniel —
Hello hello! Nice to be here!
DelRoy — It would also be nice if you guys can give us a brief introduction about Ankr as well.
Marco —
So I am CMO at Ankr and basically responsible for all marketing and PR related activities and have been working close together with Matic since early 2019 already. So some of you will know Ankr for sure, as we have been partners with Matic for a while already, since early 2019 as mentioned.
Ankr is a Web3 company in the sense that we connect consumers, developers and enterprises to the new internet, the Web3. being a Web3 infrastructure provider, Ankr allows users to spin up nodes, get instant API access to major blockchain and DeFi protocols, or set up enterprise-grade infrastructure in a few easy clicks (as we require zero technical knowledge from our users). Recently we also launched Stkr, our decentralized ETH2 staking protocol.
Stkr is DeFi staking platform with non-custodial management, Micropools, instant liquidity and decentralized governance. It's also the first platform to successfully launch staking-as-a-service for ETH2, with the minimum deposit set at 0.5 ETH.
DelRoy — Oh yeah! I have actually ready and heard a lot about Stkr. How is that doing btw?
Marco —
It is doing pretty well, we recently passed the milestone of 10,000 ETH staked and liquidity for our ETH2 bond token aETH is already around 880k on Uniswap.
DelRoy — So would you like to tell us more about Operating Nodes. Which other networks are your operating nodes on and how do you pick and choose?
Marco —
So we have started this node running business in December 2019 and have expanded it pretty aggressively over 2020. We currently provide direct access to 30+ staking nodes — so it's safe to say that we cover all major networks including Ethereum, Polkadot, Chainlink, Binance Chain, Elrond and of course Matic. We are very versatile in that regard, and it's been an important part of our strategic vision.
DelRoy — So what made you guys choose Matic to operate your node on?
Marco —
Moreover, we're constantly on the lookout for the very best and most popular blockchains to support, so stay tuned for new announcements!
About Matic, Matic have been our long time partners and as one of the best layer-2 scaling solutions out there, initially we started out to explore.
implementation to make the Ankr network faster. It was actually one of the first nodes we built, when Matic was still in testnet phase, and we worked with Matic all the way to mainnet and here we are today!
DelRoy — Yeah, I remember working with Daniel and Flavian on the testnet for running One Click Setup nodes and testing them out. It was a really good experience and we have come a long way.
Marco —
Yes, exactly. We have also been very much in contact with Sandeep and at the time Chandresh to work together on promotional activities and even did a meetup together in India!
DelRoy — So in order to operate your node efficiently, what are the measures you guys take to ensure that you maintain a high uptime and availability?
Daniel —
Sure! First of all we had to choose an environment to host our nodes on. An obvious option for us is to use our own datacenter, which has proven its stability in various projects hosted by us, including other validators such as Skale, Oasis, Nucypher and much much more.
Second thing is to make sure the node is maintained correctly. For that we have setup process manager to keep node running even if it fails. And of course health checking, which is quite important to have, as you can't always monitor the stability of a node working. So even if something goes wrong it recovers right away.
DelRoy — Nice and I'm sure with the experience of running 30+ nodes, you must have a developed a robust process in monitoring all the nodes concurrently. Also, I'd like to englighten the community that the reason Ankr's uptime is on the lower end is because they were migrating their entire setup to their own DataCenters.
The process was too long and took too much time and hence they lost out on the performance. But ever since they have been running their node efficiently. So in terms of Delegation, we have opened the delegations now to external nodes? Why do you think delegators should delegate to your node. I mean what would be the benefits for them?
Marco —
Correct! We have had to upgrade our infra for the launch of Stkr, but we are all good now. Well, you basically mentioned it yourself already. We have been building nodes for over 40 different blockchains and have a lot of experience building, running and updating nodes.
Users don't have much insights, other than uptime and commission, but I think to be safe, a user should always choose a reputable company to delegate their tokens to. Our commission is on the lower end with 4% and our uptime has been 100% after finishing the infra upgrade in late November.
DelRoy — That's pretty attractive. I'm sure the community will have a heated discussion about that commission rate.
Marco —
As earning commissions on delegated funds is not our main business or source of income, we can actually do with lower commission rates. Also we use our own infra which is a lot cheaper than for example AWS or Digital Ocean.
DelRoy — Thanks for sharing that with us! What kind of concerns do people have when considering who to delegate to and how do you address these?
Daniel —
I would say the biggest challenge in running a validator is maintaining the nodes and making them work stable, while that requires some technical knowledge, which not all of us have time to gain. Basically that's why we have two roles here with Matic. One is the Provider (Validator) and the Delegator.
DelRoy — Thanks for that response Daniel. And I think you'd be able to take my question as well. What are the first things you'd encourage someone like up and coming Validators on POS networks to consider before getting started?
Daniel —
The first and most important thing is to explore the network deeply. As a POS network can bring profits it can lead to losses, for example slashings. So having a good understanding of what actions can be done and what are the restricted ones is a must have And another thing is to secure the validator. In case of Matic this is done using a Sentry node, which takes all the external connection on itself, protecting the validator from attacks. While Validator has communication only with Sentry node, making it secure and not available to "external world".
DelRoy — Thanks for that response Daniel. Detailed and insightful. Well, I'm going to opening up the channel to the community now.
---
SEGMENT 2
---
Community Question 1 — For Running node, Why should I choose ANKR network rather than any hosting service like AWS or similar? Which benefits are provided by ANKR which are beneficial than other services?
DelRoy —
One Click Setup systems. Ankr takes the headache of maintaining the infra rather than you.
Community Question 2— Does Ankr serve both to delegate my tokens and staking and to run my own node? Do I have to pay a monthly fee to get my own node? Or is it all based on rewards?
Stkr offers the possibility of ETH staking for its version 2.0. But this version will not be available for a couple of years. Will it be possible to get rewards with Stkr before the release of ETH 2.0?
Marco —
All of these questions are very relevant.
You can delegate your MATIC tokens to our Validator. This validator is run by Ankr. We only run validators for some of the best projects out there, such as Matic, Avalanche and Skale
With Ankr, you can also easily run your own validator for many chain, including Matic! You dont even need any technical knowledge, just visit app.ankr.com and you can set up your own Matic Validator in a few easy clicks! You pay a monthly fee to Ankr for the hosting and we take care of all upgrades.
We specifically designed Stkr to solve the liquidity problem with ETH2. many users are hesitant to stake their ETH for an unknown period, which can be anywhere from 1.5 years or more. With Stkr, you stake your ETH and receive aETH, a synthetic token which represents your ETH stake + all staking rewards. In the beginning 1 aETH=1 ETH but when staking rewards start to accumulate, 1 aETH will slowly increase in ETH value. Visit Stkr to learn more!
Community Question 3— Hi, its great to be here with you guys, ANKR team. How do you value your participation in the Harmony Testnet campaign? What criteria do you use to include new blockchain protocols, any requirements? any limitation to tell us?
Marco —
Good question:
After Matic, one of our other early partners has been Harmony and we participated in their early testnet, in which we learned that during testnet stage a lot of upgrades and changes in the network can be expected. This is a good lesson learned towards any other testnets we particpate(d) in!
We look at a couple of things, one thing is traction and community. if we build a node we want to be sure that these a a community waiting to run nodes, stake and/or develop on that chain. We also build nodes for enterprise usage, nodes of specific demand for on-chain analytics companies etc, or nodes for chains that have many large token holders/VC's etc to stake.
Community Question 4— ANKR has three tokens, erc20, bep2 and mainnet, I would like to know what are the mainnet token use cases?
Marco —
We have decided to phase out the mainnet token and focus more on our use cases around nodes and staking instead of maintaining our own blockchain. So we are currently left with ERC and BEP versions of our token. The ERC token is traded on most of the exchanges and can be used on the Ankr platform as well as the Strk platform, while the BEP tokens are good for cheap and fast transaction on the Binance Chain and Binance Smart Chain.
For more information and resources about Matic Network, visit:
Matic official website
Matic Blog
Matic Telegram Community
Matic Twitter