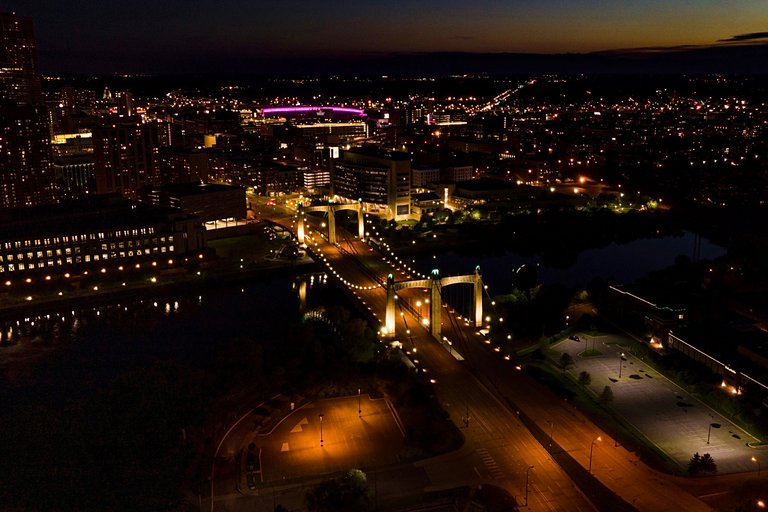 Hey, @hiveblocks and @threespeak! I just got back from an evening of social distancing with @nickcdavis. Poor guy has been on mega lockdown for three months. He actually said I was one of two friends he's seen in the last three months. I've been tempting him out of the house with the new drone. @nickcdavis is one of these crazy obsessed bicyclists. There are so many subcultures there, but he goes through trials and nature. During the winter, switched on those big monster truck tires and bikes in -18º weather.
I know, I know. I've been talking about this drone a lot, and for your sake, you should expect more. There are times that the fact I can draw on an iPad Pro just hits me, seeing the artwork come to life as if it was on paper, and I just think, "This is fucking incredible!". Like, having that amount of awe in something years after you've owned it is a rare occurrence. I've only had this drone for a week but I can tell this is going to be one of those technologies. It's not going to replace my photography, but it'll enhance so much of what I'm already doing.
@nickcdavis and I met up in the park and I gave him a quick run down of what this thing can do. Still, flying it at 400 feet feels like I'm doing something SO illegal, but I'm not. We went for a nature walk through the woods, stress testing the obstacle avoidance system, and it did amazing. Watch this video. The drone's point of view, and @nickcdavis's shot walking behind the drone. We got yelled at by a Karen, but I wasn't done. On my way home, I stopped in St. Anthony and took this photo of download Minneapolis.
---
▶️ 3Speak