What is cycle?
Cycle means a series of events that are regularly repeated.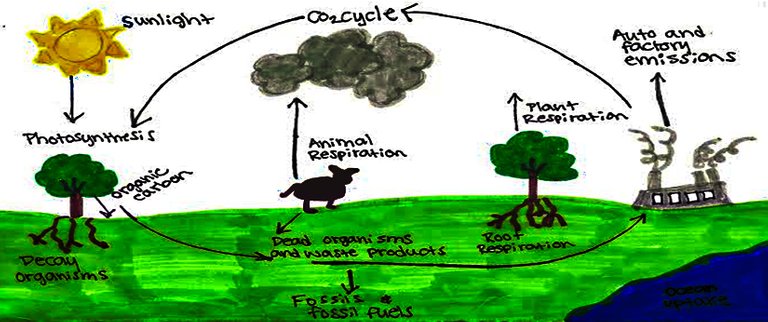 What is Carbon?
Carbon is an element found in many different forms and location within our earth, atmosphere and also present in all living organisms.
Carbon Cycle
Carbon follows a certain route on earth is called carbon cycle.
The carbon cycle naturally consists of two parts, the terrestrial and the aquatic carbon cycle
Terrestrial Carbon Cycle
The terrestrial carbon cycle is concerned with the movement of carbon through terrestrial ecosystem.
Steps of Terrestrial Carbon Cycle
1) Plants take carbon from atmosphere , they also used sun light to make food than carbon is in plants body.
2) When other animals eat these plants they store the carbon in their bodies, than big animals eat small animals in this way carbon moves from one body to an other body.
3) All animals breath, when we breath out, some of the carbon release back into the air as carbon dioxide.
4) Plants breath carbon dioxide to make own food than this food is eaten by animals some time small animals eaten by big animals, than animals and plants breath out carbon dioxide back into the air.
5) When animals and plants die most carbon store into the soil , some carbon back into the air and most carbon trapped into the soil , after millions of year trapped carbon change it's shape into diamond, coal, fossil fuel such as petrol , desal and gas.
6) When we burn these fuels like Coal, Petrol, Diesel and Gas more and more Carbon dioxide release more and more into the air.
7) It is job of trees to absorb carbon dioxide but we cut down the trees too , this release a lot of carbon into atmosphere which make the "Global warming".
Balance of carbon dioxide is broken by us.