Many people rely on the library for computer use and internet access. Some know what they are doing. Others, not so much. While many Baby Boomers and the Silent Generation were on the frontier of personal computing back in the 1970s, and many others picked up tech skills over the years, there are still many more who are completely clueless.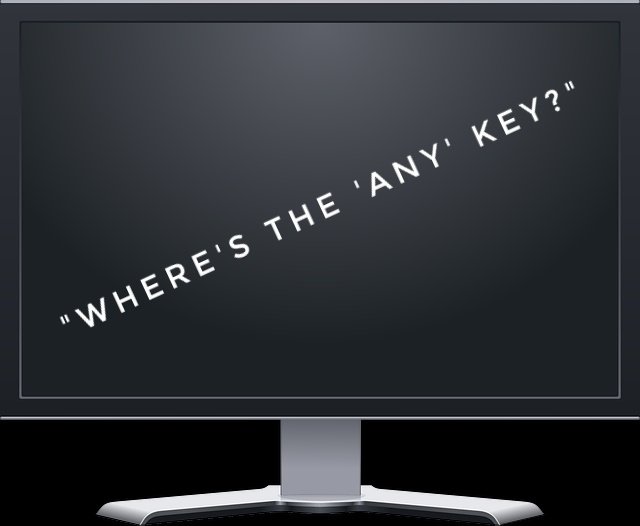 The simple fact that basic computer skills are now as essential as literacy and numeracy causes great frustration. More and more paperwork is being shifted online. Sure, it saves paper and postage, but there are some people who simply aren't ready or willing to adapt, and there are places like where I live that lag behind in network infrastructure.
Still, such people often have a horrible attitude toward us librarians. We are not personal secretaries for our patrons. We do not operate the computers for them. That isn't our job, and is often a violation of their personal information security. Further, basic computer tasks are easier than ever. DOS prompts and Terminal commands have been a thing of the past for decades for most users.
Still, some mutter dark things under their breath the entire time they work. Others loudly talk their way through the process. Here's a paraphrased conversation from yesterday.
---
OK. SO I TYPED MY NAME. NOW THEY WANT AN E-MAIL? WHAT WAS IT AGAIN? LADYBUG DOT COM, RIGHT? NO, IT SAYS I NEED THAT 'AT' SYMBOL. LADYBUG AT DOT COM. WHY DOESN'T THIS WORK?
How long ago did you set up the account?
THE LADY AT THE OTHER LIBRARY HELPED ME A COUPLE YEARS AGO.
Do you remember whether you used Google, Yahoo or Outlook?
YEAH, IT WAS ONE OF THOSE, MAYBE!
---
Uffda.
No moral to the story. Just a glimpse into librarian life. I suppose when I am old, new technology may bewilder me, too.
---
Image source