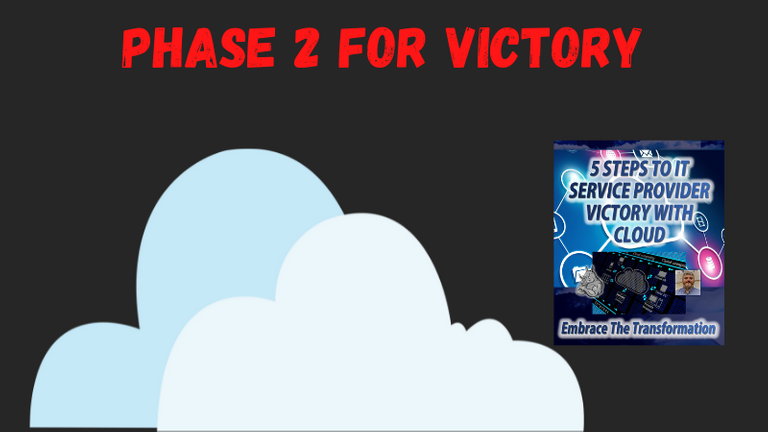 In the last few days, we have been posting a 6 part series on 5 STEPS TO IT SERVICE PROVIDER VICTORY WITH CLOUD.
So far we have made two posts, an Introduction post and the the second post was Part 1. These posts cover 9 tips of what will amount to a total of 28 when the series is complete.
You can find those posts here:
I am doing this series as I had some questions a couple of weeks ago offline about cloud and how it has changed the Managed Service landscape. So, I thought to give you a taste of what kind of content to expect from the ITSM RHINO as it spins up for launch in the coming weeks.
Without further ado, here is Part 2 of our path to victory with cloud for service providers. In Part 2 we focus on the second step, which is signing up customers.
STEP 2: EVALUATING THE CLOUD
Once you've created awareness of your cloud service offerings, you need to start signing up customers. To do this, you need to prepare your sales processes, have quotes available, and structure cloud services into your agreements.
TIP #10: TRANSITIONING TO THE CLOUD INCREASES YOUR SALES TERRITORY
It allows you to support customers close by with break/fix. When you begin with managed cloud services, you will start to serve a more prominent region. This additional is due to the availability of monitoring and management (RMM) tools. Remember, with cloud services; you will not have to take care of physical servers. The lack of servers means your sales territory is now worldwide.
TIP #11: APPROACH CUSTOMERS DURING RENEWAL TIMES
Software license renewals and maintenance contract expirations are the perfect time to approach existing customers about the cloud.
TIP #12: GIVE CUSTOMERS DIFFERENT OPTIONS
Most businesses will not transition everything to the cloud right away. In most cases, they will move one or more applications at a time. This phased approach means you need to give customers different options. Try to provide them with proposals which have 2 or 3 different packages. These can be on-premise, cloud, and hybrid. This way, you can position cloud solutions as the best deal.
TIP #13: SELL YOURSELF AS A TRUSTED EXPERT
Cloud vendors marketing to your customers will not have established relationships with them. This lack of a relationship means you have insight into what customers need from this service. It also means you have the opportunity to work closely with existing customers and position yourself as a trusted expert.
TIP#14: FOCUS ON SOLUTIONS AND SOLVING CUSTOMERS' PROBLEMS
Instead of merely pushing cloud services, focus on how the cloud can solve your customers' challenges and problems. Speak about the advantages of the cloud, such as fewer service interruptions. Talk to them about dependability or the ability to access data at any time and from any place.
TIP #15: FOCUS ON THE VALUE YOU CAN PROVIDE INSTEAD OF HOW MUCH THE SERVICE COSTS
Remember, your customers can easily purchase cloud services from any number of vendors. Nothing is stopping them from going straight to the vendor for a quote before talking to you. To distinguish yourself from vendors, you must focus on the additional value you can provide, instead of merely focusing on price. Talk about how you can help them:
Migrate to the cloud.
Monitor for disruptions and usage patterns.
Provide proactive management and customer service.
Reduce outages and provide support.
Find the right cloud solution for their business.
Enhance the security of their cloud services.
Make the entire process more convenient.
CONCLUSION OF PART 2
That's it for Part 2 and Step 2 with steps 10-15. Be looking for the fourth post in this series in a day or two.
Be sure to leave any comments, questions, hate, or discontent in the comments below.

Note: All graphics within this post, including their images and elements, were sourced and generated from Canva.com, except when otherwise identified on the graphic.