TUTORIAL DETAILS

---

Tag: HMB T - 004
Topic: HOW TO BE A SUCCESSFUL STEMsocial CONTENT CREATORS ON HIVE

What Does HMB T-004 Means?: HMB stands for Hive Mastery Bootcamp, T stands for Text while 004 is the tutorial code. Thus, this lecture note can be found in the Mastery-Bootcamp channel on our Discord Server.

---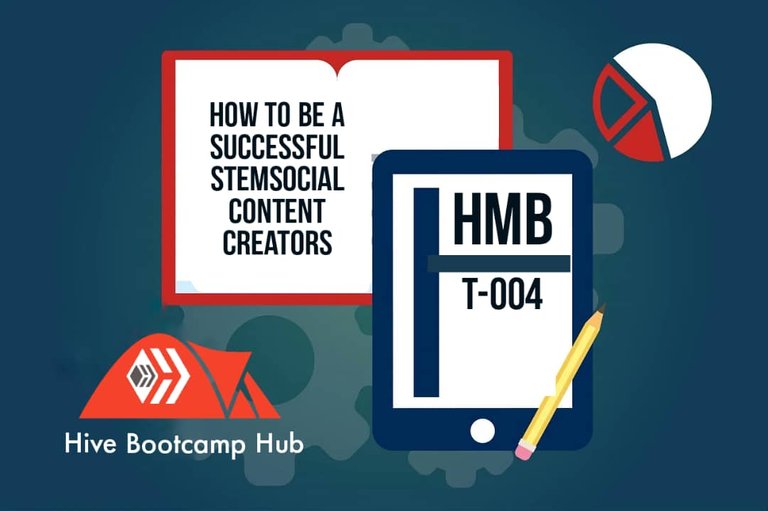 Hello bootcampers and hivers at large! We trust you're doing fine? Due to the huge success recorded with the Live class we had on Sunday, the @hivebootcamphub team would love to present a Lecture Note for the class to the general public.

This will enable hivers who were not chanced to attend the live class have a better understanding of what was taught in the class and also showcase the kind of effort we are putting in to make Hive a much better place for us all, especially in guiding the newbies! The class was facilitated by @mengene and we hope you enjoy reading through!


What does the acronym STEM mean?
Well, STEM is actually short for Science, Technology, Engineering and Mathematics related articles. So any write-up that has a part or mixture of these fields of study counts as a STEM article that will definitely get some attention from members of the STEMsocial community!
In addition, below is a list of fields that the community supports. So if you feel you are good in any of these fields, then you should give the community a shot!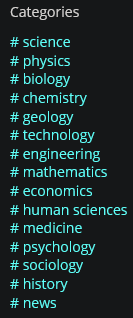 Sourced from the STEMsocial App




What does STEMsocial stand for as a community on Hive?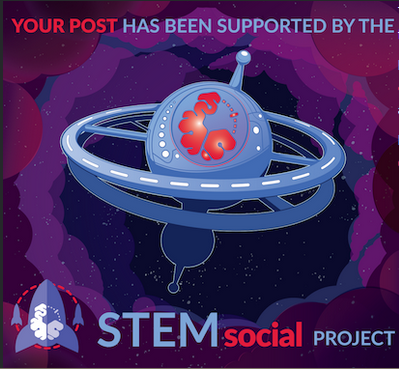 Sourced from a post upvoted by STEMsocial


The community is a 4-year long thriving community with a focus on STEM (nerdy) subjects from Biology to History, Architecture to Cosmology, sci-fi and beyond. Be sure to join their discord channel by clicking here
To become a member of this geeky community is quite easy. You have to simply search for the community and join. Then click on New post to write an article that will be posted in the community


Now to the ARTICLE WRITING ASPECT!
There is one thing we will like to suggest here guys!

To pull traffic and get noticed in the community, the most important thing is your CREATIVITY! You have to be exceptional so you can stand out amongst the crowd! It's not only about writing an article guys, we believe anyone with a sound background in English Language can do that. What should sell your article should be your creativity, genuineness and originality.

One interesting thing to know is that a STEM article does not necessarily have to be structured rigidly like a paper written for a research journal! Try to put some style into your writing. Make it your unique style and express yourself with comfy words!

When you write your STEM articles, be sure to engage the readers as if they were sitting right next to you while you explain whatever you are writing about to them. We believe this should make it much easier for you guys! ;)

So let's dive into the article writing tips proper;


How to come up with a CATCHY TITLE for your STEM article
This may not sound as easy as it looks guys. An important thing to know is that your title actually sells your post to the readers. Most readers won't bother to click on an article that they don't find the title enticing enough.

The title should be words that collectively pass a message about the main part of your article. And there is a need to be dynamic when we finalize our titles. However, you don't want the title to be too lengthy also. So you just have to find a balance between everything.

Do not let this overwhelm you though! As humans we learn with each experience and you definitely will get a hang of this concept as time goes by.

In addition, you can always learn from others, so be sure to check out the way other authors handle the topics to their articles.. Especially the shot callers on the platform! (We'll share the username of few of them later on) ;)


HOW TO STRUCTURE Your STEM Articles
The Introduction of the article
After you have consulted adequate sources for information on the intended article ( a thorough internet search usually does the magic :) ) you can go ahead and give an introduction to the article where you bring the reader to terms on what the article is all about.

It should also be nicely written to further capture the attention of the reader, so he/she is left with no choice but to actually read through your post. One to two nicely written paragraphs usually do the trick! Like we said previously guys, just try to be CREATIVE with it.


The Body of the article
The body of the article is where the discussion aspect of your article takes place. It should be;
Well explained and as extensive as possible,
Focused around your title,
Well sourced from credible journals and websites,
Well ordered to keep the reader interested in reading all the way through (simply put yourself in the shoes of your readers)

NOTE: STEMsocial has a SCALE they use to measure posts:
If it is SHORT but fits their requirements, the community will use 10% as a measure for the upvote on the article.,
If your article is RELATIVELY LONG AND ABOUT 700 WORDS UPWARD, they Use 30% as the measure of the amount of upvote you get for that particular post.
If it is a HIGHLY CREATIVE STEM Article and it contains OVER 1000 WORDS, the community uses 65%.
And the biggest measure of upvote on an article is 100% but only APPLICABLE FOR ORIGINAL RESEARCH ARTICLES i.e. an article that discusses a personal research carried out by the author!

These points above REINFORCE one of the previously stated tip that; the body of your article should be well-explained and extensive!

However, you can start small with about 350-400 words and develop yourself into writing longer articles as time progresses. You don't want to have a long article with almost nothing tangible in the article. That would be a waste of resources and time!

Another IMPORTANT aspect that STEMsocial takes VERY SERIOUS IS THE IMAGES YOU PUT IN YOUR ARTICLES!.
A popular saying goes thus; "A picture speaks more than a thousand words!"

Pictures add lots of beauty to articles and they help to pass info much better. Most readers tend to find articles without images very boring. Hence, they are important in articles.

Ensure the images are very relevant to your article and are as clear as possible. You should also arrange the images in such a way that they are in sync with the flow of your article; it is nice if you put a picture right under the paragraph that explains what is illustrated in the image.
PLEASE NOTE: To always be on the safer side, it's best to MAKE USE OF IMAGES THAT DO NOT HAVE COPYRIGHTS ATTACHED TO THEM.
They should be totally free images or images found on Public domains. For pictures that have authors who have released them for use to the public, it is ok to give credits for the picture by stating the author's name, and a link to the license of the public domain.
Something like this: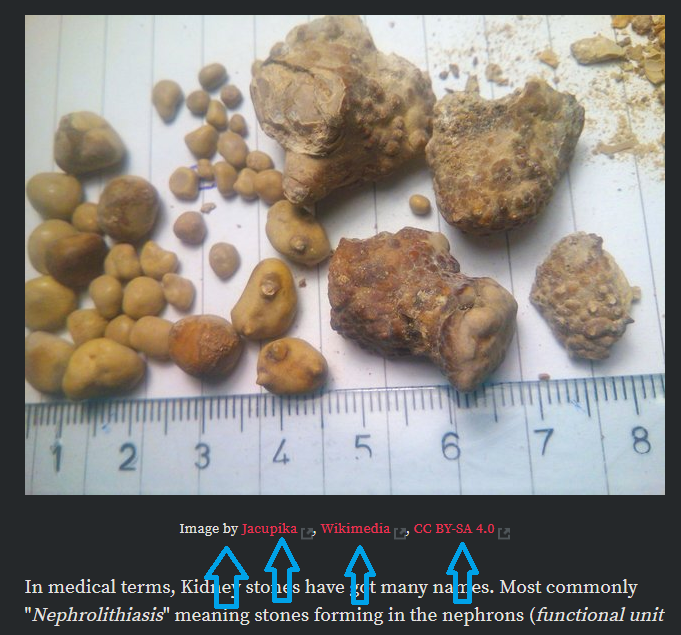 Sourced from an article on STEMsocial titled: Formation of Kidney Stones and Ways to prevent it by @idoctor

We have a number of sites, where you can source for free images. Some are; pixabay.com, Wikimedia, pexels.com etc. Google can help you locate them all!

Mind you, when taking an image from Wiki, be sure to scroll down to see if there are any Authors and conditions for using or sharing such an image. Some images require you acknowledge the author and add a license link! Example is shown below!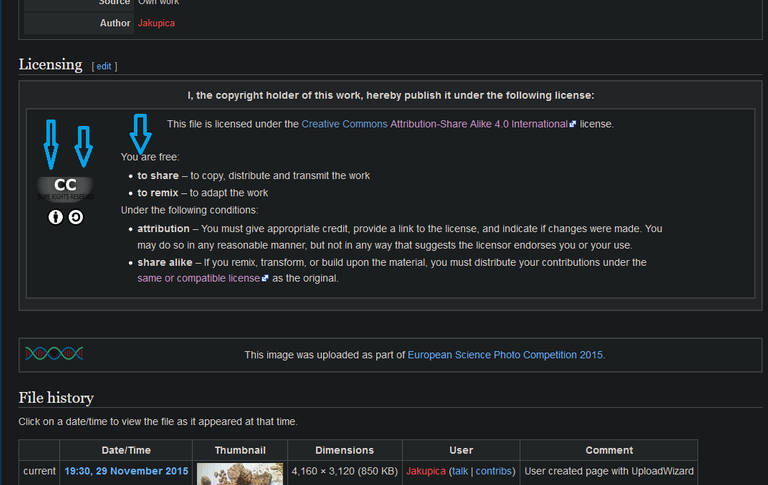 For images totally free of copyright, the "C" is usually crossed with a diagonal line as seen below!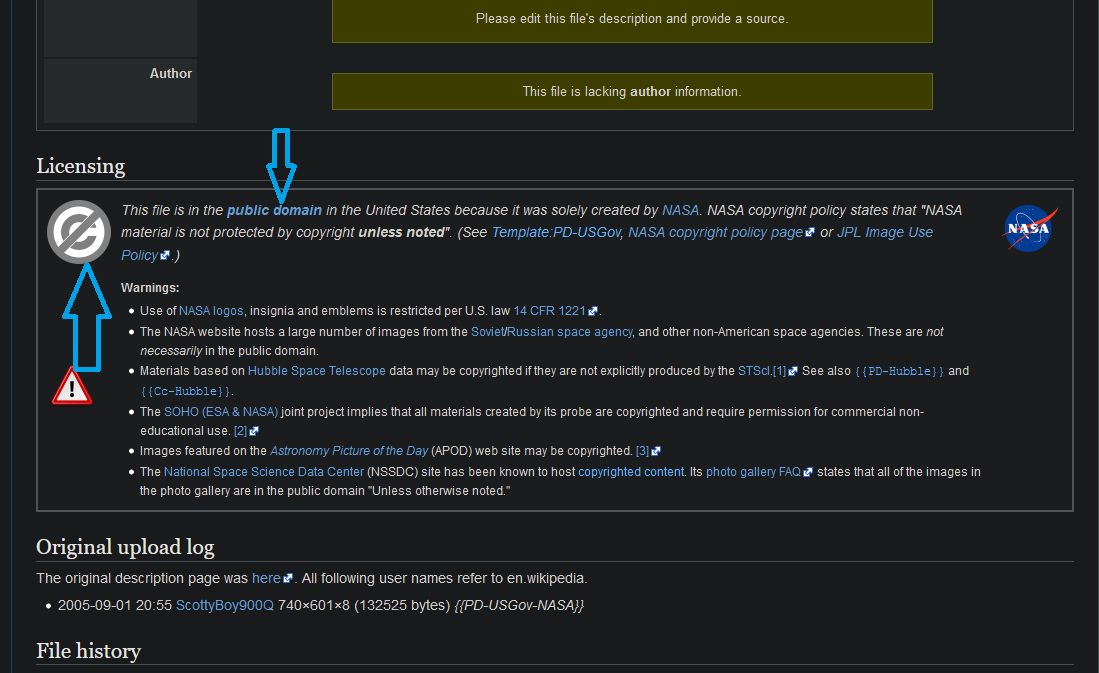 The Conclusion of the article

When you are done with the body of your article, you can graciously end it also in a creative way. Try to give a short recap, stating the important points you discussed in the article. You can also add your suggestions, your views and the likes to spice it up a bit.

Make sure you finish the article on a good note and try to leave a statement that will make the reader look forward to reading your next post. As an addition, you can put links to follow your account, in case someone enjoyed reading your article and you can also embed links to any of the social media platforms you use.


Citing your REFERENCES!

One of the rules for articles posted in the community and a very essential one is that you cite the sources you used to come up with your amazing article! **When citing them, you embed the link to the sources using markdown styling! ** That way, your readers can have easy access to these sources and read further if they want!

Try to make sure you do this always guys. A LIST OF AT LEAST 3 REFERENCE MATERIALS, journals or websites is enough, but adding all your reference materials is definitely not a crime and is actually good!


Adding your TAGS:

Primarily tags are simply meant to describe the kind of content you have in your article.You are free to use any words relevant to your article as tags but here are some common tags to found in STEM articles: stem, science, physics(or any field you are writing on), steemstem, stemgeeks, ocd, neoxian etc.
When posting from the hive.blog frontend, you are allowed additional 7 tags in your editor, so have that in mind! And make sure you separate your well spelled out tags with a space in between them!


HOW TO USE THE MARKDOWN STYLING

You have to understand some basic Markdown Styling when inputting your text into the editor. This helps to make the article good looking to the eyes by making the article look neatly arranged and well structured.

You can use the Markdown Styling Guide option to get a better understanding of the concept! It takes some trials and errors to know how to use this well, but with some practice you will be a pro in no time!
When you click on the Markdown Styling Guide






You can click on it and get access to the github webpage.






Click on Examples





And then pick what you will like to learn among the options ranging from text to images to links etc. I believe it is quite easy to understand when we do this!
NOTE: If your article meets the standards of the community you are sure to get a STEMsocial upvote. However, if you are lucky, you might get a @ocd upvote or Bernie Sander or @darthknight upvote on your posts. These guys are whales that can increase the payout on a post massively. Their votes are not certain though, so please have that in mind!
With the article Writing aspect well discussed, we move on to some tips on how to grow as a member of the community!


Importance of ENGAGEMENT:
This is a very powerful and essential thing to do in the community. You need to engage with other members of the community so as to grow reputation and followers.
HOW THEN CAN YOU GET PROPERLY ENGAGED IN THE COMMUNITY, one might ask?

Well it's quite simple! All you have to do is leave GENUINE COMMENTS on other members' posts. We should also respond to comments members drop on our posts!
Also be sure to join their discord server and interact with the members there!

BONUS INFO: A max of 2 posts per week in the community is recommended! This is because there is a ""maximum percentage of STEMsocial total vote"" each author can get fortnightly! Of course, you are free to post in other communities, but 2 posts per week is ok for STEMsocial guys!


Getting ADDITIONAL SUPPORT BY POSTING FROM THE STEMSOCIAL APP
Posting from the STEMsocial app and including @stemsocial as a beneficiary, gives you stronger support for the article!. So be sure to post your STEM articles form the app guys! Every community loves a cheerful giver, right? So be sure to contribute your quota to help develop and sustain the community on the hive blockchain!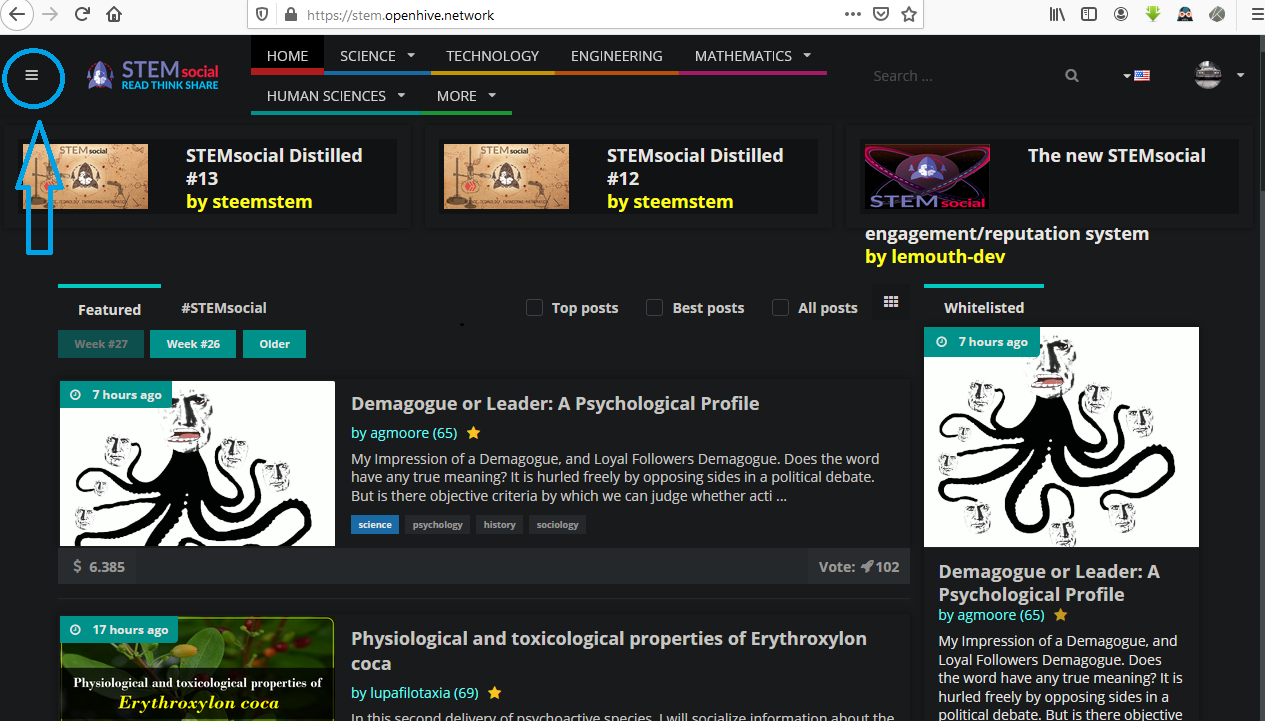 An added advantage of posting from the app is that you get 9 slots for tags to place in your STEM article as compared to the 7 slots available when you post from the hive.blog or similar frontends.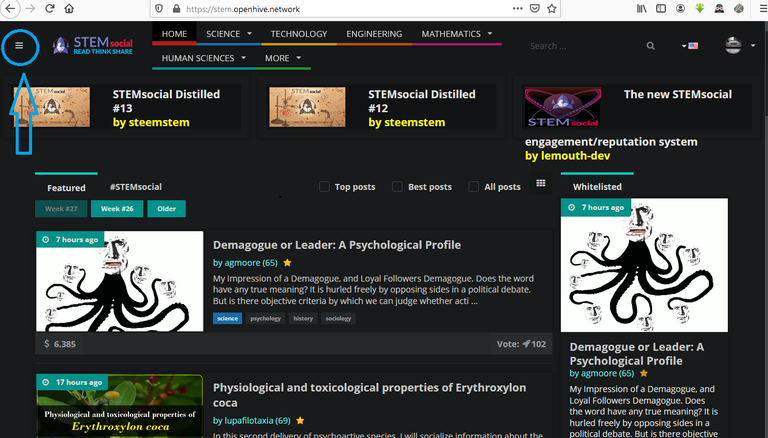 Once it drops down, you can then go ahead and click new post!.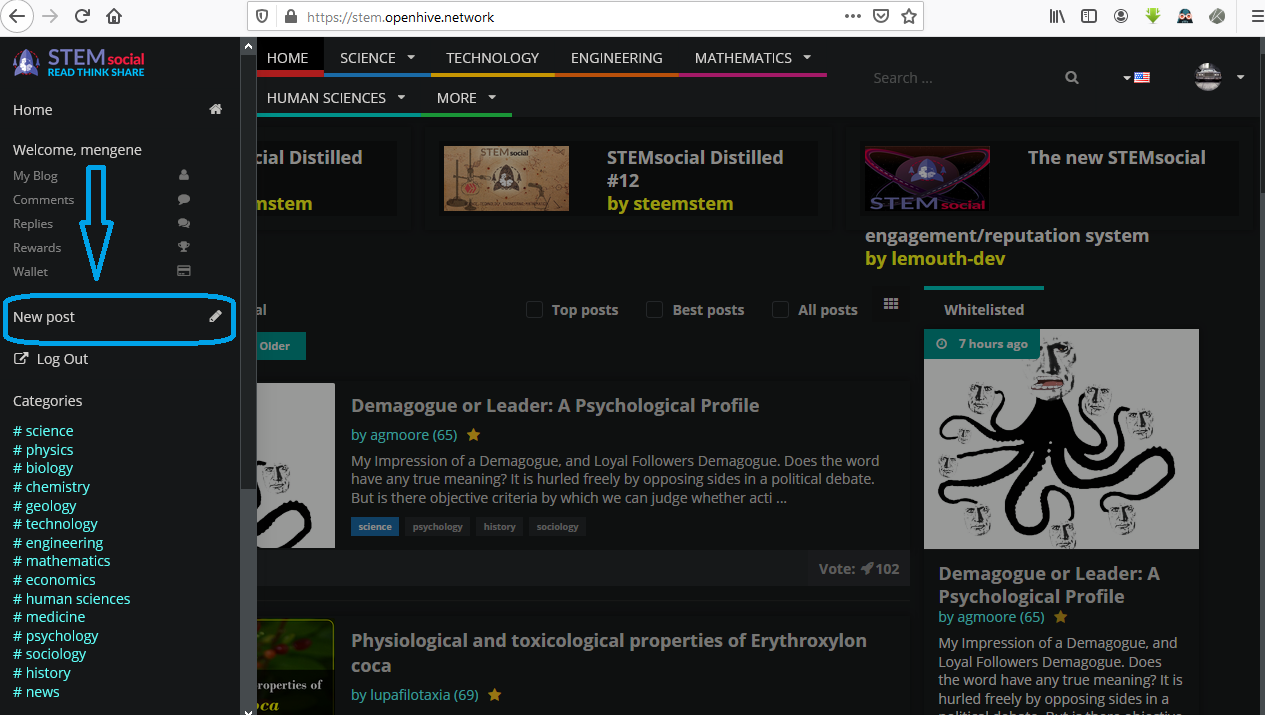 It's the same procedure as posting through any other front end :) just that this one is a bit more geeky..lol!


FINALLY and IMPORTANTLY: BE CONSCIOUS OF PLAGIARISM

We decided to share this very tip last because of its SHREWD IMPORTANCE!. Plagiarism is a sensitive issue in the scientific world. To copy and paste another person's work without giving credits to the owner is simply theft and can lead to such an author's account getting added to a BLACKLIST. Translating something from the internet, or transcribing a post by a video can get any author in trouble! So it's advised we all stay clear of these!

There are a number of tools online that can check for Plagiarized content. One is "Small SEO Tools- Plagiarism Checker".

You simply copy and paste your write up in the editor and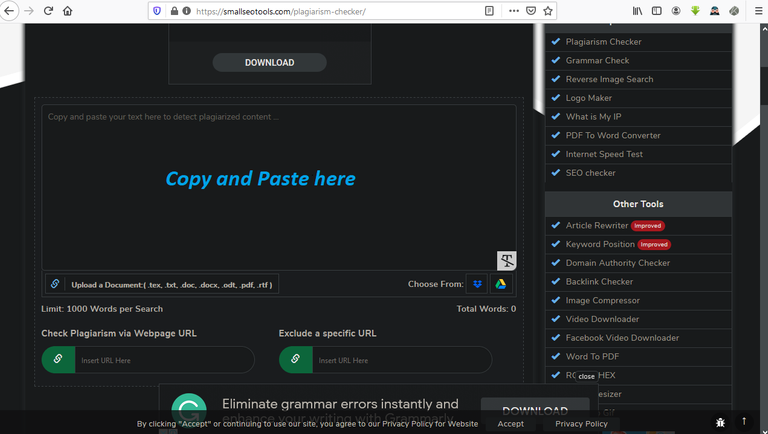 Click on the "Check Plagiarism Icon!"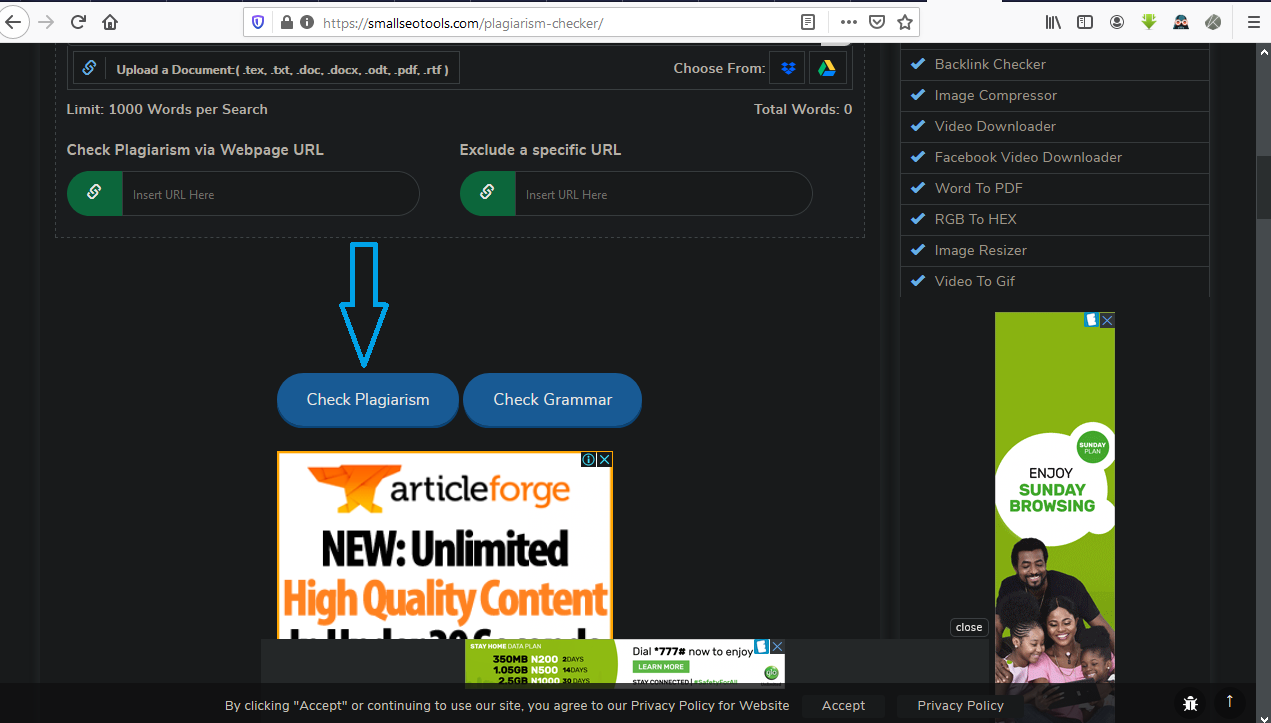 The result of the checker is displayed above and you get to see the assessment of your write up. If there are issues, you should try to rectify those issues!

You can make use of these tools to confirm the how genuine their articles are, before posting them in the STEMsocial community!

To fulfill the promise made at the beginning of the class, here are a few members of the community you can follow in the community:
@gentleshaid, @lemouth @cyprianj, @lupafilotaxia, @scholaris, @agmoore, @chappertron , @artemislives, @idoctor, @newton666, @krazilec and a bunch of other amazing guys on the platform!

If the TIPS discussed above are adequately followed, we believe your articles will definitely get noticed by curators on the community and a vote from STEMsocial is guaranteed.

We hope we have yet again added some value to any hiver who read through. We believe this lecture note which was thoroughly discussed on our official @hivebootcamphub discord server on Sunday 5th July, 2009 will definitely help make STEMsocial a better platform with properly written articles and our vision to help make Hive a very much better blog, with State-of-the-art Content creators will be achieved!

Below is an article composed by @adedoyin-g after she attended the class on Sunday. This is her first STEM article and we are proud to showcase how great the impact of the class was on her article! Be sure to check it out guys!
SMART CONTACT LENSES: Diabetes Monitoring Made Easy!!!

Thanks for reading through guys!


Written & Compiled By @mengene
---
---
This is the time to get more serious with things
---
The Hive Bootcamp Hub Team ain't tired and we are very determined and focused to see you guys prosper and successful as a content creator and Crypto Enthusiast both on Hive and beyond.
All we need is your support
Join the Discord Server so you don't miss out 👇
---
It's our passion to make sure that the Hive ecosystem continue to grow and we believe the best way to go about this is to take actions that will help bring in new users and educate them on the things that they need to know to be a successful content creator and crypto Enthusiast on Hive.
This is just the beginning of great things on Hive Bootcamp Hub, as we look forward to enhancing, simplifying and making easy the onboarding process of newbies on Hive.
Don't Forget
In Hive Bootcamp Hub, We Nurture For A Brighter Hive Future
---
---
Latest Update

---
We planned on moving to discord completely before the end of June and we've got interesting plans in place to make sure things get better with Hive Bootcamp Hub so that we all can grow Hive together as one.
Kindly join our Discord Server here
---
The Hive Bootcamp Hub Roadmap

---
We plan on hosting a tutorial class every Saturdays of the week.

More effective measures to onboard new users and promote the Hive Blockchain will be put in place as we progress.

There are plans to move our classes to Telegram in the future due to the limited number of participants whatsapp can take.

A weekly or bi-weekly publication of our activities will be published to the Hive community.

We plan to hold webinars to facilitate our Hive Bootcamp classes in the future.

There's also the plan to organize contests and giveaways for newbies using part of the funds generated from post payout of @hivebootcamphub Hive account to encourage them
---
The Hive Bootcamp Hub Team

---

We can't do it all alone, Kindly show Support by rebloging!
---
Our Social Media Channels

---
Writing might seem lot like a confusing mess, but unleashing your creative mind is really all you need

designed by @dimsyto