Hey y'all...It has finally happened...The Mack Anthem is complete after around 30 hours of work over seven building sessions, two that included deconstruction and reconstruction after I made errors, some frustration and a lot of fun!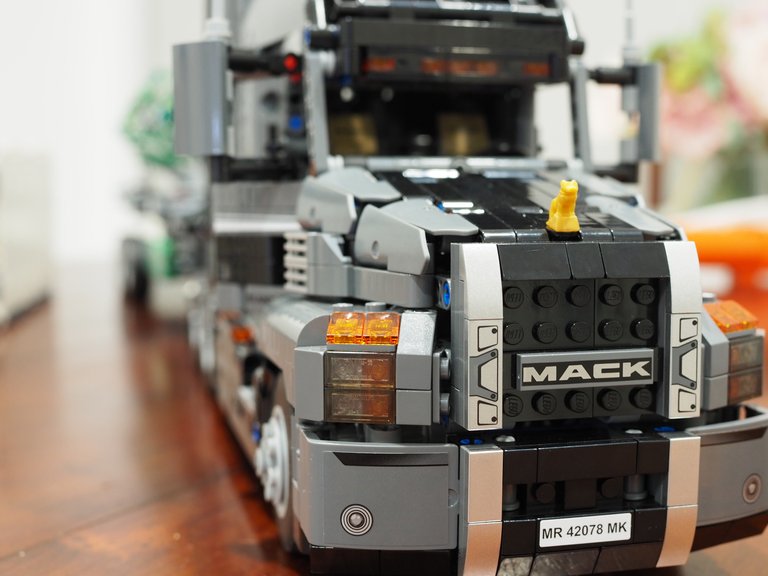 I wasn't going to do a video but was coaxed into it by a user who seemed pretty keen to see the container loader in action and so I acquiesced to his request and here it is. Please keep in mind I am not good at videos...I mean I'm great at watching them but not so good at creating them, so be kind...Or not. Tear shreds off me telling me how shit it is if you like; Your choice.
I really enjoyed this build, a pretty large one at almost 1 metre in length, that's three feet for you Americans. It was complex at times, especially when I added to that with my errors, although I found it rewarding...It's fun to play with the finished product too.
It has working steering, tilting hood section that reveals the engine in which the pistons operate off a cam shaft as the vehicle moves. The doors open and close and it has an operational trailer hitch. The hero of the show is the operational container loader which is operated by a couple of hydraulic rams and a series of cogs and shafts. It also has stabilising legs which deploy to permit a roll-over when the trailer is being loaded and unloaded.
Anyway, here's a video I made last night.
So, that concludes the Mack Anthem build. I have my next model waiting for construction already and will reveal that in a later post. If it is half as enjoyable as this Mack was to build it will be awesome!
Thanks to those who have followed and commented along the way. And to those who don't like Lego, I appreciate your patience.
---
Tomorrow isn't promised - Design and create your ideal life, don't live it by default
An original post written by a human
Discord: galenkp#9209 🇦🇺