A little while ago I made a video and posted it here in steem; It wasn't a particularly great video, I'll admit, and whilst it conveyed the message, a demonstration of how a recently-completed Lego Technic build operated, it looked like someone on crack had filmed it. It's here if you're interested.
So, whilst I am most certainly not on crack I am no videographer either and it seems many of you agree. I don't take it to heart of course, it's just the simple fact.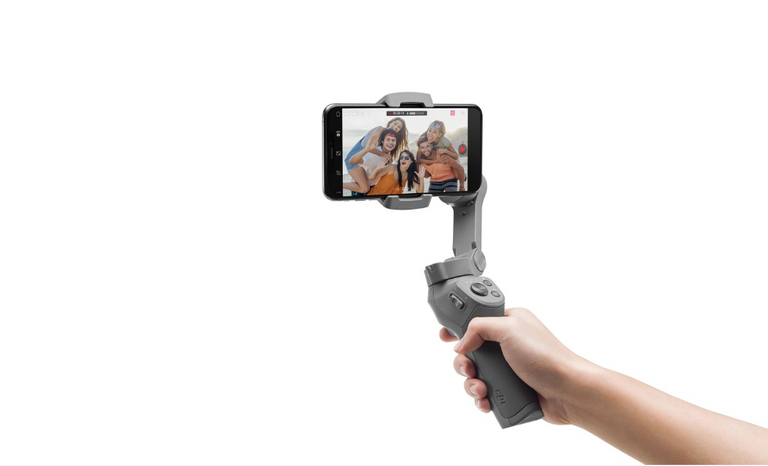 Anyway, based around that scenario, and the fact the video was...quality challenged, I decided to investigate the opportunity of a more stable way to do fly-around and general video of my Lego builds.
This lead me to an item I've had my eye on for a while but have been reluctant to purchase as I didn't see it as essential, and didn't want to spend the money. Whilst I like gadgets and things I don't really like wasting money so need to be sure I want to make a purchase rather than just going ahead and doing it.
I refer to the DJI Osmo 3 phone gimbal thingy. They are designed to remove camera-shake when videoing and do some other cool stuff also like tracking a subject, perfect for Lego fly-arounds! It gives a more cinematic result and will reduce the potential for my videos looking like I smoked crack prior to taking them.
I have had my eye on it since I saw one used in New Zealand last year. The guy using it was filming a video to be used as a promotional video for a business and it was impressive to see it in action. We spoke at length and he convinced me that I wanted one. I couldn't warrant the cost though, and so didn't get one at the time.
In light of the fact some thought my Lego video was of poor quality video I looked into it again last week and found it on sale; I snapped it up using a gift card a client gave me for Christmas plus some cash. I saved a bundle! It will be arriving in the next couple of days.
Below is a video from YouTube that does a pretty good job of explaining what this thing does so take a look if you like. It shows the DJI Osmo 3 Combo which is the one I bought.
I intend to shoot some more video of my Lego builds with once I get the hang of using the gimbal and, of course, will take it on my trips this year, Tasmania and Scandinavia...Hopefully I know how to use it by then!
I had no intention of buying this thing right now although decided to go ahead considering it was on sale and I had a $100 gift card to use at Amazon from a very appreciative client of mine. With free delivery the Osmo 3 ended up costing me only $65AUD out of my own pocket!
I can't promise my videos will be amazingly better, but I'm going to take a punt and simply say they will be better. I probably shouldn't set the expectations up too huh right? Lower your expectations people!
My goal is to do a cool video off-roading the Landrover Defender build I did plus the remote control Lego 4x4 I'm building at the moment. Of course, I'll probably have another go at the Mack truck as well.
So, keep your eye out for some video filmed using this little gadget and if those videos come out better you'll have my very generous client and her gift card to thank!
---
Tomorrow isn't promised - Design and create your ideal life, don't live it by default
An original post written by a human
Discord: galenkp#9209 🇦🇺
Osmo 3 Image is snapped from the DJI website