Hola amigos de Hive
Quiero dedicar y hacer énfasis en este post en celebración de este gran dia, a una vocación de estudio y cuidados para ese ser maravilloso: la Mujer. A cada colega le envío un abrazo fraternal y que Dios los siga iluminando al atender a nuestras pacientes, procurando dar lo mejor y todo lo bueno que hay dentro de cada uno de ustedes.
En especial a mis grandes amigas y colegas ginecobstetras que han luchado muchisimo y han vivido la experiencia de traer vida al mundo, de verdad me quito el sombrero y porque las admiro demasiado, sus guardias sin descanso de 24 horas continuas donde se ve, y se siente tanto lo bello como lo duro de traer vida al mundo, tratar con mujeres embarazada es un tema tan delicado, por que cuando entran a tu puerta de consulta son 2 vidas las que estan en frente y detras viene toda una familia llena de ilusiones y esperanzas.
Por eso a ustedes les dedico esta publicación y hago notar que ustedes son invaluables, siempre recordando mis pasantias por la rotación de ginecologia y obstetricia en momentos como este, por tal motivo lo vuelvo a repetir admiro su vocación, valentía y coraje.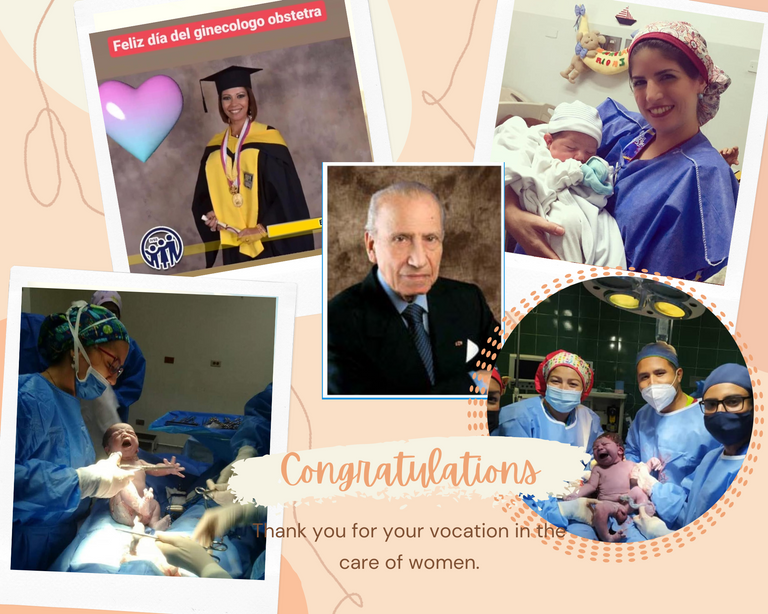 Aqui un Collage de unos grandes representantes de rama médica Gineco-Obstetrica:

La Dra. Angelica Guillén con toga y birrete y sus dos medallas graduandose de Ginecólogo, una gran colega la cual tambien es mi cuñada, quién sera la que reciba mis hijos en el futuro, pueden seguirla por Instagram como @Mundomaternofetal.
El Dr. Oscar Agüero Famoso médico ginecólogo y Obstetra venezolano foto tomada de revista médica colocada en referencias.
La Dra. Lisbeth Estrella en sus brazos un su sobrino a quien ayudo a salir al mundo, gran amiga y colega con quien estuve mis 6 años es la escuela de medicina, posterior a graduarse de gineco-obstetra se especilizo en Fertilidad Instagram
La Dra. Keila De Sousa mi gran amiga y colega de la escuela de medicina, en una imagen recibiendo a este bebé en una cesárea, excelente cirujano y mi comadre. la pueden seguier por su instagram
El Dr. Ibrain Colina el ginecólogo de mi cuidad natal en Acarigua Portuguesa y esposo de mi gran amiga de infancia. Se puede ver como ayudante en una cesarea en institución pública.

Cada doce de agosto, a partir del año 2006, se celebra en Venezuela el día nacional del médico ginecólogo obstetra; día que conmemora a estos especialistas en la atención y cuidado femenino, así como su labor durante la gestación, parto y puerperio del nuevo ser. Su arduo trabajo y esfuerzo ha conllevado a que se les conozca por la dedicación que ofrecen y la atención a sus pacientes y futuros hijos.
El día 12 de agosto se escogió en conmemoración al natalicio del Dr. Oscar Agüero, famoso médico ginecólogo y obstetra venezolano reconocido por su labor en esta área de la medicina, su dedicación al trabajar y la calidad de atención a sus pacientes lo caracterizaban. El Maestro de Maestros de la Obstetricia y Ginecología venezolana, como le decían, muere en su domicilio, en la ciudad de Caracas, donde nació en la caraqueñísima parroquia de San Juan el 12 de agosto de l916. Se gradúa el 31 de octubre de 1941 de Doctor en Ciencias Médicas en la Universidad Central de Venezuela (UCV), con la Tesis Doctoral "Parto Médico (Parto Dirigido)", que fue premiada por el Jurado y publicada posteriormente en la Revista de Obstetricia y Ginecología.
Describen al Dr. Agüero como una persona sencilla, amable, jovial y nada protocolar. Vestía de manera sobria, pero con impecable elegancia. De poco hablar, pero cuando lo hacía denotaba hombre estudioso y bien documentado. Era aficionado al deporte, con preferencia al futbol que practicó en su juventud como arquero y al béisbol.
Ejemplo de los grandes talentos que ha criado nuestra hermosa Venezuela.Fuente
Se propuso el día 12 de agosto, fecha del natalicio del Profesor Dr. Oscar Agüero, médico gineco-obstetra venezolano, de renombre mundial, el cual fue aprobado por aclamación.
Con respecto a esta especialidad, países como Argentina, Ecuador, Perú y Paraguay entre otros, acordaron que el 31 de agosto se celebraría el Día Nacional de la Obstetricia y de la Embarazada; mientras que en Nicaragua decidieron que fuese el día del ginecólogo el 15 de julio en conmemoración del natalicio del Dr. Enrique Lacayo Farfán en honor a sus múltiples méritos profesionales, científicos, éticos, morales y cívicos. Mientras que en Brasil, el día del obstetra se celebra el 12 de abril. Fuente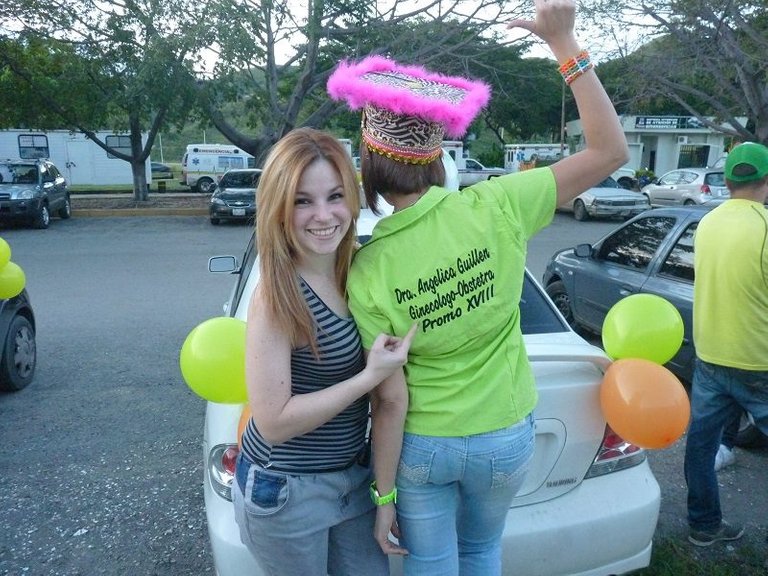 Aqui El dia de la caravana de mi cuñada graduandose de Gineco- Obstetra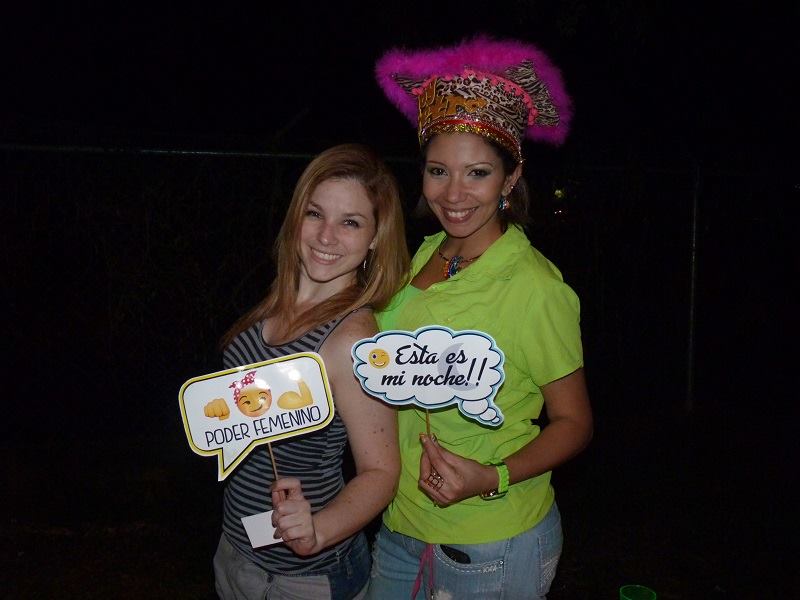 Fue una gran celebración que duro hasta la madrugada en el colegio de Médicos de Aragua.

Hello Hive friends
I want to dedicate and emphasize this post in celebration of this great day, to a vocation of study and care for that wonderful creature: the Woman. To each colleague I send a fraternal embrace and may God continue to enlighten you in caring for our gynecological patients, trying to give the best and all the good that you have within each of you.
Especially to my great friends and colleagues OB/GYNs who have struggled a lot and have lived the experience of bringing life into the world, I really take off my hat and because I admire them too much, their non-stop 24 hour on call where you see and feel both the beauty and the hardness of bringing life into the world, dealing with pregnant women is such a delicate issue, because when they enter your office door are 2 lives that are in front and behind comes a whole family full of hopes and illusions.
That is why I dedicate this publication to you and note that you are invaluable, always remembering my internships in the rotation of gynecology and obstetrics at times like this, for this reason I repeat I admire your vocation, courage and bravery.

Aqui un Collage en dedicación al dia del Ginecologo: podemos ver a mi gran amiga la Dra. Estrella preparando y dando apoyo a un apaciente para una cesárea, mi cuñada Dra. Angelica Guillen en una cesárea, la Dra. Keila De Sousa en su graduación con sus padres y la foto del final ella evaluando a unos morochos que trajo al mundo.
Dios Bendiga sus manos y sus conocimientos.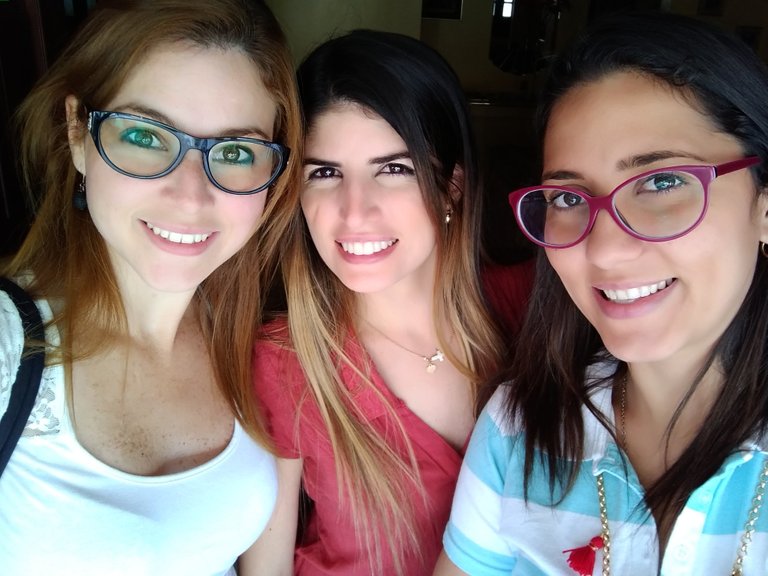 Aqui una foto de la última vez que nos reunimos las 2 Ginecologos y la Traumatologo, ya que la Dra. Estrella tuvo que emigrar con toda su familia por situción Pais. (2018)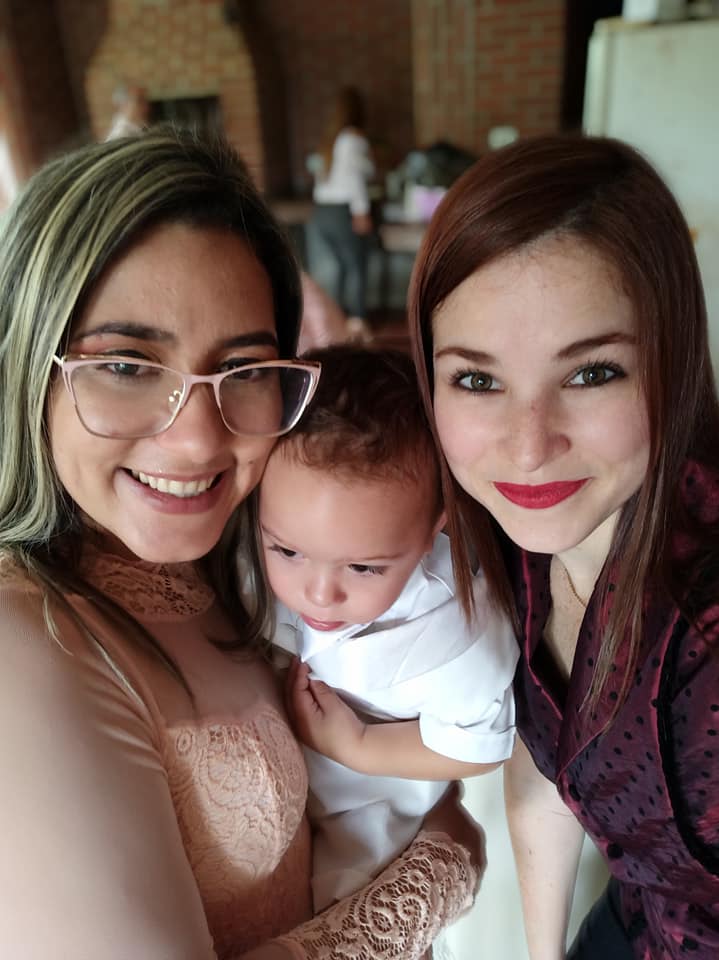 Aqui una foto con mi comadre la Ginecologo en el Bautizo de mi Ahijado.
Every August 12, since 2006, Venezuela celebrates the national day of the obstetrician-gynecologist; a day that commemorates these specialists in female attention and care, as well as their work during gestation, childbirth and puerperium of the new being. Their hard work and effort has led them to be known for the dedication they offer and the care they provide to their patients and future children.
August 12 was chosen in commemoration of the birth of Dr. Oscar Agüero, a famous Venezuelan gynecologist and obstetrician recognized for his work in this area of medicine, his dedication to work and the quality of care to his patients characterized him. The Master of Masters of Venezuelan Obstetrics and Gynecology, as he was called, died at his home in the city of Caracas, where he was born in the Caracas parish of San Juan on August 12, 1916. He graduated on October 31, 1941 as Doctor of Medical Sciences at the Central University of Venezuela (UCV), with the Doctoral Thesis "Medical Childbirth (Directed Childbirth)", which was awarded by the Jury and subsequently published in the Journal of Obstetrics and Gynecology.
Dr. Agüero is described as a simple, friendly, jovial and not at all formal. He dressed soberly, but with impeccable elegance. He spoke little, but when he did, he was a studious and well-documented man. He was fond of sports, preferably soccer, which he practiced in his youth as a goalkeeper, and baseball.
He was an example of the great talents that our beautiful Venezuela has bred.
The date of August 12, the birthday of Professor Dr. Oscar Agüero, a world-renowned Venezuelan obstetrician-gynecologist, was proposed and approved by acclamation.
With respect to this specialty, countries such as Argentina, Ecuador, Peru and Paraguay, among others, agreed that August 31 would be celebrated as the National Day of Obstetrics and Pregnant Women; while in Nicaragua they decided that the day of the gynecologist would be July 15 in commemoration of the birth of Dr. Enrique Lacayo Farfán in honor of his many professional, scientific, ethical, moral and civic merits. In Brazil, obstetrician's day is celebrated on April 12.
REFERENCIAS:
Revista de Obstetricia y Ginecología de Venezuela, v.66 n.3 Caracas sep. 2006 Fuente

Sociedad Científica de Estudiantes de Medicina de la Universidad de Carabobo-Sede Valencia @SOCEM_UCSV Fuente

Las imagenes y separadores fueron capturadas con mi teléfono celular Xiaomi y editadas en Canvas

Edición y creatividad propio del Autor de este post.