Introduction
I use to face this challenge of my data getting exhausted fasted than expected. As a user of Whatsapp, I also noticed that lots of media from Whatsapp contacts or groups find their way to my internal storage, even when I never downloaded them. Until I found out what was happening, it was sort of mystery how my data subscriptions disappear in a twinkling of an eye. Well, when I investigated, I discovered what was happening. I actually made this post with @mesonia in mind because she complained about that today. Her data subscription got exhausted faster than usual and she was wondering how it happened since she never downloaded anything. If you experience the same challenge, the problem could be partly or wholly caused by a particular Whatsapp default setting.
By default, Whatsapp was set up to automatically download media from to your phone anytime you switch on your data. So, you do not have to download every media file manually. Once you open the chat, the media files are automatically downloaded, eating away your precious subscription. SO you have to manually reset the default setting so that you can download only what you want. This will save your data and device storage at the same time. See how to do it.

How to set media download to manual
Open Whatsapp and click the 3 dotted menu line at the top right hand corner of the screen.
Click "Settings" from the Menu. (Check Image below)
Click "Data and storage usage" in the new window.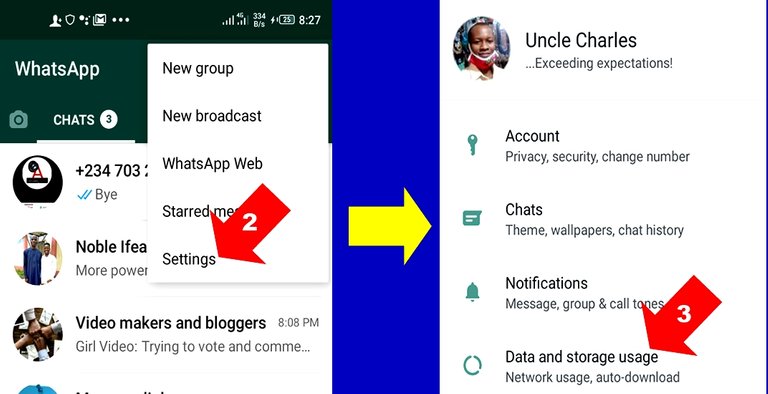 4.. Click "When using mobile data"
5, 6, 7, 8: Click inside the boxes to de-select auto download of all media to your phone
9.. Click OK to finish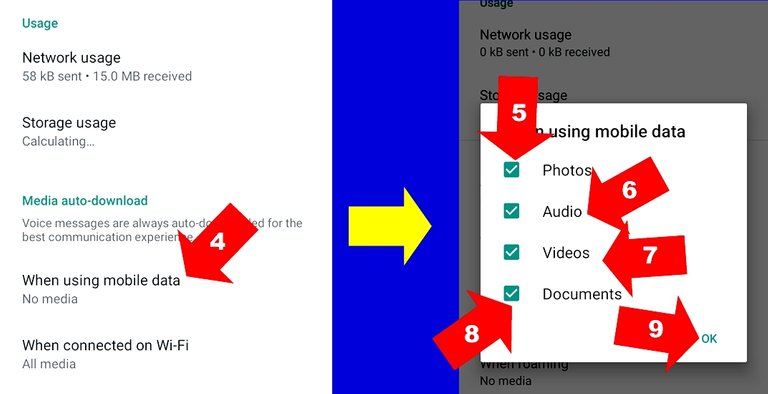 Congratulations, you have remove media autodownload on whatsapp. You can download what you want and save your memory and data.