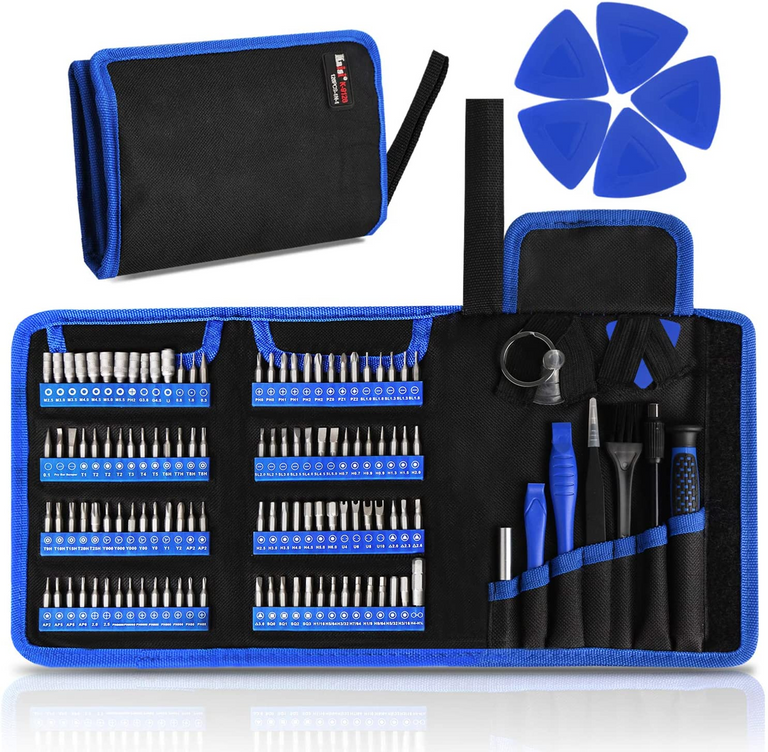 One thing that I talk about a lot on here is my love of all things tech. When I was a little kid, I loved to take various electronics apart to see how they worked. As an adult, I like to take electronics apart to fix them. I've never been a professional electronics repairman or anything, but I've fixed many electronics over the years from game consoles to computers to DVD players and quite a few others. It's been years since I've last had a good screwdriver set and so I finally decided that it was time that I get another one.
Thanks to one of my articles this past week doing really well (thank you so much for that), I was able to earn enough Hive to be able to buy another one.
Saturday, I was looking around on Amazon and had seen various screwdriver kits for electronics. I read countless reviews from various ones before I decided on this one from Kaisi. Overall, it had great reviews, it was in a nice case (unlike some others), it had more pieces to it, and I was able to snag it for just $16.99 as one of Amazon's lightening deals whereas it's normally priced at $19.99. It was the additional savings that put me over the top for wanting to get this one in particular.
---
So, how is it?
For the price, I couldn't even begin to complain. It's a solid little screwdriver kit for electronics repair that doesn't break the bank. Of course it probably wouldn't compete with one of iFixIt's kits, but those kits cost much more. This kit with 126 pieces cost me $16.99. The closest kit by iFixIt (their Manta driver kit) cost $64.99 and only has 112 pieces.
The biggest complaint that I'd seen from others was that some of the really small bits, primarily the Torx 6 bit, had twisted due to too much torque being applied when reinserting screws. From looking in my kit, the Torx 6 bit is in fact a really tiny bit so that's understandable especially coming from something in this price range. It seems like if you don't overtorque the smaller bits then you should be just fine for the most part.
I personally used this set on two different projects today. One project had me taking apart my controller that I use to play Final Fantasy 15 on my PC and it worked just fine for that. I was able to take it apart and then use some q-tips with alcohol on them to clean the contact pad for the L2 button that didn't work on occasion. It was a fairly easy fix and the kit held up without issue.
The second project that I had today was taking apart an old DVD player to clean out some dust in it and to clean off the laser eye as it had occasional issues with reading discs/skipping. Yet again, I didn't experience any issues with using this kit.
The screwdriver itself is a cheaper one primarily made of plastic with a rubberized grip to it. The end where you put in bits though was made of metal and seemed pretty solid. I'd noticed that with a bit in it and tightened down, the bits could still come out but only if you tried to pull them out. It would have been nicer to get a better screwdriver itself, but yet again... I only paid $17 for this set shipped. At least the bits never came out during normal use. It is something to note though.
This kit has every conceivable bit that you could think of for small/medium electronics repairs. It's a nice little set.
If you're looking for a screwdriver set and you're on a tight budget than this kit should leave you more than happy for the price. If you have more money to spend however, then I'd recommend getting one of iFixIt's kits. The biggest benefit to the iFixIt kits is that if anything ever breaks with it, iFixIt kits come with a lifetime warranty meaning that they'll replace any defective parts. Also, the iFixIt kits come with fully metal screwdrivers that ratchet which are really nice. Furthermore, they often sponsor tech Youtubers so you may be able to get discounts on some of their kits which would then make them a little more reasonable in price.
This kit is great, but I'm certain iFixIt's are better.
If you're on a budget though, for a less than $20 kit, I'd recommend this Kaisi kit. It's a good little kit for the price.