I haven't talked much about the internal memos I have been reading at work. Truth is, I won't divulge them in great details as they are relevant only for work. Some of the points do address caregivers' personal lives and family arrangements.
         In short, the memos cover topics such as visitor limitations and child care expenses. On the operation level, they discuss employee redeployment, elective procedures postponed, etc.
         What do they all mean? It means more or less SNAFU. What's more important is how they impact average people. For the most part, it might better to check out your local COVID-19 task force. My state's task force has a Twitter account as well.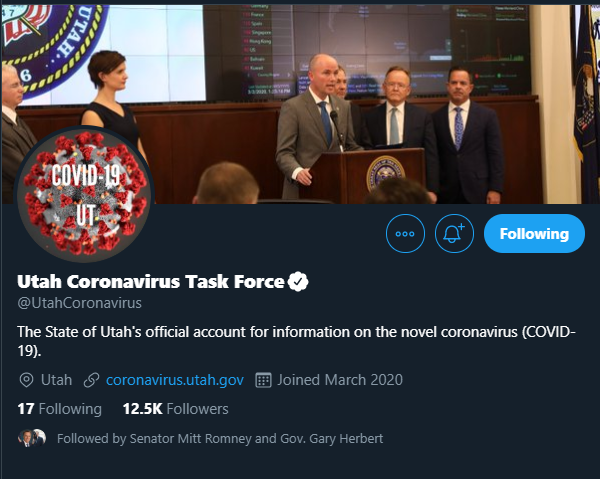 There are several things that come to mind when reading those memos. They affect how people interact with their healthcare system.
1. You can't go to the hospital unless you are actually seeking treatment.
         In Utah, they do have a COVID-19 hotline for people to call instead of everyone flooding into the ER.
2. If you have loved ones in the hospital, only a few (up to 2) of you can visit at a time.
         The reason for this is obvious. The hospitals want to prevent large gatherings. Minors aren't allowed into the hospitals unless seeking treatment.
3. Elective surgeries (i.e. tonsillectomy) not available for the foreseeable future.
         A fun tidbit. Since this policy change, I have noticed a lot less workload on the microbiology side. Who knew there were so many elective surgeries? At this rate, your annual exams could face cancellation as well.
4. Keeping up with immunization and critical services such as dialysis will continue.
         This makes sense. Although it does increase the risk of contracting the virus. But, it's not like you have a choice by this point.
5. If you are a student, not a resident, you face delay in your schooling.
         I have no idea how the students can get around this. Hands-on experience is crucial for any healthcare professionals. Unfortunately, they are more liabilities than assets in current situation.
         Can you imagine delays in your advanced degree that already takes years to complete?
6. If you need a translator, only video communications available.
         This is not a major issue thanks to the power of technology.
7. Donating blood may not be possible unless you are a caregiver. This is to prevent unintended spread of COVID-19.
         This is huge concern. You can't store blood products forever. For a quick breakdown, visit Red Cross's website.
         Even without a major calamity, they expire after a set time. This poses a great threat for when we need blood products. Right now, only hospital staff can donate on site. Everyone else would have to check in with the Red Cross.
---
         So, outside of obvious health concerns and economic implications, there are other problems. I suppose we could label them as secondary issues that arise from the outbreak. Our society becomes more susceptible to other disasters that could follow. They could be social or natural.
         Things look grim, but life will go on.
         Please take care of yourselves and practice good hygiene. Be mindful to those around you.