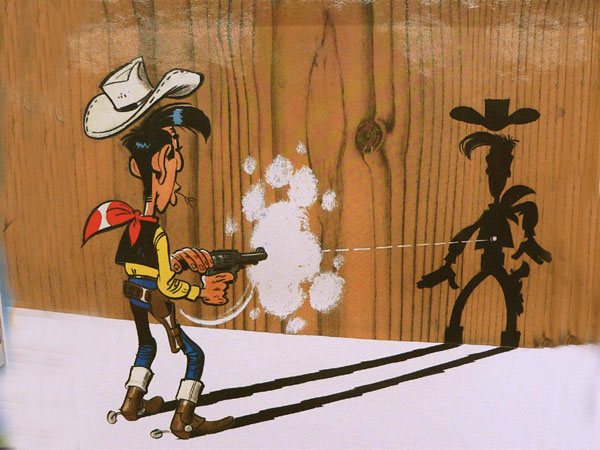 source
Lucky Luke is exciting, funny and interesting to read. And this figure is created to get people being pleased and happy about what they are doing, and to get a funny and another perspective to what one is used to do in daily life from day to day. This is like experiencing day and night in nature, as everybody knows.
Lucky Luke is a cartoon which is created by the Belgian Maurice de Bévère with the signature Morris in 1947. From 1955 and until his death in 1977, René Goscinny made the manuscript for the series. After Morris' death in 2001 has the artist Hervé Darmenton Achdé taken over the job of drawing Lucky Luke.
Lucky Luke is a lonely cowboy, and he travels around in the wild west together with his horse, and that is Jolly Jumper. He fights against bandits as the Dalton-brothers. Lucky Luke is drawn in Belgian drawing style (As in Asterix, Viggo, Tintin and Sprint). There is made an own spin-off-series with the dog Rattata.
Although always described as a cowboy, Lucky Luke generally acts as a righter of wrongs or bodyguard of some sort, where he excels thanks to his resourcefulness and incredible gun prowess. A recurring task is that of capturing bumbling gangsters the Dalton brothers, Joe, William, Jack and Averell. And Lucky Luke is faster than his own shadow, and this is incredible fast, since it is not possible for anyone being a human! And this is also funny with Lucky Luke, making the science as fiction, and making our fantasy going on as we like to imagine and to do our imaginations of what is really happening.
There are many albums with Lucky Luke, and some of them are: «Billy the Kid», «The Brothers Dalton get a chance», «The Brothers Dalton get kidnapped», «The judge», «The hunting for the brothers Dalton», «The ghost towns», «The lorries», «The diligence», «Billy the Kid gets escorts», «Lucky Luke Special», «The Dalton City», «The singing thread», and many more editions, and you find many of them on the Internet, and also in different shops in the world, and Lucky Luke is more available and accessible several places.
The series takes place in the American Old West of the United States. It stars the titular Lucky Luke, a gunslinger known as the "man who shoots faster than his shadow", and his intelligent horse Jolly Jumper. Lucky Luke is pitted against various villains, either fictional or inspired by American history or folklore. The most famous of these are the Dalton Brothers, loosely based on the Dalton Gang of the early 1890s. The stories are filled with humorous elements parodying the Western genre.
Lucky Luke is one of the best-known and best-selling comics series in Europe. It has been translated into 23 languages. 81 albums have appeared in the series as of 2019, and 3 special editions/homages, at first published by Dupuis. From 1968 to 1998 they were published by Dargaud. Since 1999 they have been published by Lucky Comics. Each story was first serialized in a magazine: in Spirou from 1946 to 1967, in Pilote from 1967 to 1973, in Lucky Luke in 1974–75, in the French edition of Tintin in 1975–76, and in various other magazines since.
We do not need monitoring and supervision in our own lives, and we should instead be calmly and engaged with each other, and the meaning of life is to be wise and to be rich. And we should do our own choices, and being an important and good friend with everybody is the way the life is organized with its human relations. But we are independent humans, and we do what we want with life, and we should just be ourselves, and nobody else, although we can be in every body around the planet, since this is about standardization, adaptation and fitness, and this is the philosophy of life, and no other ways.
Please do follow if you want to keep up with my next article. Any upvotes or reblogs are hugely appreciated!
Latest article, check out :
On reading and thinking about the books of Alistair MacLean: The stories in cinematic terms!
Sverre Larsen
Kristiansand, Norway
Read about us? // Main page!
Latest content: Travel, Art, Food, Article, Poetry