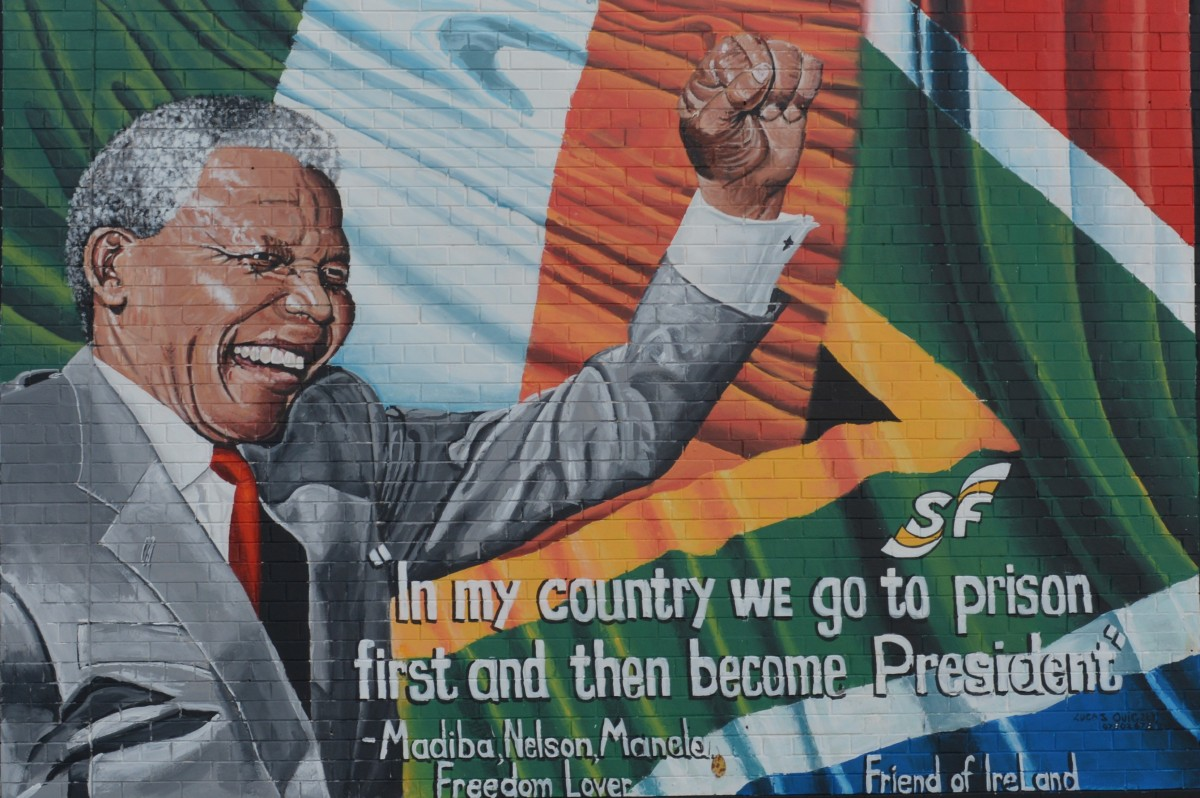 source
Nelson Rolihlahla Mandela was the first black president in South Africa, and he was the country's first president elected in free elections among all the land's citizens. Before we was a president, he had in a number of years been one of the most leading anti-apartheid activists in the country, and he had been in prison for 27 years, and much of the time was on Robben Island, and Robben Island is an island near Cape Town in South Africa.
Nelson Mandela was born on 18 July 1918 in Myezo in South Africa, and he died on 5 December 2013 in Houghton Estate in Johannesburg, also that is South Africa. He was president in South Africa in the period 10 May 1994 to 16 June 1999. His spouse was Graca Machel in the period 1998 to 2013. And they had the following children together: Zindzi Mandela, Zenani Mandela, Thembekile Mandela, Makaziwe Mandela and Makgatho Mandela.
What was really Nelson Mandela being known for? He was a South African lawyer, liberation leader and politician, and he was one of the most prominent leaders for the liberation movement African National Congress (ANC) from the 1940s, and therefore he fought for the black people to get the same civil rights as the white people.
The Nobel Peace Prize 1993 was awarded jointly to Nelson Mandela and Frederik Willem de Klerk «for their work for the peaceful termination of the apartheid regime, and for laying the foundations for a new democratic South Africa». Hence, Mandela and de Klerk worked for a society where we should not discriminate any, and that was also the message to earlier US President John F. Kennedy, and for Martin Luther King jr.
What was really Nelson Mandela fighting for? He meant that every human has the same value, and humans should believe in solidarity and in anti-racism. As the leader of a unified ANC, Mandela was against that the black people should live in own areas, and not being integrated in society. He was also against the fact that the black people should take their own bues, use own toilets, and being on own beaches, and that the public institutions were divided in two, for black people or/and for white people. Apartheid was a silly idea, and people having different color in their skins should be going the same places as all other people could. Race does not matter, and black people are having the same value as white people.
Nelson Mandela was 95 years old, and his whole life was used to fight for the freedom, and there are several films and books about Mandela showing his right face with the right issues at the right places. As president for South Africa, Mandela also played an active role in international African politics, among other he had a role as a peace broker in the civil war in Congo, and he was was hailed as Africa's foremost statesman.
Mandela launched several books in the book markets as for instance the collection of articles named as: No Easy Walk to Freedom (1973) and he also wrote the autobiography: Long Walk to Freedom (1994).
Mandela had to work with negotiations in groups and in nations to solve the conflicts and the disharmony in several places. And any solution is not a solution unless it is discussed in full breadth and depth, and being engaged with thinking, emotions and empathy can do us capable of living the life in any human body. And everywhere there is way going through the body, and all people must move, being placed in fixed seats, and be breathing in the air.
Please do follow if you want to keep up with my next article. Any upvotes or reblogs are hugely appreciated!
Latest article, check out :
The world inventions: The history and the case of the toys!
Sverre Larsen
Kristiansand, Norway
Read about us? // Main page!
Latest content: Travel, Art, Food, Article, Poetry