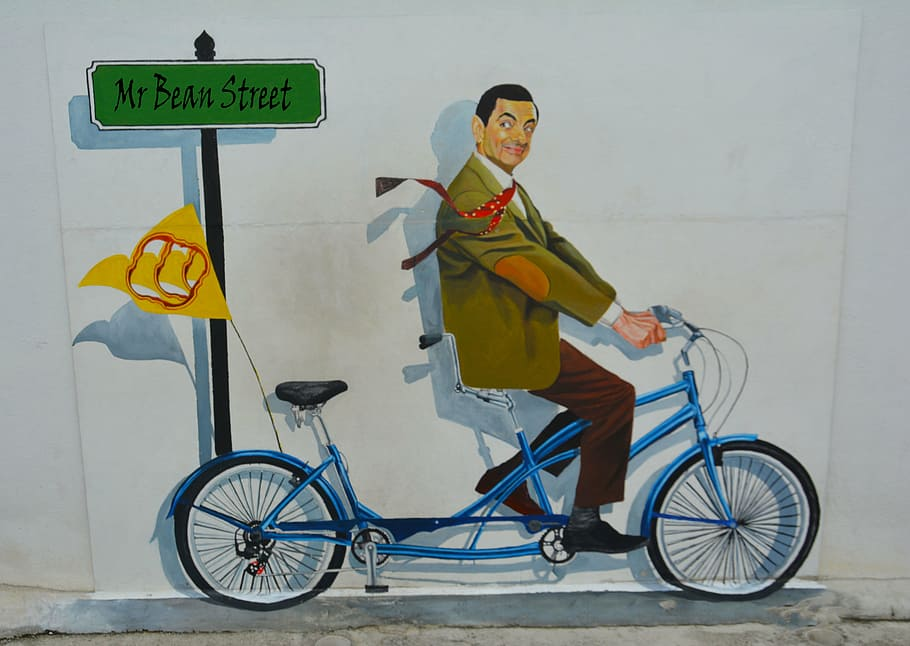 source
Mr. Bean is a comic character played of the actor and the comedian Rowan Atkinson. And life is short, but we should laugh about it, when we have the possibility of doing that! But mastering situations in life is both serious and funny, and we should find the combination that we like!
We find many films that are funny with Mr. Bean, for instance being in the hotel and having the penis out of order! And we also experience the exam, where Mr. Bean cheats and he has many pens with him. And he has also specialized himself on trigonometry and it stands on the back of the sheet, and Mr. Bean gets the message of this just with 5 or 10 minutes left of the exam. And his answers on the other things are either wrong, blank, and with opinions he cannot explain. And we find Mr. Bean in funny situations, and it is daily life incidents with experiencing normal things, and doing normal things in funny ways.
Mr. Bean is a chronically unfortunate, lively, funny, but also a socially clumsy guy who comes up in many weird situations. And he loves to do these things in funny ways, and he wants life fun and he hates to lose. So, we are following Mr. Bean when coming to a situation, being in a situation, and leaving the situation. Most of the time he manages to get out of the situations in more strange ways than he wrapped himself.
The character of Mr. Bean was developed while Rowan Atkinson was studying for his master's degree in electrical engineering at The Queen's College, Oxford. A sketch featuring Bean was shown at the Edinburgh Fringe in the early 1980. Hence, there is competence and many things with Mr. Bean, and he is doing the known things in new ways, but often in expected and sometimes unknown ways, and that is the reason why we are laughing. Making things is seriously manners, and in funny manners is the reality of understanding life. And we can make as many questions as we like, and we should try to find answers on the things we are examining.
Bean could have been named after another vegetable. It wasn't until shortly before Mr. Bean hit the airwaves, and after production had already begun, that the character actually got his name. We should enjoy life with listening to and with following Mr. Bean, and we should be honest when seeing it, and never do silly and unreflected things. And hence, we are forming our life, and we are responsible for all that we are doing with it.
Rowan Sebastian Atkinson is a British actor and comedian, most known for his roles as Black Worm and Mr. Bean in the TV-series with the same name. He is born on 6 January 1955, and therefore he is 66 years old today. In 2003, he was voted as one of the 50 most funniest persons within British comedy of the newspaper The Observer. Rowan Atkinson was married with Sunetra Sastry in the period 1990 to 2015. He got a new partner, Louise Ford, in 2014, and he still has this partner. He has some children, and they are: Lily Sastry, Benjamin Atkinson and Isla Atkinson. And Rowan Atkinson has his education from The Queen's College, University of Newcastle, St. Bees Schoos, University of Oxford and Chorister School. Hence, he has accumulated much intelligence, knowledges, creativity and emotions. And he makes people laugh of their own lives, and other people's lives!
When beginning your studies at the high level, you should ask if there are jobs, and how the jobs are. And you should after that use your knowledges and your potentials. Work with people being proud to be around you and me, and seek the challenges that we want!
Please do follow if you want to keep up with my next article. Any upvotes or resteems are hugely appreciated!
Latest article, check out :
The history of the music artists: The case of Kora!
Sverre Larsen
Kristiansand, Norway
Read about us? // Main page!
Latest content: Travel, Art, Food, Article, Poetry