Hi fellow Hiveans,
Today I wanted to share something I've been meaning to talk about: PeakD and Node Benchmark testing. If you aren't sure what it is, read on!
First of all, this is something that is used when you access the website www.peakd.com to log into and interact with the Hive blockchain. If you don't use that website yet, I HIGHLY recommend using it! It's by far the best front end you can use for both mobile phone as well as desktop/laptop computers!

Node Bench-what?
One of the really cool things that the awesome PeakD team has come out with in the last few months that I've taken advantage of on a few occasions, is the ability to do a Node Benchmark test. If you aren't too much into computers, that basically means you are testing each PeakD node you are connecting to and seeing which one gives you the fastest response time. This is based on the geographic location of the node to where your internet connection resides. There are more components to that such as CDN (content delivery networks) components but that's for another day.
The benchmark is an awesome test if you're looking to see what way you can connect to the fantastic Hive network the fastest! For some of us, we need to have pretty good response times to comments and posts, so what better way then checking to see how you can optimize your connection?
As we can see below, the best node for me to connect to has a 1.5 second response time to my queries. That's pretty fast considering how we are a relatively small platform in terms of the wider internet platforms! It's also great because you can see how many full-node options you have the option to connect to.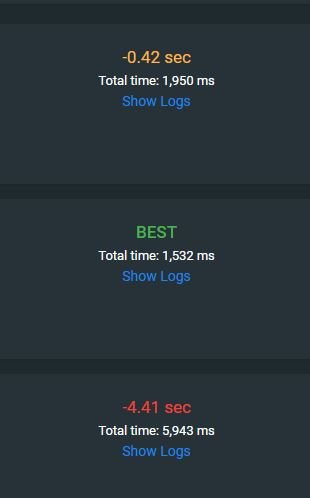 That's great and all, but how the hell?
How-to
Ok so you've made it this far but are thinking, "Ok cool.." and "what the hell, how do I do it?!"
Luckily, the way to get there is actually fairly easy. If you are on PeakD on your computer or on your phone you can still get to it (I think on mobile it works.. don't quote me on that yet!)
If you visit your account on PeakD and go to "Tools" you will see lots of options. The bottom of those options will be "Node Benchmark" which you can click. It will ask you to "Start Benchmark" which is a process that will ping the various full nodes that are out there and return the top picks for you to choose between.
As you can see, Blocktrades has one I could connect to, Anyx, Drakos and some others. Anyx seems to be the one that I am most geographically close to so it provides me with the best connection. That's the one I am currently connected to. I noticed a pretty quick difference between when I was just using the default, which is Blocktrades, to when I switched over to the Anyx node. It loaded things faster so that was really nice!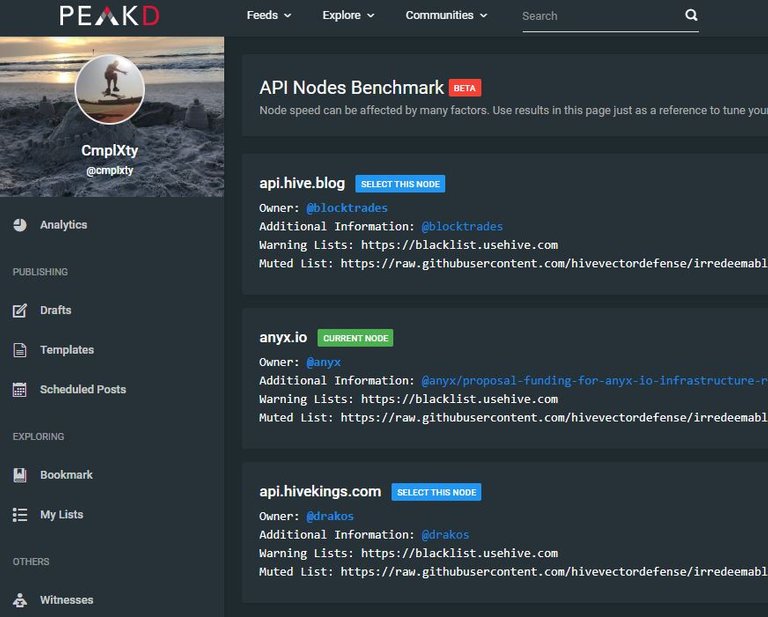 Give the Node Benchmark a try on your own and see what you get for results! You may change up your habits and notice a significant improvement in response times! Let me know what node you connected to and what the response time was! I will give away some small hive (0.1) tips to those who actually do this and show me their results!
The other really cool thing about this is that it also applies, often, to the other apps you use for Hive! I switched my node on the Ecency app and have noticed faster response times on that versus the standard node they use.

Connect with me!
Did you enjoy this post or my other posts? Please consider following me for more! @cmplxty
Do you want to get paid, in crypto, for searching the internet? Try using and signing up for Presearch to earn some great crypto! I've currently got 1,201 PRE tokens, with a market value of $28.50. It doesn't sound like a lot but when you search using sites like Google you get paid $0! Join Presearch to break Google's stranglehold on the internet searches. If you'd like to sign up, use my referral link below and spread the word!
https://www.presearch.org/signup?rid=513043
Still using hive.blog? Upgrade! PeakD is a much better user-interface, gives loads more information at your fingertips and has some of the best developers behind it. Give it a try, go to www.peakd.com and see how much easier it is. You just need to use Hivesigner or Peaklock some of the most secure ways to log into other Hive frontends.