[//]:# (!pinmapple 6.430972 lat -65.782013 long Empresa agroinlaca en la Zona Industrial II de Barquisimeto Venezuelña d3scr)
"Agroinlaca" Business Headquarters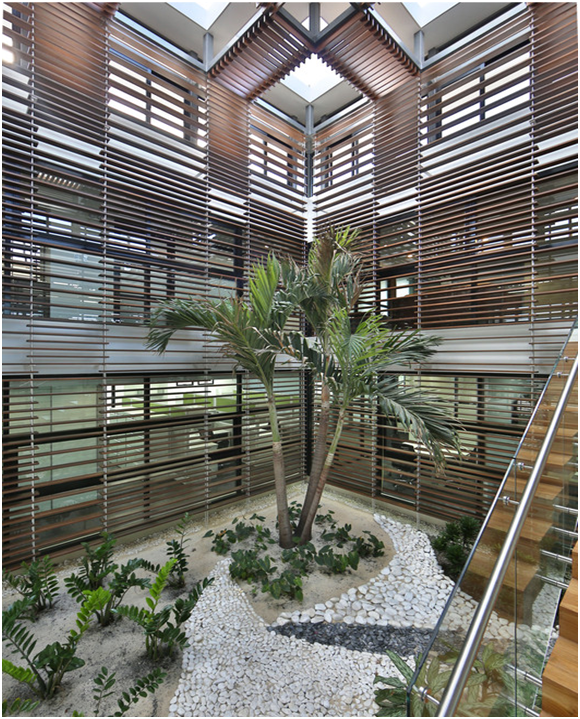 View of the inner courtyard (Vista del patio interior) Image
     Dear friends of the Hive communities, it is a pleasure to introduce you to a modern jewel of architecture built in my hometown, which, although it is the headquarters of a private food company, is nonetheless a magnificent architectural work that we can enjoy even virtually. I invite you to stroll through the photos that I have compiled with great appreciation for your aesthetic enjoyment.
---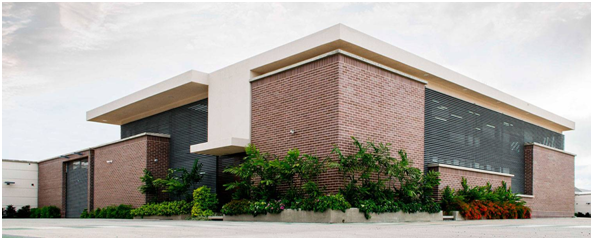 View of the building with its brick walls (Vista de la edificación con sus paredes de ladrillo)
Image
     The "Agroinlaca" Business Headquarters, a work built in 2017, occupies an area of 780 m2, is located in Industrial Zone II of the city of Barquisimeto-Venezuela, it was built as a two-story checkerboard-shaped building. With a central patio that allows you to see all the areas and environments of the building inside, around the patio there is a composition of brick walls, with a large flat roof, from there you can see the windows and a metal lattice, a device that it allows the rational use of tropical sunlight and in addition to serving as a protective shield for the building.
---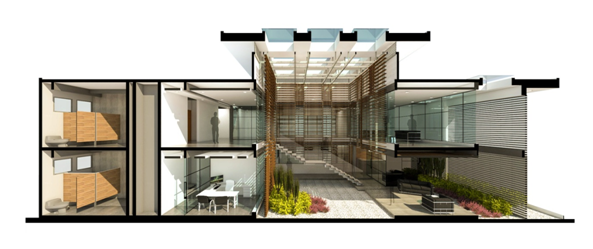 Longitudinal section of the building (Corte longitudinal del edificio) Image
     The gravel and vegetation floor of the Central Patio, which covers a third of the useful space, gives the feeling of being in an area of beach vegetation, while the roof that covers it is pierced by 9 skylights built with glass for the passage of the light that is dimmed by the interior wooden latticework that covers the entire patio. On one side of the patio you can see the staircase that allows access to the second floor.
---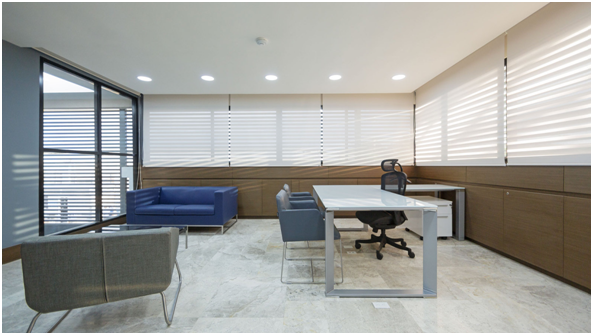 Wide and comfortable spaces to work (Amplios y confortables espacios para trabajar) Image
     According to the report presented by the architects of the company Domina Proyectos, the construction company: "The building is constructed of steel tube frames and preformed and galvanized sheet slabs. The finishes of the opaque and transparent enclosures will complement the composition to define each workspace according to a detailed and meticulous program. The restrooms occupy the back quadrant, leaving all the others to open to the outside." See: https://www.plataformaarquitectura.cl/cl/900952/sede-empresarial-agroinlaca-domina-proyectos
---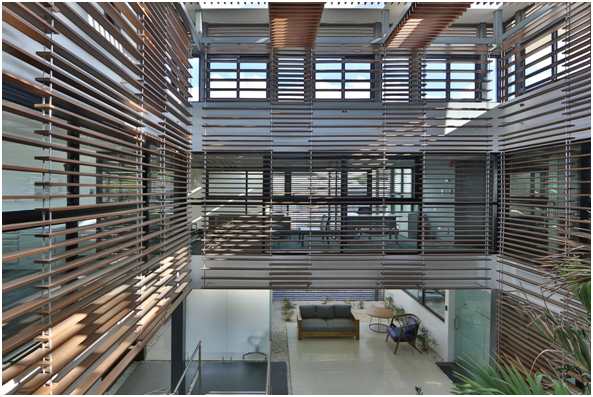 Modern and cozy Agroinlaca headquarters (Moderna y acogedora sede de Agroinlaca)
Image
     As the building is located in a particularly hot area, it was necessary to install an air conditioning system, trying to minimize the consumption of electrical energy, through a system of conduits specially designed to help save and use it efficiently. Common spaces, such as the patio and the surrounding quadrant, have an efficient system that does not use electricity for air exchange that maintains pleasant ventilation in those spaces.
---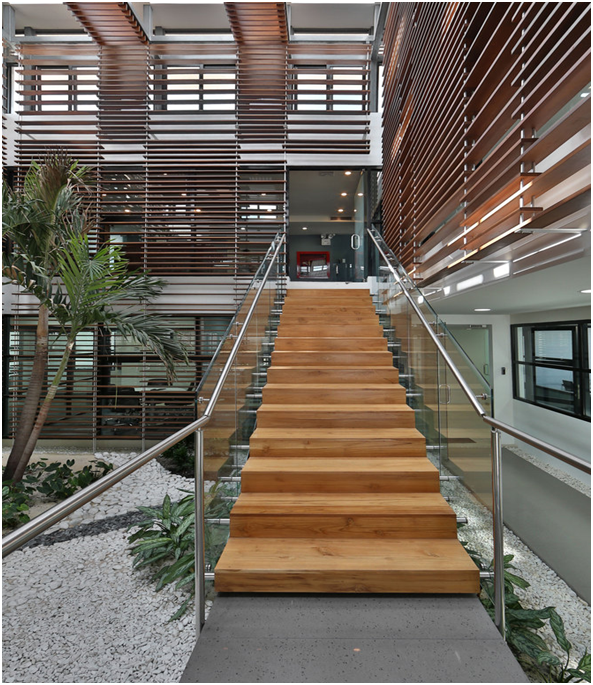 Magnificent staircase made of Wood (Magnífica ecalera hecha en madera)
Image
     The facade of the building speaks little of its interior, because at first glance it seems that we are facing an intimidating industrial fortress, which really contrasts with what can be observed once the doors of the building are entered.
---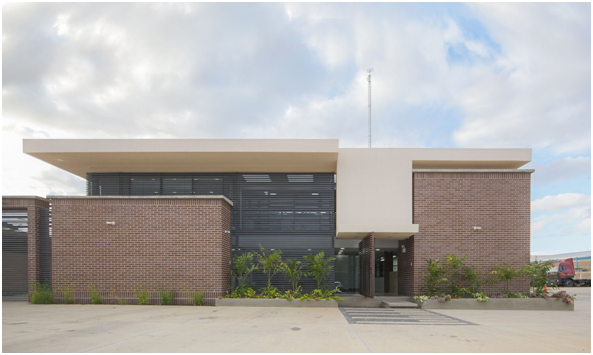 The facade does not say what is inside (La fachada no dice lo que hay por dentro)
Image
     Reference bibliography:
Sede Empresarial Agroinlaca / DOMINA proyectos
https://www.plataformaarquitectura.cl/cl/900952/sede-empresarial-agroinlaca-domina-proyectos
---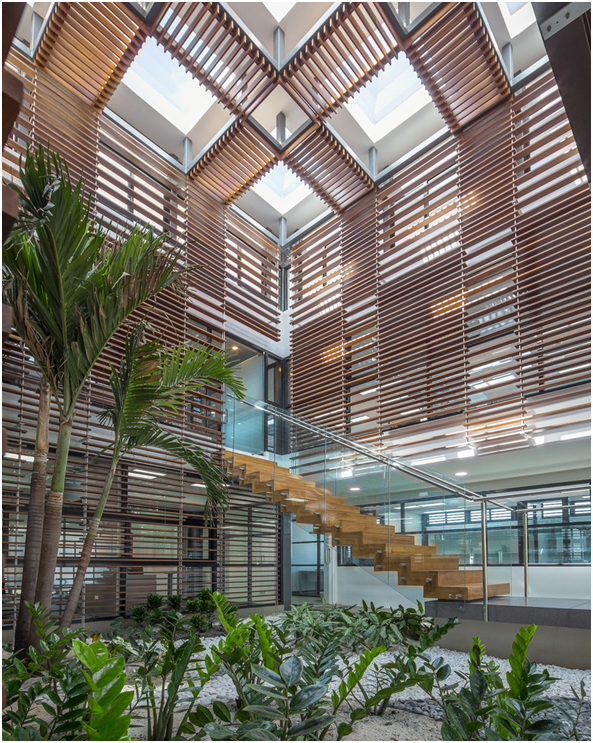 The patio with its vegetation and wooden staircase (El patio con su vegetación y escalera de madera) Image
---
Sede Empresarial Agroinlaca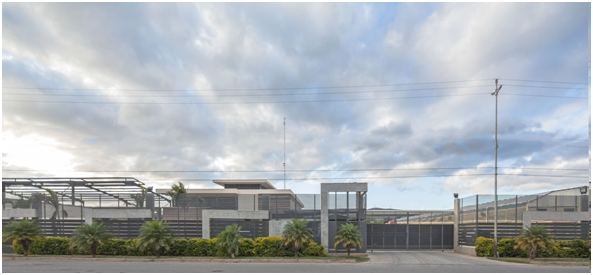 Facade of the Agroinlaca company building (Fachada del edificio de la empresa Agroinlaca) Image
     Estimados amigos de las comunidades Hive, es un placer presentarles una joya moderna de arquitectura construida en mi ciudad natal, que si bien es sede de una empresa privada de alimentos, no por ello deja de ser una magnífica obra arquitectónica que podemos disfrutar aunque sea virtualmente. Les invito a pasearse por las fotos que con mucho aprecio les he compilado para su disfrute estético.
---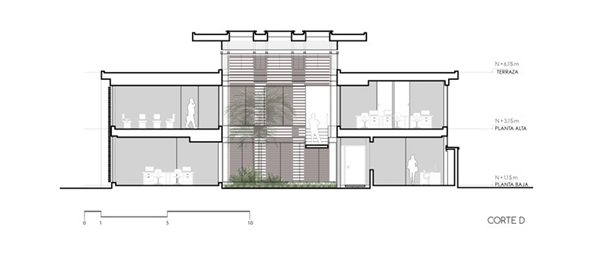 Diagram of the two floors and the terrace (Diagrama de las dos plantas y la terraza)
Image
     La Sede Empresarial Agroinlaca, obra construida en 2017, ocupa una extensión de 780 m2, está ubicada en la zona industrial II de la ciudad de Barquisimeto-Venezuela, fue construida como un edifico de dos plantas en forma de damero. Con un patio central que permite visualizar todas las áreas y ambientes del edificio en su interior, alrededor del patio se levanta una composición de muros de ladrillos, con un gran techo plano, desde allí se pueden observar los ventanales y una celosía metálica, dispositivo que permite la utilización racional de la luz del sol tropical y además de servir de escudo protector del edificio.
---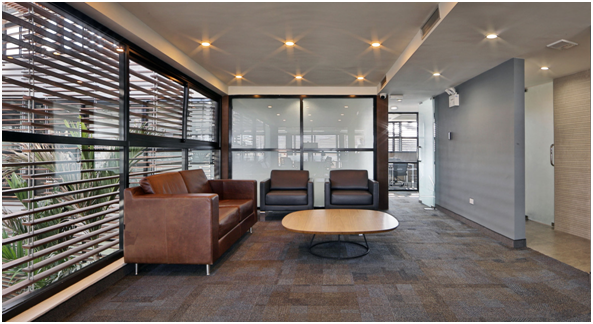 A place to rest and chat (Un sitio para descansar y charlar) Image
     El piso de grava y vegetación del Patio Central, que cubre un tercio del espacio útil, da la sensación de estar en una zona de vegetación playera, mientras que el techo que lo cubre está horadado por 9 tragaluces construidos con cristales para el paso de la luz que se atenúa con la celosía interior de madera que cubre todo el patio. A un lado del patio se puede observar la escalera que permite el acceso al segundo piso.
---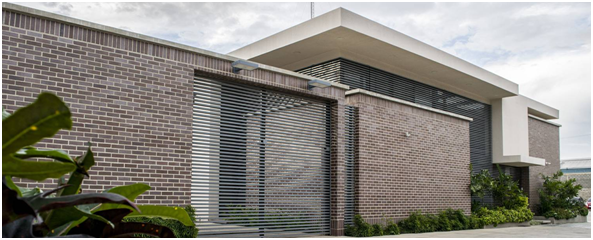 View of the building with its barred doors (Vista de la edificación con sus puertas enrejadas)
Image
     Según el informe presentado por los arquitectos de la empresa Domina proyectos, constructora de la edificación: "El edificio está construido en pórticos de tubos de acero y losas en lámina preformadas y galvanizadas. Los acabados de los cerramientos opacos y transparente complementarán la composición para definir cada espacio de trabajo según un programa detallado y meticuloso. Los servicios higiénicos ocupan el cuadrante posterior dejando todos los demás que se abran hacia el exterior.". Véase:
https://www.plataformaarquitectura.cl/cl/900952/sede-empresarial-agroinlaca-domina-proyectos
---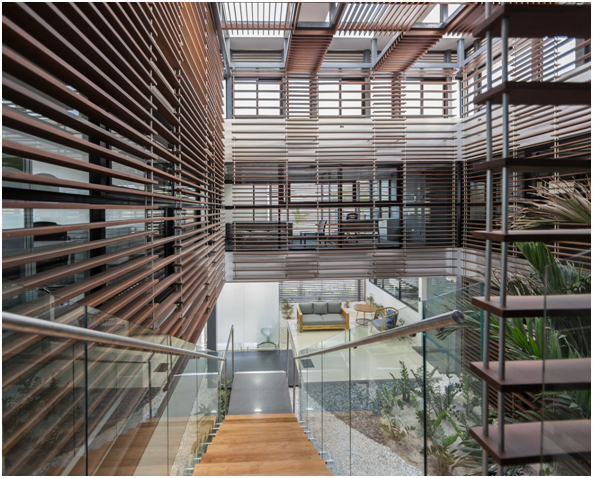 Panoramic view from the first floor (Vista panorámica desde el primer piso) Image
     Al estar ubicada la edificación en una zona particularmente calurosa, fue necesario instalar un sistema de aire acondicionado, tratando de minimizar el consumo de energía eléctrica, a través de un sistema de conductos diseñados particularmente para ayudar al ahorro y uso eficiente de la misma. Los espacios comunes, como el patio y el cuadrante aledaño, cuentan con un eficiente sistema que no hace uso de la electricidad para el intercambio de aire que mantiene una ventilación agradable en esos espacios.
---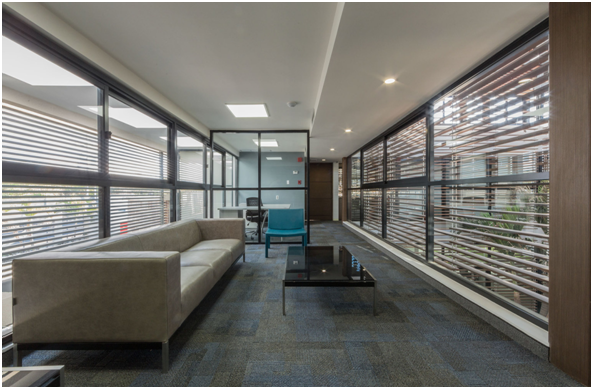 Rest and meeting area (Zona de descanso y reuniones)
Image
     La fachada de la construcción habla poco de su interior, pues a primera vista pareciera que estamos frente a una fortaleza industrial intimidante, lo que realmente contrasta con lo que se puede observar una vez que se traspasa las puertas de la edificación.
---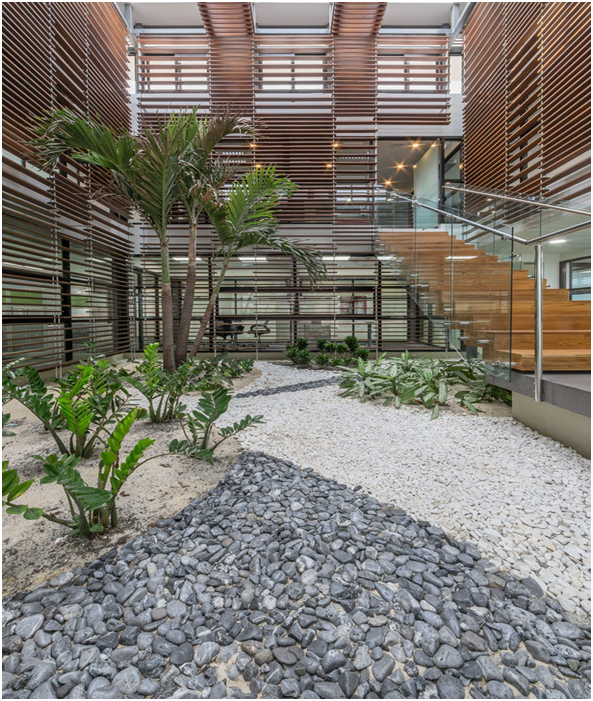 View of the building from the courtyard (Vista del edificio desde el patio)
Image
     Bibliografía de referencia:
Sede Empresarial Agroinlaca / DOMINA proyectos
https://www.plataformaarquitectura.cl/cl/900952/sede-empresarial-agroinlaca-domina-proyectos