Disclaimer: The person, places, events and setting in this story is fictitious and comes from the author's imagination.
Bold statements indicate the dialogue of the characters.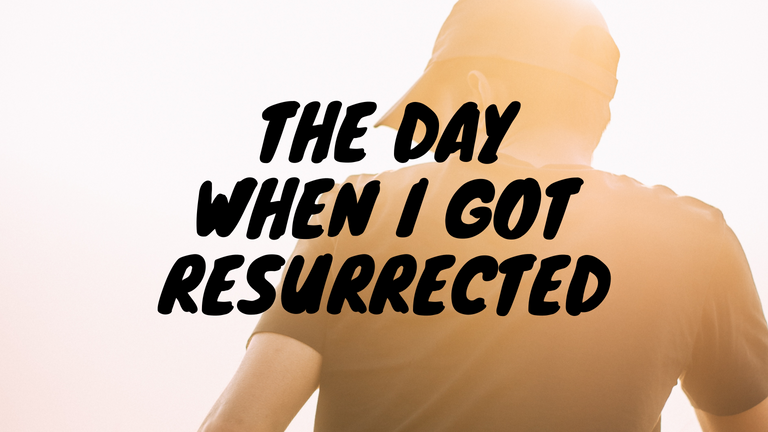 Do you guys believe in resurrection? a girl in her 20s, Ana, asked her friends.
I don't know, I had watched some documentaries, they said it is real. Jason, 23 years old said. He is a superstitious person. He believes in superstition because he was raised by his grandmother from the countryside. How about you, Steve?
Uhh...no. I never believe those things guys. I usually believe in science and I don't think science proves the resurrection. Steve, 21 years old, is an atheist. He is a genius and never believes in superstition.
These three friends are having a simple reunion after 3 years without having a personal communication. They only talked in social media and have been close since they were kids. Ana is the only girl among the three.
Despite their different beliefs, it never became a hindrance to their friendship.
Hey Steve, your turn. Ana said to Steve. They are now drinking alcohol and having fun in the bar where they are the only people. Well, Ana rented the bar, she is a rich girl despite her young age.
Oh come on… I can't do it. I am drunk already. The world is spinning. Steve responded.
Hahaha! Nothing new huh? You are still weak when it comes to drinking. Jason said to Steve.
Bro...stop, whatever.
Hey guys, stop. I think we need to call this a day. Ana said to the two. You guys can drive?
Of course, I am the King of wines. Jason said jokingly then looked at Steve who was already sleeping on top of the table. I don't know if this guy can drive. He continued to laugh.
O-o-of cours--e I can drive. Steve replied. He has difficulty speaking because of being drunk.
His two friends only laughed at him.
Time passed and the three decided to go home. After getting a coffee, all of them are now thinking clearly. Somehow, Steve can think also but is still dizzy.
So…until next time? Ana asked. I think we will see each other again for a long time.
Yeah I think so. Jason replied. Steve is just looking at them while smiling.
They hug each other before riding in their own cars. Bye guys! Steve shouted before leaving the place.
They left the place together but went in different directions.
While driving, something came into Steve's mind. Is resurrection is real? He do not know why he is thinking about it. Ugh, why are you thinking about those impossible things, Steve? He asked myself while driving. Maybe I am still dizzy, an effect of the beer and wine. He is convincing himself.
He was near his house when an uncontrolled bus was driving in front of him. It has a speed move and moves towards his car.
A huge explosion filled the road, and they crashed.
Ambulance and the police arrived in the scene after 25 minutes...BUT
They are late, Steve is gone.
---
Time passed by...
---
Here we go, the puppy was born successfully. A veterinarian said to the owner. A newly born cute puppy was born.
The time that puppy can see, he saw a woman in front of him. She is his owner.
The puppy was shocked, he couldn't believe it. It is Ana, his friend.
Ana...I am Steve. He said but only barks was coming out of his mouth.
That day, Steve proved that resurrection is real...but in another body.