I was born into a Christian family, Dad was very fierce during his prayers. If the man didn't mention Jesus occasionally you'd think he was quarreling with someone. He later turned out to become a pastor (not that I approved of it though). We were never catholic but strictly Pentecostal, Sunday rituals of morning fasting was imbibed in me, i dared not be missing at the beginning of opening prayers else that would be another home sermon after the church sermon.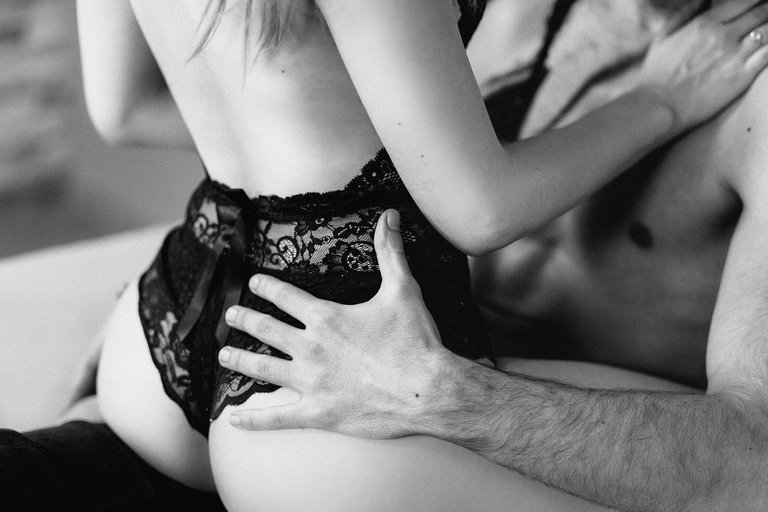 Over time as I advanced in life and education I left home for tertiary institution away from home, it was a big break for me. Freedom at last, or so I thought. Man is never free, we're forever prisoners either of our own will or against. I didn't attend church so often anymore but Sundays was always holy for me. Well, except for one time.
I attended service alright but it was the 2nd Service yet i was late, I had missed the opening prayers and even worship session was halfway gone. As I sat in the middle of the crowded hall to say a short prayer (not sure I said anything of note, but it was a routine for church goers to come in, ignore everyone until they have sat down or even kneel to say a short prayer) afterwards, I stood up, lifted my hands and joined in the worship.
However, it didn't seem like I came to church alone that day because like Adam and Eve my eyes suddenly opened and I could see well. I started seeing babes with microphone on the altar instead of choir sisters leading us in worship. It became obvious that the Sister leading the session took her time to look good, she wore a sky blue long sleeved body fitted top with a penciled skirt the length of her knee so tight it revealed her waistline and all its curves and the bulkiness concealed. The wig on her head seemed like some invincible wind was blowing it to her face because she kept flipping it backwards though it was OK and where it should be. And the way she held the mic close to her lips... With her eyes shut.
I drifted back to reality, then I discovered my mouth had been open not sure for how long but I was almost drooping.
Get thee behind me Satan!
Get thee behind me Satan!!
Get thee behind me Satan!!!
This Satan meant business oh... He or she Wasn't ready to leave me just yet... By the way Satan male or female?... Hmmph
While I was still about my personal exorcism, I noticed the usher by the right directing another latecomer to the next empty seat by my side.
She was slender and averaged height, she had those kind of thin jaws, chiseled chin and pouty lips like she was going to blow me a kiss anytime soon. Her body frame was holding breasts the size of my palm with almost no behind. One would think she was well adorned in the behind section with the way she was swinging the hips about but alas it was a disappointment.
(tuts) All this dramatic entrance for what, A phishing board frame? Definitely not my type... I like'em stocky.
I said to myself.
How could i be saying a thing like this in the presence of divinity. Right now I think Matthew chapter 5 verse 27 and 8 was referring to me.
I managed to survive the rest of the worship session with my fantasy standing right in front of me but in the wrong place. It was time for offering and it was like someone tipped my third leg about a war. These Yoruba women with voluminous backside whose only style of dance is the bum (I mean we already know its big why drag more attention to it. That thing is doing the advert for itself, when we see you we don't see anything else just big bum bum) yet once they hear small music they just wriggling left, right, left right...una no sabi any other way to dance?
I had an erection the size of a pipeline and it kept nodding my zippers like it would bulldoze its way out on its own. The pain was unbearable I had to excuse myself to the gents. Imagine the relief when I brought this brother out immediately I got to the toilets. I swear it is true what they say "the penis has a mind of its own".
I told myself I was done, I couldn't take myself back into the auditorium and sin anymore, before lightening strike me inside Church. So I decided I'd share grace right there in the men's room. I think I woke up on the wrong side of bed.
I got to the gate and flagged down a commercial motorcyclist to take me home, as I was about humping on I heard... psst! psst!!
It was the slender lady that sat by my side in the auditorium. She wasn't walking so gracefully like she did trying to draw attention earlier in church.
No 9 Williams Street by Ogunbimpe roundabout.
She inquired of the cyclist if he was headed that way. He concurred and they started bargaining. (Women with beating down prizes, Jesus have mercy).
Please could you let me sit in the middle?
I didn't realise she had finished with the cyclist and now referring to me until everywhere was silent after her last words dropped.
I don't like sitting at the edge because of the iron, it hurts my bums.
Which bums? This flat thing that I'm looking at?
She was already giving me the puppy eyes.
What is wrong with this one? Tin ba gba eti e.. Ara e abale (which means, if i slap you you would become normal...in Yoruba).
However, I had to be a gentleman. So I alighted and allowed her sit in between the bike man and myself.
Another wahala (Problem) started again, her dry bum was rubbing on my groin area, as if to punish me for leaving so early to avoid the sights in church, I was having an erection... AGAIN!!! This time it was tripled the size in church. What is this one again.
For some reasons unknown to me, this motorcycle specialized in avoiding the good side of the road and picking up rocks and hurdles to climb sending this slender weight in front of me to occasionally rest her entire petite body on me causing my groin to harden even more. On one of those times I didn't know when I let out a soft groan.
I was thinking about how I'd hide my face when I get to my bus stop and this girl would look at me, a brother in church dry humping her...on a bike...in broad daylight!!! There was no need to ask for evidence, the bulge in my zippers was enough. We were almost close to my stop
How it happened I know not but next thing I remembered was our bike man lost control of the machine and we were trying to stabilize ourselves.
Out of reflex i was trying to hold onto something firm.
It was an awkward moment. We were still going zigzag trying to avoid falling into the ditch filled with muddy waters that lined the poor road network when I grabbed it, surprisingly with both hands. And no it wasn't strong, it was soft.
I was right, her breasts fit perfectly in my palms. I wanted to let go but I couldn't, somehow the weight of her frame well positioned prevented me from falling backwards into the pool of dirty water. Suddenly, she grabbed my hands and pulled me closer towards her, her purse fell off and so did we.
Luckily for us we didn't fall on the side of the bike's exhaust pipe but we were totally in the mud with a Suzuki motorcycle partially rest on us with the bike man whose right foot still standing was trying to get the bike on its two wheels again.
As we stood accessing the damaged, onlookers were gathering to help. Situation was managed with no casualties, or so i thought.
This lady was drenched, her gown ruined and one heel from her shoes pulled out. I wore a Yoruba native attire called "Adire" known as Tie & dye in English and black pencil pants on leather sandals, so I wasn't badly ruined plus my house was only a few blocks away.
Are you hurt?
Did you fall hard on any bone or muscle?
I was asking... The bike man was feeling so sorry (though he wasn't at fault, bad governance was).
I'm OK... Just ruined.
I was rushing to a thanksgiving service in another church now I can't go like this. My dress is ruined. Look at my shoes.
Women and material things, of all worse case scenarios to worry about na shoe and gown dey worry this one. I'm OK too thanks for asking by the way.
Its fine... How close are you to your house? Maybe you could ruffle something else to wear and be off to the Church Service.
Kudirat Abiola Way... That's like on the other side of town.
Indeed it was, I said to myself. Any further humanitarian service to this chic would see me loosing good money to Uber her home and my pocket wasn't so friendly at the moment else I'll fast on some days in the new week. Salary was 2 weeks away until then I'll have to manage myself.
Listen I know its inappropriate but given the situation at the moment, my place is only a few blocks from here. You could come with me while I dryclean your clothes and fix your shoes for you so you can be on your way.
She looked at me, accessed herself and her wetness again returned her gaze to me and trailed her way to my groin and then smiled.
Why, wouldn't that be asking too much of you? All these wasn't your fault.
Would you rather risk taking another bike headed home like this?
I gestured towards her
Madam use this slippers since the other one don break.
A female store keeper offered her a pair of rubber slippers which i thought was so kind.
Thank you.
We both appreciated the woman.
I didn't catch your name
My co passenger asked me
Bode... Olabode Badmus Oguntunde. And you are?
Sarah. Thank you for wanting to help and I have no choice but to accept your offer. So where is your house?
I walked up to the bike man still checking up his bike to see if all is well? In pidgin I asked
Oga how far, you fit still ride? If yes abeg come carry me go my house, e no far from here.
Two minutes later and we were on our way to my apartment. Meanwhile, i was still wondering when we were going to talk about what happened on the bike between my hands and her breasts.
We got to my gate and the bike man zoomed off after dropping us without collecting his fare. So kind of him maybe still feeling guilty.
Thankfully the compound was silent, everyone had gone to church. We are only 3 tenants occupying two bedroom flats each with the landlord occupying the top floor of the singled storey building.
I opened my front door and sweet lavender smell from the Air freshner greeted our nostrils.
Nice Apartment, Classy taste and cool color choice.
Sarah's eyes kept scanning from wall to wall. I felt proud of my self.
I just try to pay attention to details.
I said with all modesty I could garner.
I showed her to the guest room where she would remove her clothes and use the bathroom while I put her gown in the laundry machine. I stepped into my room to change too and bring a shirt that I know would be oversized for her.
As I returned to the sitting room before locating the guest room I was shocked. Sarah had left the room and was admiring a painting on the wall...but her cloth was folded under her armpit.
She was totally naked.
What sort of Sunday was today?
I stood for many seconds before finding my voice again.
I brought you some clothes
She looked at me and I avoided her eyes.
Stop acting like a nerdy virgin. Was it not you who grabbed me few minutes ago?
With the way you were squeezing it you didn't act like a nerd then.
Or you just like assaulting women you board a bike with sexually?
We were experiencing a near death situation. And I was going to apologize. I am so sorry.
Well start with taking off your clothes too... I don't want to get too comfortable in your own house. I'm like this because I don't have what to wear and i don't want your clothes.
She catwalked towards my direction, my heart pumping hard with each step she took... What i s wrong with me, nothing is even shaking as she was walking not even the breast yet I'm like this. My body was betraying me. I wanted to say no but how can I when the trembling of my heart was visible and my... Before I could think of any more word she was standing in front of me.
Am I welcomed here or not?
She asked me
Of course you're welcomed.... I invited you in didn't I?
Yes you did...
As if that was another invitation, her hands found my belt hook and she was fumbling with it. 2 seconds my trouser was down leaving the men's brief on but the bulge... The groin was swollen and even more visible. Sarah stepped back as she admired with a wry smile on her lips. She winked at me.
I was still processing what the wink meant when her hand grabbed me. I couldn't take it, I felt like I would collapse. Out of reflex my right hand rested on her tiny shoulder and my left hand held the arm she used in my groin.
What are you do...
I was silenced with a kiss. Her lips tasted like chocolate and so soft like cream on a cake. Sarah continued teasing me with her hands. She rubbed me on all sides and would occasionally use her index finger to tap the head of my penis and would grab again and work her hands around. I was moaning in her mouth already. I don't care what my spec of women was anymore this girl knows what she was doing.
She stopped the kiss.
Take off your shirt.
Her tone was commanding in a I want to bad things to you kind of voice. In my head I wanted to object and caution her that this was our first time meeting hence we shouldn't be romantically involved with one another but all sense of reasoning had left my skull and relocated to my waistline.
I quickly obliged her and in seconds this tiny Mord-sith was feeding her eyes on my bare hairy chest. She locked eyes with me and walked past me towards the direction of my bedroom.
Bode, today na today. Church member not so churchy anymore. I took the queue and followed behind her as i watched her petite frame work itself to exude all the sexiness it could to make up for its lack of flesh in the two most important body parts.
Once in my room, she turned to face me. With both hands on my shoulders she led me to my own bed. All of a sudden this room didn't feel familiar anymore, this woman had taken control and made my space became hers.
Lie down.
Again, with that tone.
I felt like a bull bullied by an ewe.
I laid as instructed, with my back on the bed.
She climbed onto me, her legs parted exposing her vulva with its pink clit protruding out. It was so beautiful i could feel the precum dripping out.
This girl hasn't even started with me, she was enjoying every torture her actions was causing me. Sarah lowered her frame into my body, I still had my boxers on but I could feel the warmth of her vagina rest on me. This was getting too much for me I wanted to say but her next action muted me.
After a soft kiss on my lips, neck and chest Sarah found the base of my right nipple with her tongue. She sucked from the base to its tip. It became really clear he had practiced this more often. My body was trembling I had to hold her head, she took it as a sign of me urging her on and she increased the pace of her tongue. Next she found use of her right hands working my other nipple. The squeezing and sucking was all I could take. I started moving my groin upwards, hitting her pussy which was wet too. After a while, she started grinding hard into me whining her hips as dry she humped me at the same time torturing my upper body.
It didn't take long for her to orgasm. As she was close her fingers tightened more on my nipple her tongue went in and teeth came out. The sharp nibbles made me arch my head backward. Soon she sat up still riding me as she brought herself to a body shaking orgasm.
It was amazing to watch.
Her breathing increased, the electrical surge of currents through out her body made Sarah weak.
I didn't wait for long.
I laid her on her back, dropped my boxers and finally brought out my instrument. Tilting to her side she held me it and used her thumb on my tip.
I'm sorry, I would have love to blow before you penetrate me.
Sorry ke?
One touch with her tongue and I have would blown my head off.
I could feel my load at the tip already.
Its ok, we have all day. Your cloth haven't even entered the laundry yet.
Its one step at a time.
I replied her...
Now I felt in control.
I caressed her breast and I saw her flinched. A flash back of the occurrence on the bike happened before my eyes.
She was sensitive in her breast. I hadn't even entered yet and she was wriggling.
I could see the juice still dripping from her vagina. (Not again, it would he too slippery I wouldn't last a minute). I didn't want that kind of first impression so I let go to get wipes to clean her up but she grabbed me looked me in the eye and said the magic words.
Fck me. Please fck me now.
Say no more.
I angled her left leg at the knee, her vulva lips opened and I slid in.
The moans that followed had words of its own. We wanted this, we both needed this.
I knew I wouldn't last long but I wanted it to be good for both of us so I lowered into her lean body bringing my weight down on her and dug deep missionary.
I am not too fat in girth but well long. I was touching her cervix while the base of my d*ck was hitting her clitoris with every move. I felt her hands grabbed my buttocks urging me to pick up the pace and the other piercing my back with her nails. She was close again.
So I obliged her, I went faster even though I knew I was near.
I'm...cumming
I announced
Me too... Don't stop please don't stop
She was moving her hips meeting my every stroke with Her legs went up in the air giving me extreme penetration.
Oh dear!!!
This is it, I can't hold it anymore
I was in frantic mode, hitting much faster and deeper. Few strokes was all she needed and were both screaming out loud and holding tightly to whatever we could hold.
I collapsed on the bed beside her. Breathing like I just beat Usain Bolt in a sprint race.
Just then I hear the gate open and my landlord's car drove in.
Thank God nobody was home, we could have woken the whole neighborhood.
Sarah giggled...
So much for a day...So much unholiness.
Too weak to get up we both drifted off to dreamland, laundry would have to wait and I need my energy back because something tells me this isn't the end of it...
---
...TO BE CONTINUED

Thank you for reading.
Don't be a stranger, I would like to hear from you. Please drop your feedbacks in the comments section. Hit the Follow button for current posts.
---
(DISCLAIMER: All characters mentioned are fictional. Diaries of the Nigerian Bachelor cannot and will not be targeted at any person or group of persons. We regret any semblance of any sort).
For more enquiries send a mail to [email protected]


.
Read also
ROMANCE WITH UBER: The series, part 1.
ROMANCE WITH UBER: The series Part 2.
ROMANCE WITH UBER:The series Part 3.

© 2020
Image source
INTELLECTUAL RIGHTS RESEARVED


Social Media handles
FACEBOOK, TWITTER,


This post was published on Hive.io blockchain.