---
This science thriller came to mind thanks to the latest pandemic.
More on that in a minute.
First: You can order your #FreeDownload of Amy's book on #Coronavirus
at her website, amyrogers.com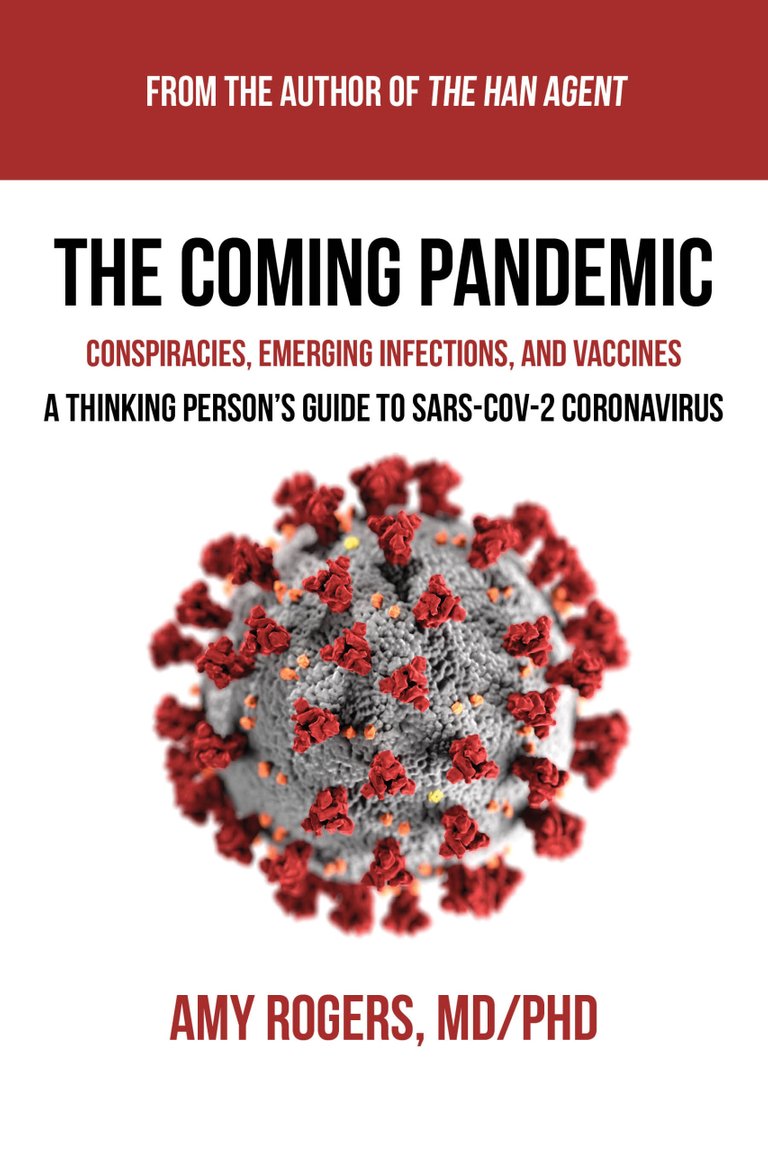 Amy writes,
I'm obsessed with pandemics. Since the coronavirus outbreak in Wuhan came to light in early January 2020, I have closely followed every development and followed many official daily reports, feeling like I was watching a movie of one of my books play out in real life.
In February I decided to share my unique perspective as a microbiologist, educator, journalist and novelist. In this concise ebook on SARS-CoV-2, I help you understand how a virus could just appear like this, and I'll discuss the conspiracy theories that ascribe a non-natural origin to the COVID-19 disease, including one that is pulled straight from The Han Agent. Using my knowledge about emerging infections, virus evolution, and history of influenza, I'll put this pandemic in perspective and try to predict what's going to happen next. I summarize approaches to developing a coronavirus vaccine. And of course I share practical tips about what you can do—including a microbiology-based one that you probably won't find anywhere else.
Intelligent, calm, and lucid, The Coming Pandemic by Amy Rogers is the one piece of scientific background you should read to understand the new coronavirus.
Rather than update the ebook (published 2/28/2020)
Amy is blogging. Here are two links:
Social Distancing Won't Save Us
Endgame Herd Immunity
Back to her 2014 novel, Reversions.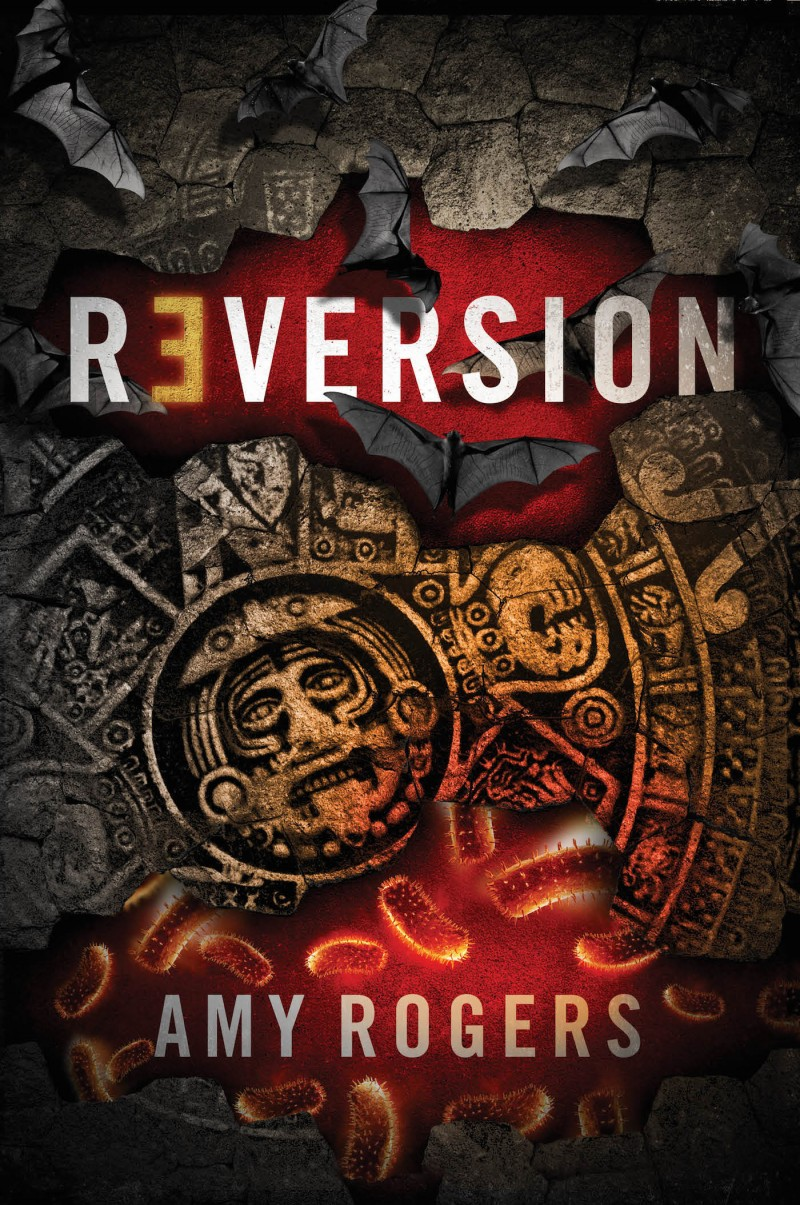 ---
Here is the
SHORT VERSION of my review:
When a live virus could be used to engineer a cure for disease, government oversight is sure to kill the idea.
This medical thriller is also a splendid story of a mother who's also a scientist. She was unable to save her own son from dying of a terrible disease, but with her research into the rabies virus, she may have found a cure for Batten's disease.
But that's only one facet of the story. To conduct clinical trials on this radical, innovative new treatment, Dr. Tessa Price has to flee the restrictions of the States for a medical facility in Mexico, where government oversight is not an issue.
Dr. Vargas isn't one to let bureaucracy get in the way of medical progress, but when a drug lord takes over the hospital, we see the priorities of this doctor shift from his patients to saving his own hide.
But that, too, isn't the most riveting part of the story. There's the boy being treated with an altered rabies virus; there's a dog named Dixie, a sweetheart of a medic named Sameer, and Cristo (Cristo!), the native Mexican who works for Dr. Vargas and opens this novel with one of the most vivid, lurid scenes since...oh, since Vince Gilligan's epic TV show, "Breaking Bad."
Are there flaws in the novel? Nothing too distracting. Real life is filled with coincidence, to the point that people speak of fatalism or destiny. Some stupendous things happen in "Reversion." Unlike that Mel Gibson movie about the aliens in which every little glass of water or baseball bat comes into play with some sort of divine predestination, this story simply has us sighing "Ah!" with satisfaction when we see why one thing or another was there for a reason all along.
FULL-LENGTH VERSION of my 2014 Review
NOTE: This review was first published in Perihelion Science Fiction ezine.
Q: How far will a mad scientist go to keep another mother's child from dying the way hers did?
A: All the way to Mexico, where regulations don't hinder medical research.
---
What if she takes every precaution to render the rabies virus harmless when she uses it in her first clinical trial? Would she still be a mad scientist?
The quintessential "What If" of science fiction is fully explored and graphically depicted in "Reversion" by Amy Rogers. You're sure to be pleasantly surprised, horrified, shocked, gratified, bereft, and a lot smarter.
This thriller is loaded with medical terminology and futuristic science, but not in a way that thriller devotees would find off-putting. Anyone who can slog through Tom Clancy's techno-fests should breeze right through the medical experiments gone awry in this story.
Amy Rogers, writer, scientist, educator, critic and publisher, advocates for "literate entertainment in the form of great stories with real science." Amy earned a B.S. in biochemistry from Harvard, and a Ph.D. in medicine and immunology from Washington University in St. Louis. Her first novel, "Petroplague," drew comparisons to Michael Crichton.
One thing I love about "Reversion" is that no global climate change, no apocalypse, no ruined-Earth scenario forms the premise. What does? Something just as scary: governments that overregulate medical care and research. The rich seek experimental medical treatments they can't get anywhere else, and the place to get it is Palacio Centro Medico, a resort-like hospital on a Mexican peninsula. Dr. Manuel Vargas, founder and director of the medical tourism center, also supplies his patients with a pain killer that isn't legal even in Mexico. Of course, every law he evades is for the greater good of his patients.
Chapter One opens like a scene from "Breaking Bad." Cristo, the point-of-view character, is a good medic in the employ of Dr. Vargas, and that puts him on a desert trail, hiking with a backpack full of stacks of hundred-dollar bills. A white powder known as plack is the painkiller of choice for patients post-surgery, and Vargas has assured Cristo the drug, "less addictive than morphine," will eventually be legal in Mexico and the U.S., "once the ponderous regulatory agencies finally got around to approving it." In the meantime, the Palacio Centro Medico had clients who needed plack, and Dr. Vargas wasn't the type to wait around for permission from some bureaucrat. I can't help but like Vargas for that.
I really, really like Cristo, who grew up in the foothills of the Sierra Madre del Sur. So trusting, earnest, and honest, so intelligent and aware of his environment. When his transaction with the Zeta is disrupted by a rival gang, Cristo flees to a childhood hiding place. Trouble is, it's now full of—well, you really ought to see for yourself. It's one of the most vivid, lurid and, worst of all, believable horror scenes I've ever read.
The next chapter shifts to the real protagonist, Dr. Tessa Price. For a long time, we don't know what's become of Cristo. I can assure you he does survive the horror in the cave, because he plays an active role later in the novel. Sadly, for me, we never again return to his point of view. Did I mention that I really, really like Cristo and wanted more of him?
Dr. Price is determined to find a cure for the genetic disease that killed her son. The U.S. bans her experiments with the rabies virus, and the Palacio is the only place she can conduct a clinical trial of her radical, innovative treatment on seven-year-old Gunnar Sigrunsson.
Unfortunately, the hospital is taken over by the same brutal drug cartel that so violently interrupted Cristo's plack purchase in chapter one.
What do they want with a hospital? They're the suppliers of plack, so it isn't that. Their leader needs a kidney transplant, and he can't get one anywhere else. Dr. Vargas will do anything to placate an evil drug lord, even risk the lives of all his patients. Luis Angel de la Rosa orders the entire hospital evacuated so that he will be the only patient there. Vargas complies, even though it's his hospital, his patients, displaced for the convenience of a villain who never should have gained access to the premises.
Shouldn't I deny that I ever liked Vargas at any point in this narrative? I would, but it's easier to blame Amy Rogers for delivering such complex, well-developed characters, we aren't always sure who to hate and who we most want to see tortured, dismembered and—wait. I have never wished to see that sort of thing—honest! Rogers will make you see bloody justice (and injustice) whether you want to or not.
While Cristo, a dog, and a certain gangbanger are my favorite characters, Sameer also steals my heart. His devotion to Tessa is endearing, but Tessa is obsessed with her work, not with men. A pity, considering the great men who are right at her fingertips. Sameer goes to great lengths to spare Tessa any sort of suffering, trauma or mere inconvenience. He is so patient, while her fear of needles would get no sympathy from me. I'd jab her, quick, draw the blood, scan it and tell her to shut up and take it like a man. Ah, Sameer. The things we do for love. (Did I mention that I love Sameer?)
The evacuation scene is a nightmare of patients on stretchers being flown out, planes blowing up, and gangbangers overtaking the hospital. Tessa manages to elude the evacuation. She can't take her patient anywhere else, so she hides Gunnar and his mother, with the help of an unlikely trio: a rich Texas patient, the wise-cracking Lyle Simmons; his young Brazilian lover, Isabella, who takes his lame humor in stride; and his guard dog, a well-trained German Shepherd named Dixie. Instead of posting excerpts as proof of the dog's greatness, I'll just say she's one of the best protagonists in a thriller, ever. #GottaLoveDixie, as I'd say on Twitter, but the ARC (advanced-review copy) didn't allow me to Kindle-share.
Drug lords and gangbangers aren't the only deadly threat Tessa and her cohorts face. A mysterious rabies-like infection appears in the Palacio's chimpanzees and spreads to humans. It appears to be the result of a "reversion" unleashed by Tessa's own tinkering with the rabies virus to combat Batten disease, an inherited disorder that wreaks havoc on the nervous system. Child victims gradually develop progressive vision loss, intellectual and motor disability, speech difficulties, and seizures.
Gunnar had gone downhill and close to the abyss until Tessa's treatment not only stops his decline, but reverses it. She modifies the rabies virus to carry the healthy gene Gunnar needs to survive. She uses "every molecular safeguard in the book to disable the virus," and she vaccinates Gunnar against rabies, just to hedge her bets. Everyone working with the modified virus has taken the vaccine, "in case through some one-in-a-billion chance the virus overcame its genetic handicaps and found a way to breed. In case the virus reverted to wild type."
No one could anticipate the circumstances that bring an actual case of rabies to the vicinity. The resulting "reversion" unleashes a whole new host of micro/bio/chemical catastrophes. Anyone who's read "Shardik" by Richard Adams will remember how lurid nature can be when an animal attacks a human. Some scenes, once "seen" in our minds, can never be unseen. I advise squeamish readers to speed right through the bloodshed.
I cannot resist this semi-spoiler: fans of "Breaking Bad" who will never un-see a certain demise of a certain villain can look forward to an equally horrifying scene in "Reversion." There's more than one villain in this novel, so you'll just have to read, read, read at breakneck speed to see who suffers most.
This novel is as smart as it is lurid. The prose is tightly crafted. Every little event holds some significance. What it is, the reader cannot guess until the story unfolds. Gradually, inexorably, we begin to see how everything happens for a reason.
Rogers says her goal is to do for science lovers what Harlequin did for romance fans. In addition to writing her own thrillers, she founded ScienceThrillers Media, a niche publisher of hard science fiction, medical thrillers, technothrillers, "LabLit," and popular nonfiction. "The science need not be one hundred percent real," the website informs aspiring authors, "but should be believable to scientifically literate readers."
I dream of the day science fiction outsells paperback romances. Novels like "Reversion" and "The Neanderthal's Aunt" (by Dr. Gina DeMarco, published by ScienceThrillers Media, reviewed in April, 2014, "Perihelion") are an excellent start. Maybe if Rogers had sneaked a romance into the story (as DeMarco did), her fan base would rival Harlequin's. While I don't care much if I ever see Tessa in a sequel, have I mentioned how eager I am to see more of Cristo? ("Reversion," Amy Rogers, ScienceThrillers Media) —Carol Kean
Publisher's Synopsis:
Rabies kills. Can it also cure?
Tessa Price, PhD, knows what it's like to lose a child to a genetic disease. To spare another mother this pain, she invents a radical new gene therapy that might save the life of seven-year-old Gunnar Sigrunsson. Unable to get regulatory approval to treat Gunnar in the US, she takes her clinical trial to the Palacio Centro Medico, a resort-like hospital on a Mexican peninsula where rich medical tourists get experimental treatments that aren't available anywhere else.
When the hospital is taken over by a brutal drug cartel, Tessa hides with a remarkable trio of Palacio clients—rich Texan Lyle Simmons, his much-younger Brazilian girlfriend, and his protection dog, a German shepherd named Dixie, only to learn that the gangsters aren't the only deadly threat they face. A rabies-like infection that began in the Palacio's research chimpanzees has spread to humans. Tessa investigates and finds a shocking connection to her gene therapy experiment. In the wake of this discovery, Tessa must weigh the value of one human life against another—including her own.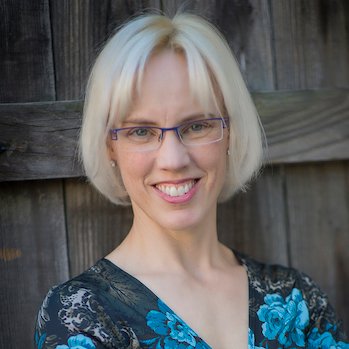 is a Harvard-educated writer, scientist, educator, and critic. Through her book review website ScienceThrillers.com, her publishing company ScienceThrillers Media, and her own writing, Amy advocates for literate entertainment in the form of great stories with real science.
Amy writes thrilling science-themed novels in the style of Michael Crichton (PETROPLAGUE, REVERSION, THE HAN AGENT). She also creates a monthly column "Science in the Neighborhood" for Inside Publications of Sacramento. She is a member of International Thriller Writers. Learn more at AmyRogers.com
Amy loves dim sum, Ted Drewes, redwood forests, Minnesota lakes, Hawaiian beaches, and cats. She lives in Northern California with her husband and two exceptional children who believe she has an unreasonable tolerance for mysterious things growing in her refrigerator.
Website: http://www.AmyRogers.com
Twitter: @ScienceThriller
Genre: Mystery & Thrillers, Science Fiction, Science
Influences: Michael Crichton, James Rollins, Robin Cook
Thank you for checking out my long review!
Keangaroo
because Kean sounds like Kane (not KEEN, hint, hint)

Find me at Twitter:
@tea_in_carolina
novelist, reviewer, editor, book critic
fan of indie authors & underdogs
Follow My Reviews at Goodreads, Amazon Vine and NetGalley