I have always been fascinated by Artificial Intelligence (AI) and Machine Learning (ML), it's almost magic, and the best thing is it's science and math. There is not a day without some technological discovery.
So, in this blog post I'm gonna show you some of the best advances and achievements of AI that we have to date.
Siempre me ha fascinado la Inteligencia Artificial (IA) y el Aprendizaje Automático (ML), es casi mágica, y lo mejor es que es ciencia y matemáticas. No hay un día sin algún descubrimiento tecnológico.
Así que en esta publicación les mostraré algunos de los mejores avances y logros de la IA que tenemos hasta la fecha.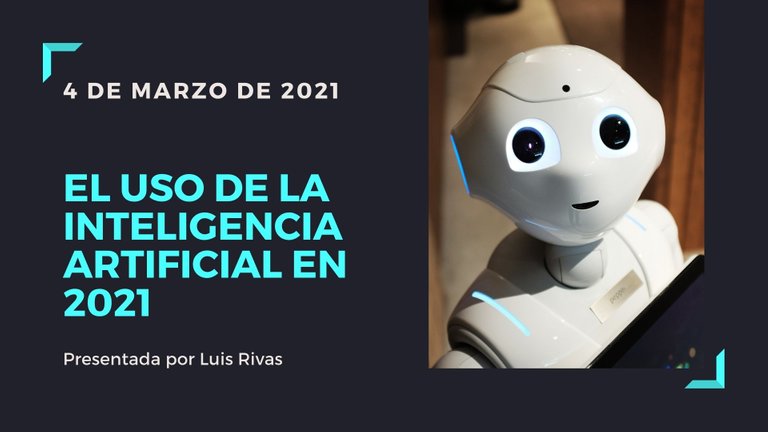 Image created with canva.com
To begin with, we have to define some key concepts:
Artificial intelligence is a sub-discipline of the computer science field, which seeks to create machines that can imitate intelligent behaviors.
Machine Learning is a branch within Artificial Intelligence field, which seeks to provide machines with the ability to learn through experience.
Deep Learning is a set of Machine learning algorithms that attempts to model high-level abstractions in data. We can see Deep Learning when in a neural network we add more layers that detect more complex patterns in data.
Artificial Intelligence --> Machine Learning --> Deep Learning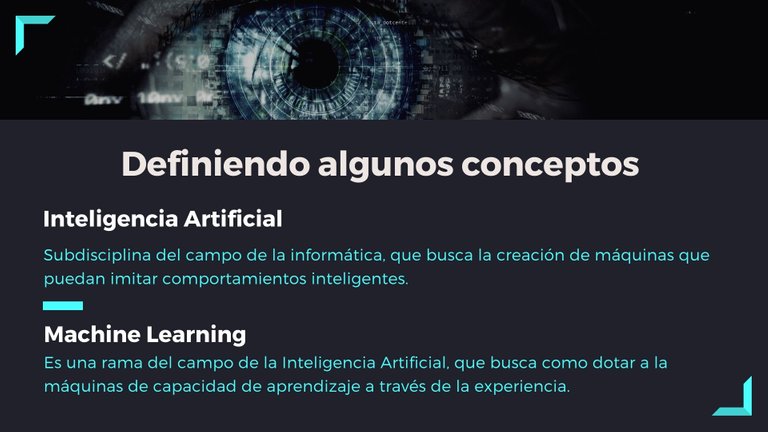 This is not a new technology, it has been developing since the 1950s. The term "Artificial Intelligence" was first mentioned by John McCarthy in 1956, during the Dartmouth Conference.
But, during the last decade we have seen an exponential growth of it, everyone wants to work and invest in this technology.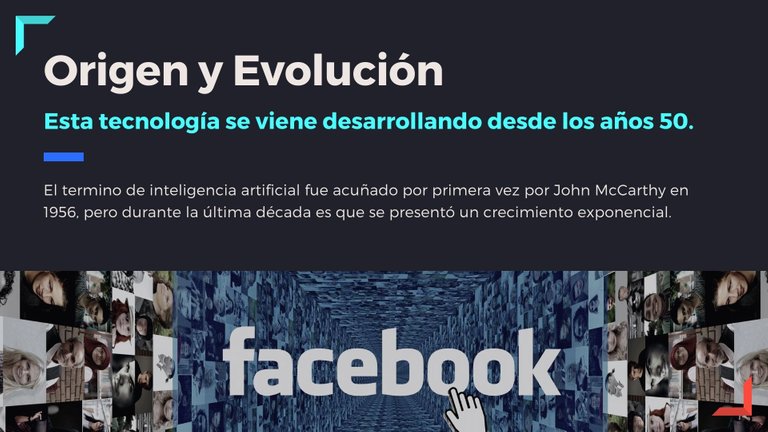 What is the reason of this? It's simple, nowadays we have access to millions of data, GPS locations, the photos we upload to our social networks, transactions, audios, YouTube videos, etc. On the Internet we can find a large amount of data we can use to train these machine learning models and get better results. Also, our computers have more processing power. The technology has evolved a lot.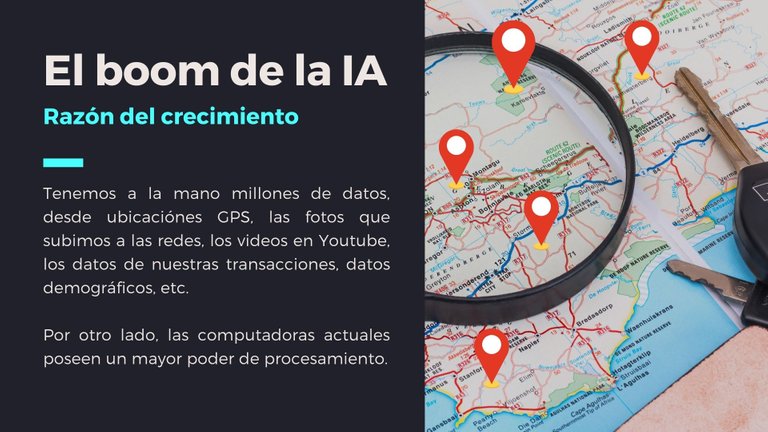 One of the areas within Artificial Intelligence field is the Natural Language Processing (NLP), which seeks to create a better communication between humans and machines using our common language and not machines ones (zeros and ones).
With NLP we can perform tasks like Spam Filtering in our emails, analyze the sentiment of the text we write, translating texts, autofilling, correcting spelling errors automatically and create intelligent chatbots with which we can talk in a more fluid way, organize our tasks, place orders, obtain information, etc. Many websites have chatbots that you can talk to and can help you make a purchase or answer frequently asked questions.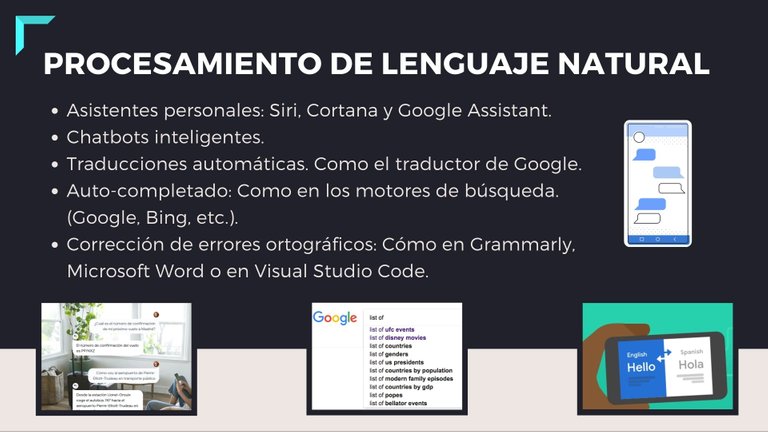 Una de las áreas dentro del campo de la Inteligencia Artificial es el Procesamiento del Lenguaje Natural (NLP), que busca establecer una mejor comunicación entre humanos y máquinas utilizando nuestro lenguaje común y no el de las máquinas (ceros y unos).
Con el NLP podemos realizar tareas como el Filtrado de Spam en nuestros correos electrónicos, analizar el sentimiento del los textos que escribimos, traducir textos, el autocompletado, corregir errores ortográficos de forma automática y crear chatbots inteligentes con los que hablar una forma más fluida, organizar nuestras tareas, realizar pedidos, obtener información, etc. Muchos sitios web poseen chatbots con los que puedes hablar y pueden ayudarte a realizar una compra o responder preguntas frecuentes.
Another achievement of Artificial Intelligence is voice recognition, whose error rates have dropped considerably, with that the machines can clearly understand what we are saying. Thanks to Speech Recognition we can speed up content writing, control our time devices, make purchases, schedule tasks and offer accessibility for people with disabilities when using their mobile devices.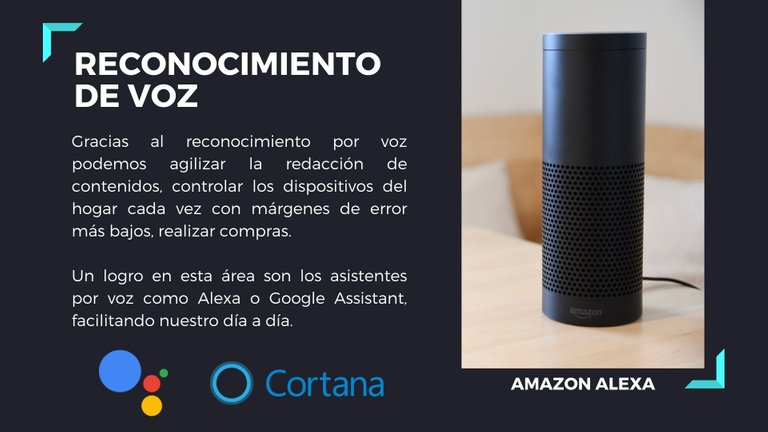 Thanks to the Internet of Things (IoT) and 5G, machines like Alexa or Google Assistant will allow us to automate our housework and facilitate our day-to-day lives.
On the other hand, there is a great advance in the field of Computer Vision (CV), which allows us to analyze the images and understand what is in them. To achieve this, they use a different type of neural network known as Convolutional Neural Networks (CNN) that allow to detect and extract patterns from the images.
With this technology, we can perform classification tasks (identify what it see in the image), obtain the location of the objects in an image, image segmentation, etc.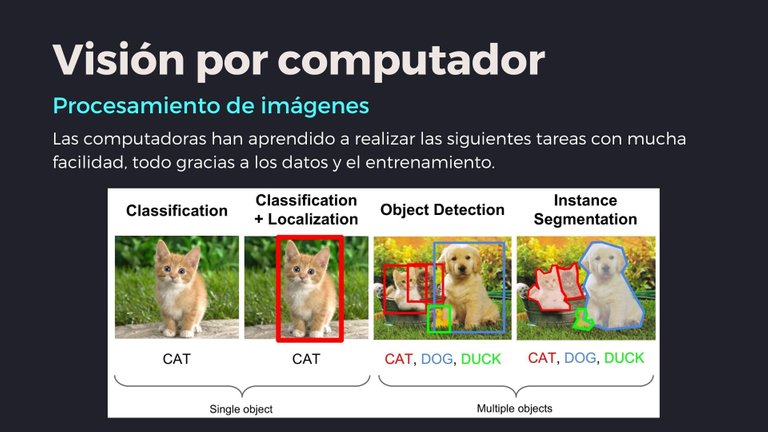 Por otra parte, se tiene un gran avance en el campo de la Visión por Ordenador, que permite analizar las imágenes y comprender que hay en ellas. Para lograr esto, hacen uso de otro tipo de redes neuronales, conocidas como Redes Neuronales Convolucionales (CNN), que permiten extraer patrones en ellas.
Con esta tecnología podemos realizar tareas de clasificación (identificar los objetos que hay en una imagen), obtener la localización de los objetos en una imagen, segmentación de imágenes, etc.
Autonomous cars are already a reality, thanks to the data collected by their multiple sensor, the processing of traffic images and reinforced learning, the cars learn to drive through the environment without the need for a driver present. Companies like Tesla, BMW, Toyota and Uber are already making autonomous cars and are using them in their business strategy.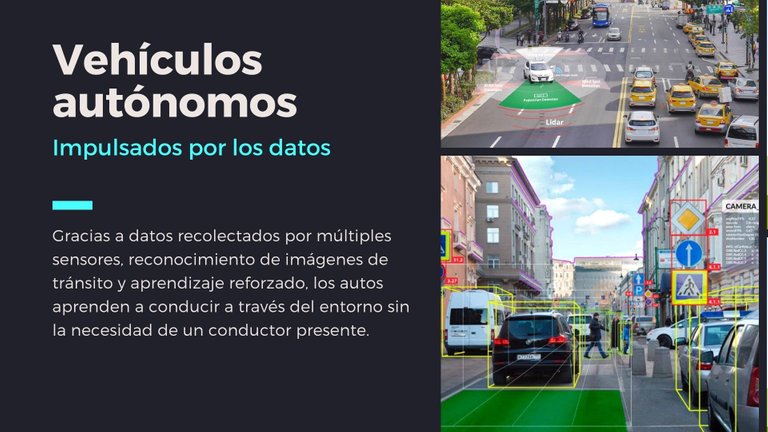 And what about emotions? Machine Learning models can also understand how do you feel based on your face expressions, it can identify when you're happy, angry, surprised, and other emotions that can be very difficult to us to identify clearly. This is what Affectiva does, this start-up uses deep learning to analyze your facial expressions and identify your emotions.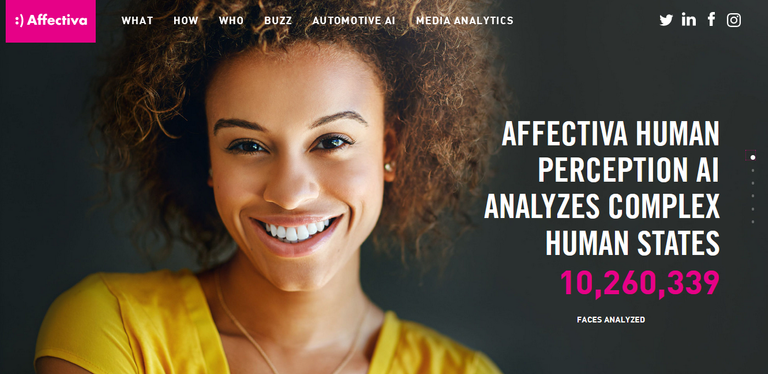 Screenshot taken from the www.affectiva.com website
¿Y que hay de las emociones? Los modelos de aprendizaje automático también pueden comprender cómo te sientes en función de las expresiones de tu rostro, pueden identificar cuándo estás feliz, enojado, sorprendido y otras emociones que pueden ser muy difíciles de identificar con claridad. Esto es lo que hace Affectiva, esta start-up utiliza el aprendizaje profundo (Deep Learning) para analizar tus expresiones faciales e identificar tus emociones.
AI and Machine Learning have shown us how machines can do well on problem solving, Alpha Go could beat the champion of the game GO, Deep Blue and then Alpha Zero beat the champion of chess and other board games and Alpha Star beat professional players of the game Starcraft.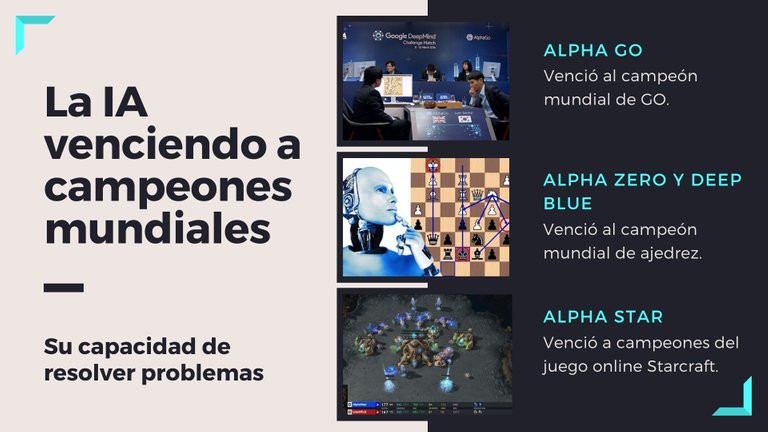 Image created with canva.com
In medical field, machine Learning models have been able to analyze medical images, detect strange patterns, identify tumors, making new and efficient drugs, by testing numerous combinations, and help surgeons to perform surgery with greater accuracy.
We can find companies like Enlitic, that use artificial intelligence to offer better diagnoses of diseases such as pneumonia and cancer.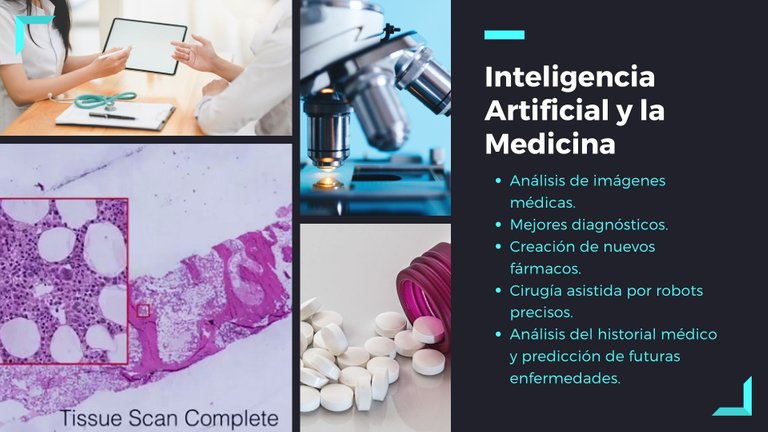 Another great achievement of Artificial Intelligence in this field is one achieved by Alpha Fold 2, by the company Deep Mind, which has been able to predict the 3D structure of proteins from their amino acid sequence, solve the problem of protein folding, obtaining a better understanding of the nature of diseases, which allows to create better medicines in the future, methods and therapies that treat it in a more efficient way.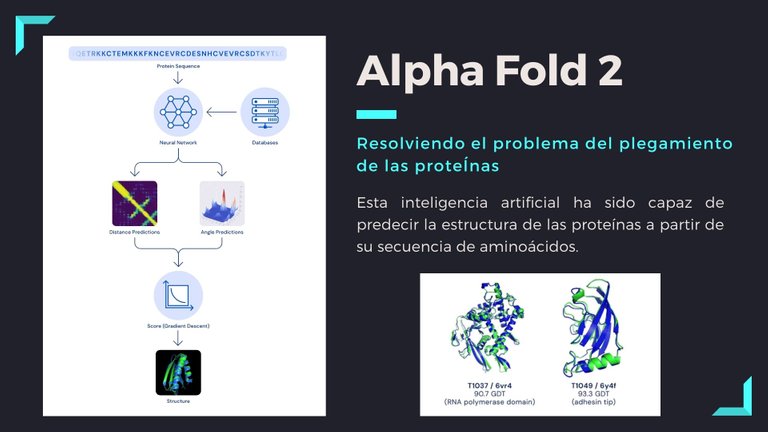 And this isn't everything. This is the tip of the iceberg. In my next post I'm going to talk you about the magic that OpenAI is making with its models GPT-3, Dall-E and CLIP, and how they are going to revolutionize the way we create content, images and more!
Y esto no es todo. Ésta solo es la punta del iceberg. En mi próximo post os voy a hablar de la magia que está haciendo la empresa Open AI con sus modelos GPT-3, DALL•E y CLIP y como van a revolucionar la forma en que creamos contenido, imágenes y mucho más.
Are you excited of this technology? Do you want to read more Artificial Intelligence posts? Let me know it in the comments! 👇👇
¿Estás emocionado con esta tecnología? ¿Te gustaría leer más publicaciones sobre Inteligencia Artificial? Déjamelo saber en los comentarios
Bye! And I hope to see you all soon!