I (@bala41288) have been working on this user interface for a very long time. Having a user interface is always better for good visibility even though we have many things happening in the background. Kanibot has been functional for almost over a year now sending notifications to discord users. To be more precise I wrote an announcement post on Nov 1, 2019. Today I would like to introduce the user interface for Kanibot. Going forward I'm planning to post all the updates about Kanibot from @kanibot account itself. However, you can find links to my previous posts at the bottom of this article.
Website Link: https://kanibot.com/
Discord Server Link: https://discord.gg/S4x6PFz
In order to use the website and update your settings, you have to login. The profile information and settings will be available only for the logged in users. Though the website works perfectly fine in mobile interface, currently the login facility is available only for Keychain.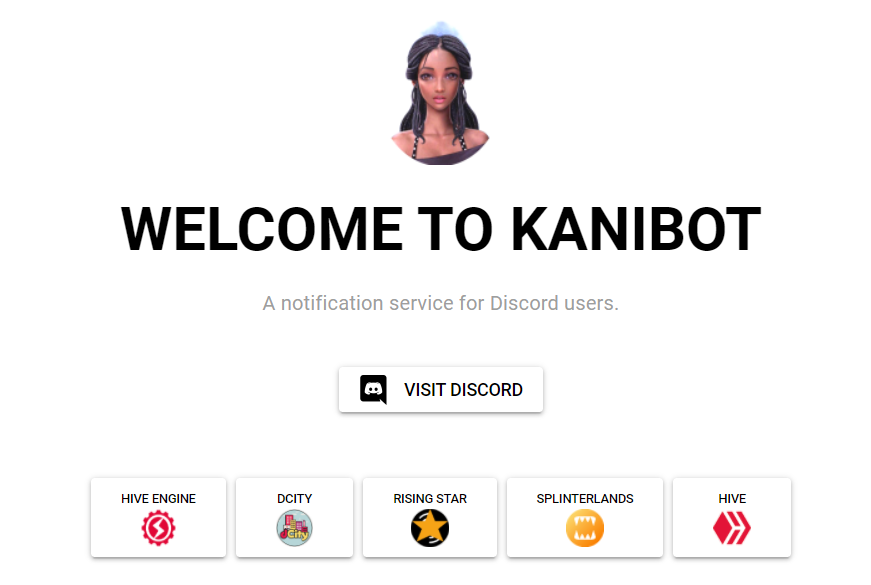 Right now the features on the Web interface is limited. I'm going to bring some more features in the future. Some features are still doable only via the discord commands. You can visit the discord server and use the command $kani to know the list of available commands.
Profile page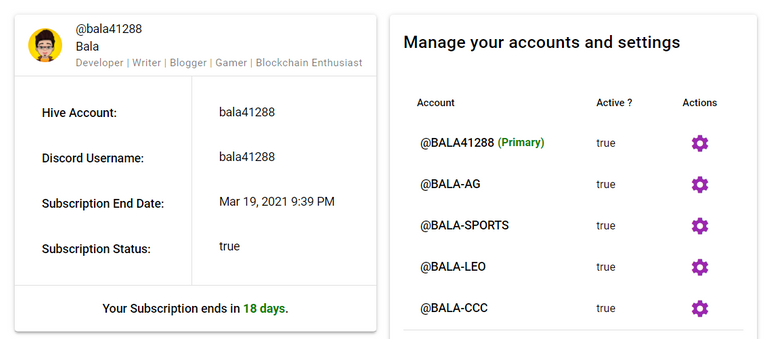 Above is the profile page that will display basic information about the subscription. It will also list out the accounts you have added to receive notifications. A user can have up to a maximum of 5 accounts added to get the notifications. Some of us might have multiple tribe accounts each one for a Hive Engine tribe. So, I have added a facility to add a maximum of 5 accounts here.
Settings page
There is a link against each account in the settings page which can be used to view and update the settings. The settings page will look similar to the below: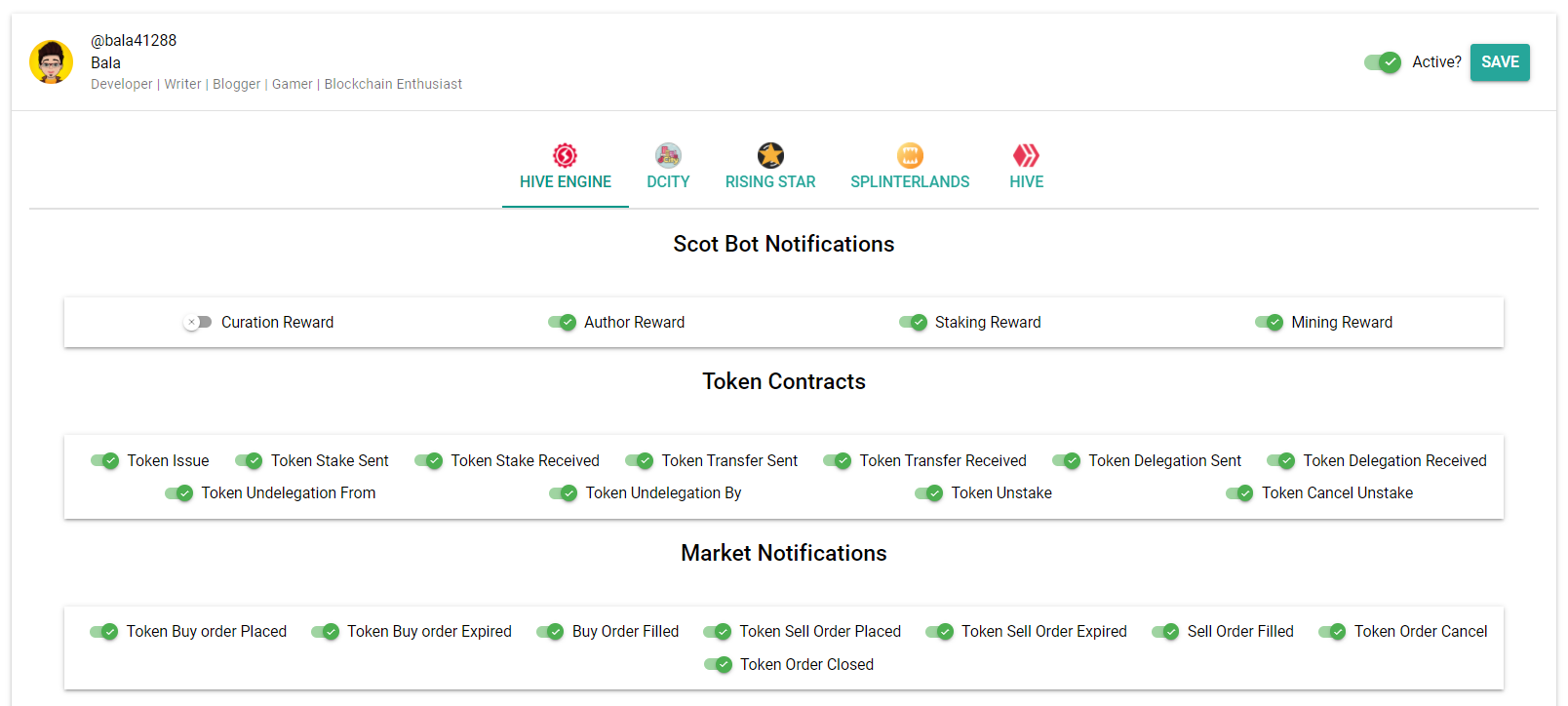 For now this is just a simple user interface to manage the account settings. There is a save button in the top right corner to save the settings.
This had been a long time due for the users to be able to adjust their settings, enable or disable it. Some of the notifications like Curation reward notifications from the Scot bot are not very friendly. It can look like a spam and we tend to miss many important notifications. This settings option would be very helpful to enable and disable notifications that are required and not required.
What's in the roadmap?
I have been asked by many people to add Hive notifications as well to Kanibot. I was waiting to complete this user interface first to adjust the settings and start my work on the Hive notifications part. The next thing I will start working would be to include Hive notifications. Gina has been inconsistent and down for a very long time. A good solution to receive Hive notifications would be really good.
There have been some small glitches as well in the application which I have fixed in the recent days. I did not get a chance to make a post on the changes I have been doing.
If you have any questions or suggestions, please reach out to me on Kanibot Discord server.
Read more about Kani Bot previous releases
Introducing Kani Bot - For Steem Engine notifications on discord
Kani Bot - v1.5.0 update - Feature to subscribe for multiple months
Kani Bot - v1.6.1 update - Feature that sends post payout notifications
Kani Bot - v1.7.1 Update - Introducing NFT notifications and streaming everything from SE sidechain
Kani Bot - v1.8.0 Update - Added Hive Engine notifications to the bot
Kani Bot - v1.10.0 Update - Getting started with splinterlands notifications
Kani Bot - v1.11.0 Update - Market order fill notifications
Kani Bot - v1.12.0 Update - Introducing dCity Notifications
Kani Bot - v1.13.0 Update - Introducing Rising Star Notifications
---