I've been studying Python's Turtle Graphics for the past few days. It was really new to me because I had only recently encountered it for the first time. I'd like to note that I've only been studying and using Python for the past three weeks. Given that our professor's subject was Java, I picked up the minimum necessary by watching videos on YouTube. We've already covered HTML, CSS, C++, and Java. But if there was something else, I could learn, I didn't want to focus on what we had just learned.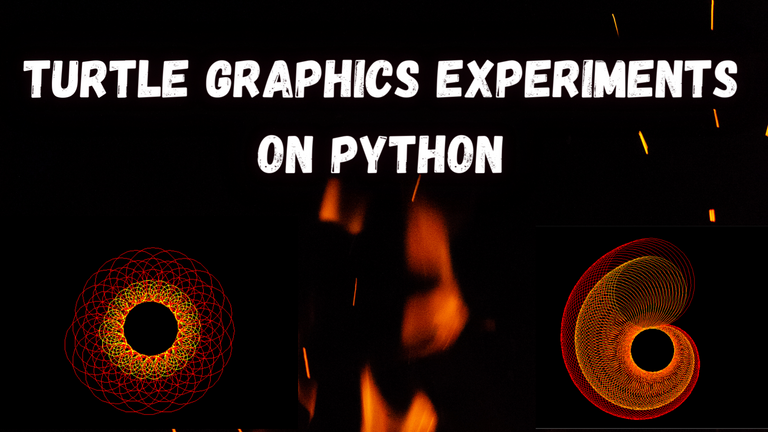 An image edited in Canva. The original image was from yours truly.
There are many different programming compilers available, however, for Python I chose PyCharm. A Python-specific Integrated Development Environment (IDE), PyCharm offers a wide range of crucial tools for Python developers. These tools are tightly integrated to produce a practical environment for effective Python, web, and data science development. PyCharm has three editions available: Community, Professional, and Edu. I installed the Community since I cannot afford to buy the Professional.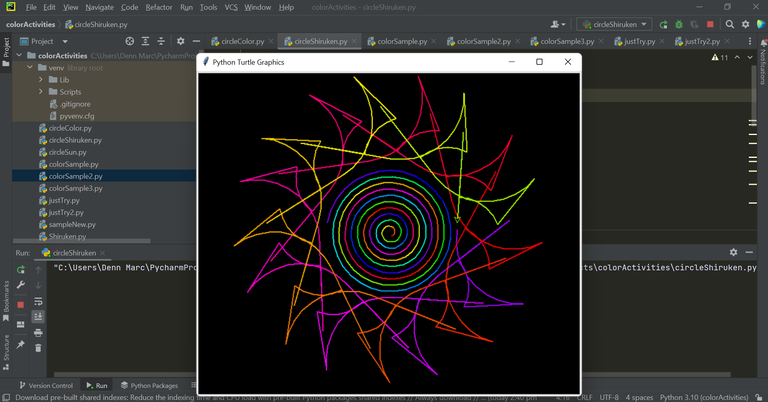 A shiruken with a spiral color in the middle.
A turtle was used to design the desired shapes, lines, and colors to create the image. Every time I finished the entire code, it was enjoyable to code, create, and run. Basically, several instructions like import turtle, import colorsys, forward(), left(), and right() can be used to create turtle graphics (). By using the commands pendown() and penup, you may also manage the turtle pen (). Use color(), fillcolor(), begin fill(), and end fill to then alter the color().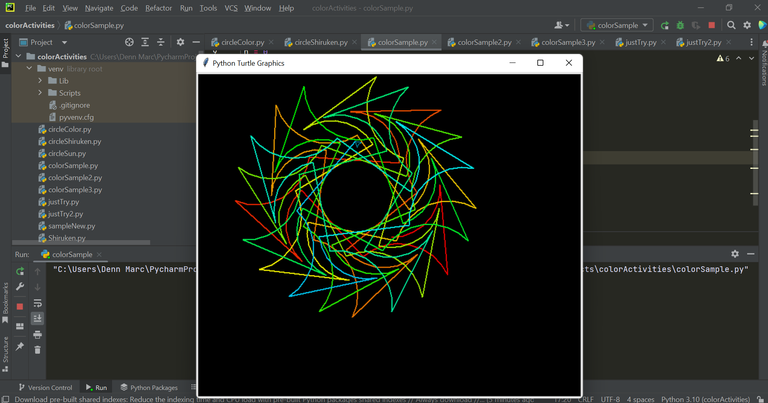 A simple shiruken that I would like to edit as a dragon.
Actually, I was trying to make a good shuriken, but I was always failing. If you look closely, the faulty shuriken in the first picture had a spiral color on it, but not in this one. He was pretty talented at coding, but he didn't explain how he produced things the first time I copied his programs on YouTube, where I was learning. I had to conduct research on other websites that provided explanations of various functions.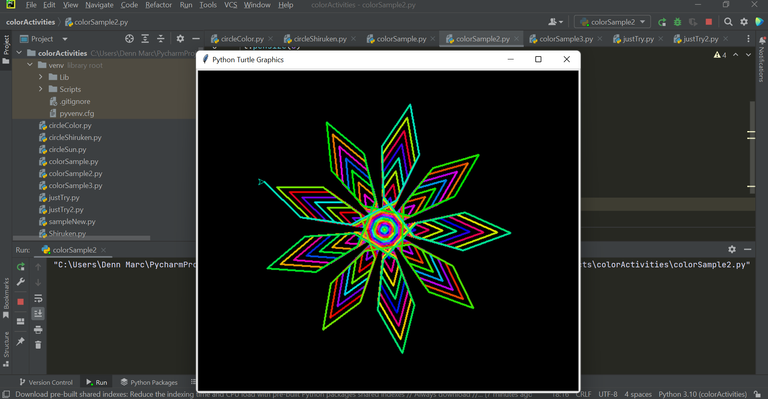 A snowflake-inspired output.
Perfecting a shape was challenging, especially when the desired result was not appearing. Despite the fact that you can enter and navigate the commands, it was not the issue at hand. I had difficulty getting the form and size just as I had imagined. It was the snowflakes in this case. The proper number for left(), right(), and range() truly baffled me. Maybe it was because my understanding and experience with turtle graphic instructions were still quite inadequate. My results are actually quite good considering that I've just been learning turtle graphics for three days.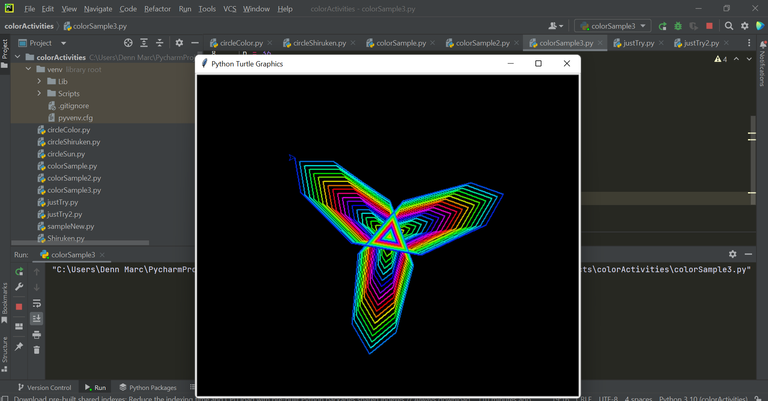 A spinner-inspired output from my sister's stuff.
You might be able to understand more complex shapes if you learn the fundamental shapes. It's because I created more complicated shapes by combining simpler ones, and yes, it was my pattern. In my sister's room, I noticed a spinner that she had purchased in the past. I was drawn to the shape, so I tried to replicate it using Python. Since I already had the fundamental form, I couldn't say if I was successful or unsuccessful. The lines simply won't bend the way I want them to. I'll thus let it go.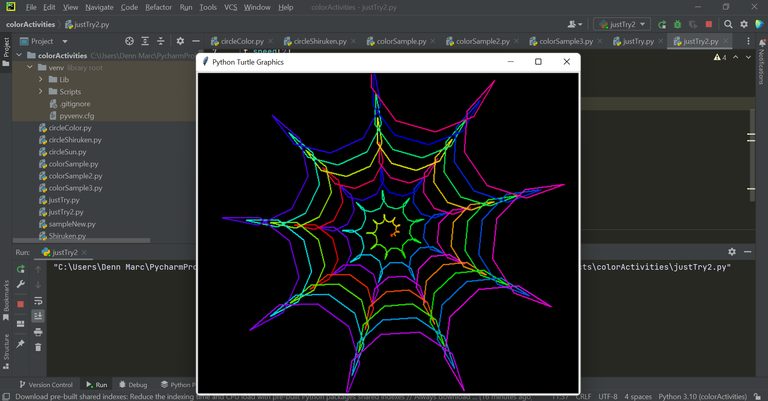 It's spiderweb-inspired, but I don't like spiders.
Even though I was startled to the core earlier today while feeding my rabbits at the back of our house by a massive spiderweb, my thoughts were racing over the forms for turtle images. I then developed a new example using that as a model. To be quite honest, I struggled to create something that looked like a spiderweb. In addition to the complicated design, I am unsure of the range of the webs and the number of lines I should write. Anyway, after a half-hour of experimenting, I succeeded! Could you please react to it honestly? Does it resemble a web of spiders?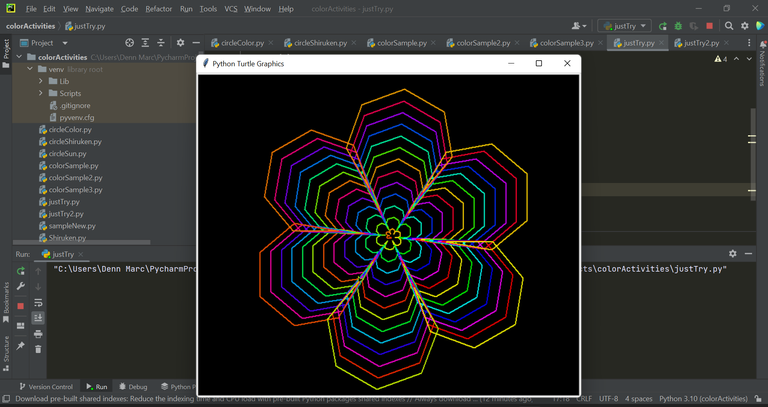 It's a flower-inspired design with big petals.
This is what I came up with when I tried to create a flower with six petals. But I don't think it looks well. However, I simply appreciated it since I worked hard to create a decent shape like this, which is difficult given where I am in my development. Add another spiral color and a solid circle to the middle, please. But the more I tried previously, the more I was at a loss for what to do.
A doughnut-shaped failed design, but it looks like a space hole.
So, I recently had a quick interaction on a chat with @ayane-chan. Some of my samples and experiments were forwarded to her. She next requested that I draw a doughnut shape for her. I have made multiple attempts to create a smaller hole in that shape but was never successful. The rest will also alter if the size increases. It was obvious that I was unable to create such a precise shape at this time. I decided to try to fix it tomorrow because I was already experiencing head-spinning sensations.
Python with Turtle Graphics gave me a new way to appreciate coding. In fact, because I was finding it difficult to digest all the knowledge we covered in class at once, I utilized this Turtle to help me relax while I was coding Java. My younger sister was begging for additional forms like hearts, hexagons, and rectangles since she liked the ones I made. I informed her, though, that I had to learn it first and that she would have to hold off on seeing it for at least a few days.