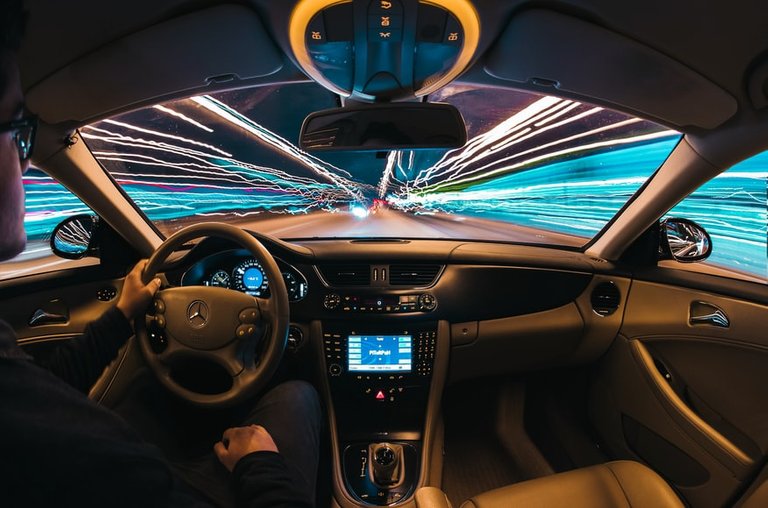 Just incase you weren't aware, this is the exactly what every driver sees when they're drunk outta their minds!
Samuele
Hey, wanna know something bizzare?...
Ah yes! I thought you would. Well, here it goes:
Did you know that every year, at least tens of thousands of people die from road accidents? And even more worse, is the fact that at least - ATLEAST - 90% of those road accidents are caused by Human/Driver error! Pretty messed up huh?
Well, it's because of these type of horrifying stats and also, because of the untimely death of my Late Uncle Raymond (the drunkest driver you'd ever meet), that I was prompted to envision this
invention
So, Shall we?
---
I chose this prompt:
What product or item have you wanted to invent? It doesn't matter how weird it may be, tell us what it is, what it does and why you want it. Here's your chance to be an inventor, and have some fun.
You know, I am something of an inventor myself :) - well, at least I like to think of it that way. Throughout my life, I have always been keen on wanting to solve the many problems of life, most especially the one's that affected me personally. I have always dreamt of mocking up something: an idea, an initiative, an innovation, an invention that could somewhat better both my life and the world as a whole. And though, not all my visions have been put into practice YET, I still believe that, somehow, they could affect the world in someway.
Tell me, is that not the purpose of a true inventor: To envision and create something - ANYTHING - that could change our way of life? For better or worse... No matter how big or small?...
I for one, certainly believe so.
---
Ha! Over the years, I have imagined some pretty significant yet bizzare invention types: from the electric mat that shocks you when you fail to adhere to its:
"Keep Calm, and take off your shoes"
Instruction. To using Shark DNA to help fight cancer(Sharks are immune to most diseases including cancer), all of these I have dreamt and though, they are nowhere as good as the guy who invented the:
The Universal Women's Matrix Chart
Damn it! This guy deserves a Nobel Peace Prize.
I still feel they could play a significant part in this big game called life.
Anyway, for this particular #weekend-engagement, I have taking it upon myself to come up with an invention that could, drastically, help resolve road accidents everywhere.
You see, if we think about it carefully enough, we'd realize that most road accidents could actually be prevented because when we take into consideration that a whooping 90% + of road accidents are caused by Human/Driver error which include: speeding, chemical impairment, drowsiness, aggressive/reckless driving, distracted driving, negligence, and so much more; we'd realize that WE, as the natural imperfect humans that we are , are the major cause of road accidents everywhere!
Now, this is were my invention comes in:
Imagine, a program that comes with A.I functioning, alcohol and toxic chemical scanners, face recognition, and an autopilot system all coupled with a sassy catchphrase that says upon command:
"Fuck Bad Drivers and Bad Driving"
Yes sir ri, I call this program - ED.
---
ED simply stands for - Educating Drivers. It is a program that, I believe, could actually terminate the involvement of Driver error in road accidents.
That's easily reducing road accident by a whooping 90%!!!
ED would exist in two forms: As a software program for Smart Cars and as a Hardware program for non- smart cars.
For the Software aspect of the invention: The idea is for ED to be electronically integrated into the car's system. Hereby, giving it full access to the car's autopilot function, in-door and out door cams, facial recognition, doors, and seatbelts.
In terms of tackling the human error problem at hand, the following can be undertaken:
Speeding, Negligence and Reckless driving: Say, a driver has carelessly gone over the regulated speed limit, and is now driving fast on a freeway like a mad man! All ED would simply have to do, is to hijack the car's system, instantly put it on autopilot then finally, the A.I would blurt out that fancy catchphrase of Its:
Fuck Bad Drivers and Bad Driving
Before causally parking the car in the nearest safest place and alerting the authorities to apprehend the driving scoundrel.
The same action can equally be taken against a driver who fails to adhere to the traffic warnings: Say the driver carelessly neglected a stop sign or a red light. And as well for reckless driving: say the driver decided it was a good idea to take a shortcut along a ONE WAY lane! Then, that same autopilot hijack and authority alert can be implemented.
Negligence and Reckless driving would as well not be tolerated by ED :)
Chemical/ Other substance abuse while driving: Say a driver is FOOLISHLY drinking or smoking Ethica while driving. Then ED, whom has full access to the car's air vents, can easily detect this illicit substance smell and once again, hijack the car's autopilot, park in a safe place, and alert the authorities.
Consequentially, ED could also completely prevent this act of intoxicated driving by making use of its facial recognition and thermal imaging function. The process is fairly simple: before a driver is able to get into his/her smart car, ED will scan the face of the driver using the heat signal in the person's body to check for dilated blood vessels on the surface and the hot spots that have been created by either drinking or smoking.
Essentially, the idea in a nutshell is: if you're not sober ED will treat you like a loner :)
Distraction and or Drowsiness: For this type of human error, ED will make use of its indoor face cams/ facial recognitions and it's autopilot function.
For the drowsiness part- say a driver is feeling a massive swarm of fatigue and is desperately struggling to keep his or herself from falling asleep then, ED's job would be to simply detect the drowsiness on the driver's face with its in-car face cam, alert the driver that it will soon go into autopilot mode, and ask him or her if they would like to autopilot to their final destination or safely park at a nearby spot. Then, after all those protocols have been observed, ED will causally play some relaxing music while the driver falls to sweet slumber as ED drives to said destination or parking spot at a convenient and moderate speed.
As a bonus, ED could also take a picture of the safely tucked in driver, fast asleep in autopilot mode, and send it to the authorities for both security purposes and just to show the boys back at the station that:
"Hey, no need to worry. ED's got ya covered ;)"
The distraction part though, would be tackled much differently: With the help of the in-car face cams and facial recognition, ED will make sure the car automatically jolts into autopilot mode once the driver has taken away his/her gaze away from the windscreen of the car for anything more than 3 seconds.
---
Essentially, the same process that was done with the software version of ED can also be undertaken with its Hardware version. The only difference would be that physical parts would have to be provided for the non-smart cars. Such as: biometrics for the outdoor and in-door facial recognition cams, chips for the autopilot, and a hardware version of ED itself in a form of a cute tiny box.
Oh yes, this all, is just a handful of what ED could possibly do to ensure proper safety on the road.
Ahhh... Imagine all the lives we could save with this invention and all the bad drivers we could fuck properly with :)
What a thought...
Thanks for reading and keep exploring!