𝕳𝖊𝖑𝖑𝖔 𝖊𝖛𝖊𝖗𝖞𝖔𝖓𝖊 ... 𝕳𝖔𝖜 𝖆𝖗𝖊 𝖞𝖔𝖚? 𝕾𝖚𝖗𝖊𝖑𝖞 𝖎𝖓 𝖌𝖔𝖔𝖉 𝖘𝖍𝖆𝖕𝖊 𝖆𝖓𝖉 𝖋𝖚𝖓!
---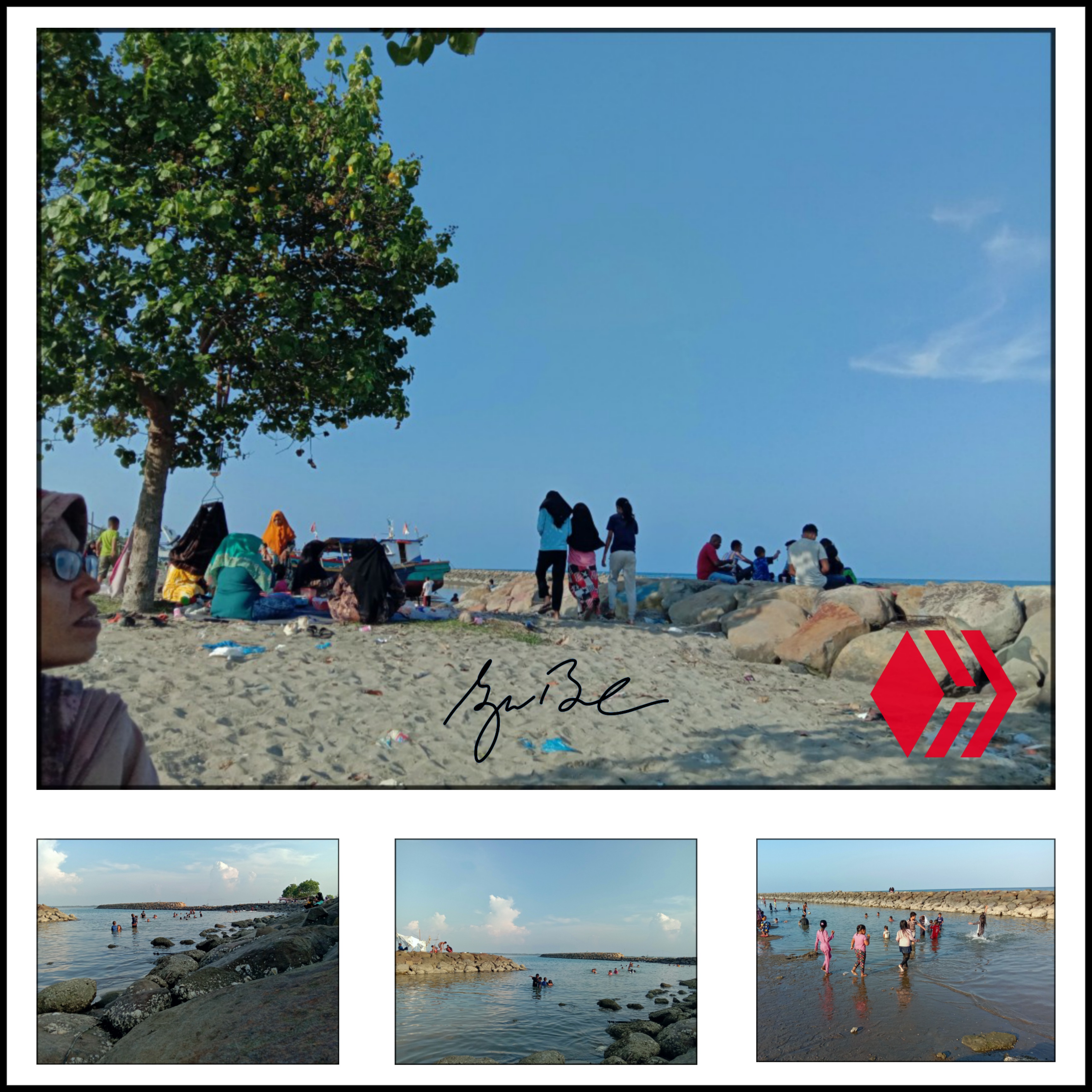 This photo was taken to be precise on the week of March 11, 2021 AD in one of the locations that has been used as a tourist event for the local village community.
What you see in the activity in this photo is one of the traditions in our village, especially coastal residents who live in fishing villages.
The tradition of visiting on weekends to every coastal area has been going on for a long time, or it can be said to be a vacation on the weekend.
This activity was stopped when the Aceh region once occurred when the Free Aceh Movement troops fought over territorial power with the government of the Republic of Indonesia, so that in 2007 the two troops made peace located in a country of Helsinky.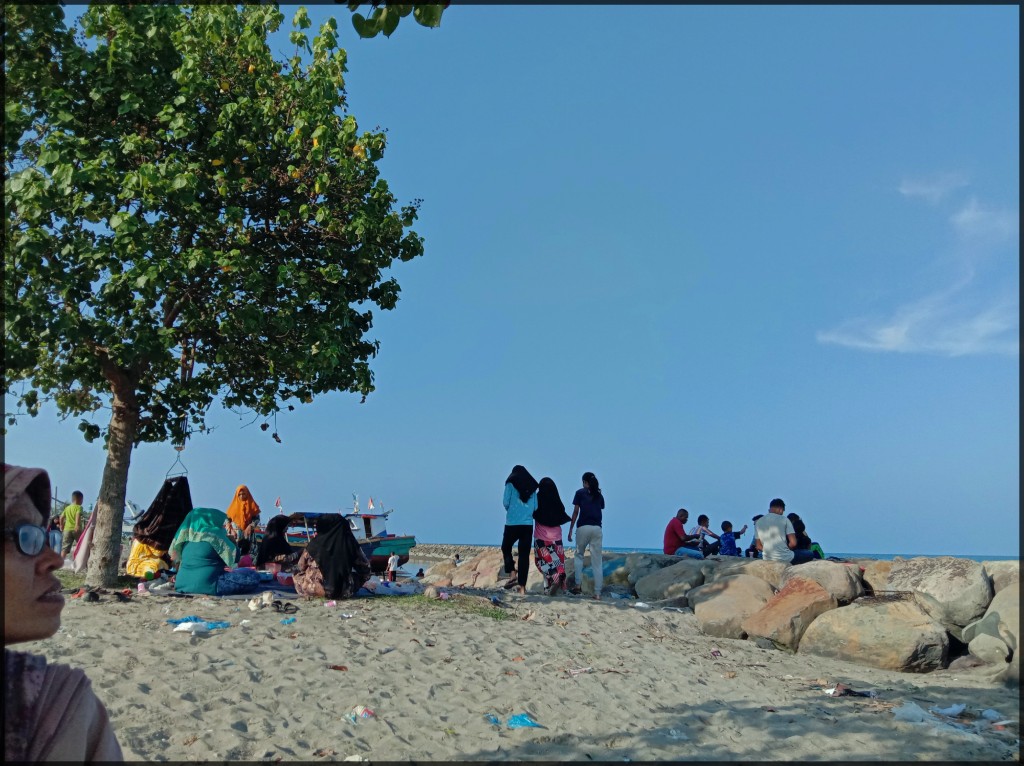 Weekend atmosphere
So, since that year people living in the Aceh region, especially coastal communities, have revived this tradition, let alone entering a month for Muslims in the context of welcoming the holy month of Ramadan.
So, visiting each coastline is one of the last weeks because during the month of Ramadan for a whole month this activity is stopped out of respect for this holy month.
This was not born from one of the recommendations from something official or derived from any law that is taking place in the province of Aceh, but this tradition was born automatically as a result of the community's habit of liking the beach.
For people who live in each fishing village, the agenda of visiting the beach once a week is a common thing as well as relieving fatigue and fatigue as well as releasing depression after working 6 days a week.
This tradition is practiced by everyone, both children and adults, even though they have different social backgrounds in their lives. However, this activity is motivated by each respective family and also carried out by every young couple in one area.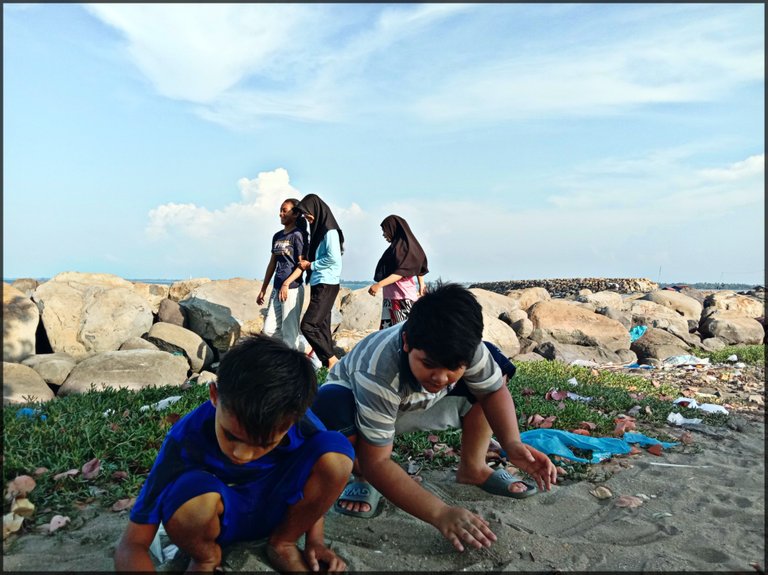 Children are busy with their activities
When everyone arrives at the beach, all groups, both children and adults, carry out their respective routines according to their respective hobbies. If the children really like to play with dry sand, it will be shaped according to their respective tastes and imaginations.
Some of the other boys really like to play ball on the white sand and dry the ground as it is, the point is they don't bother forming a football field, they look for 4 sticks as they are and make 2 goal units face each other, then the actual soccer field is already ready, so they have a soccer field unit that will be ready to play some soccer matches.
While other boys are busy building houses on dry sand or they sometimes imagine in whatever shape they wish. Sometimes brands make a fortress like a person who is playing a role or whatever they see in real life and then apply it to a piece of land.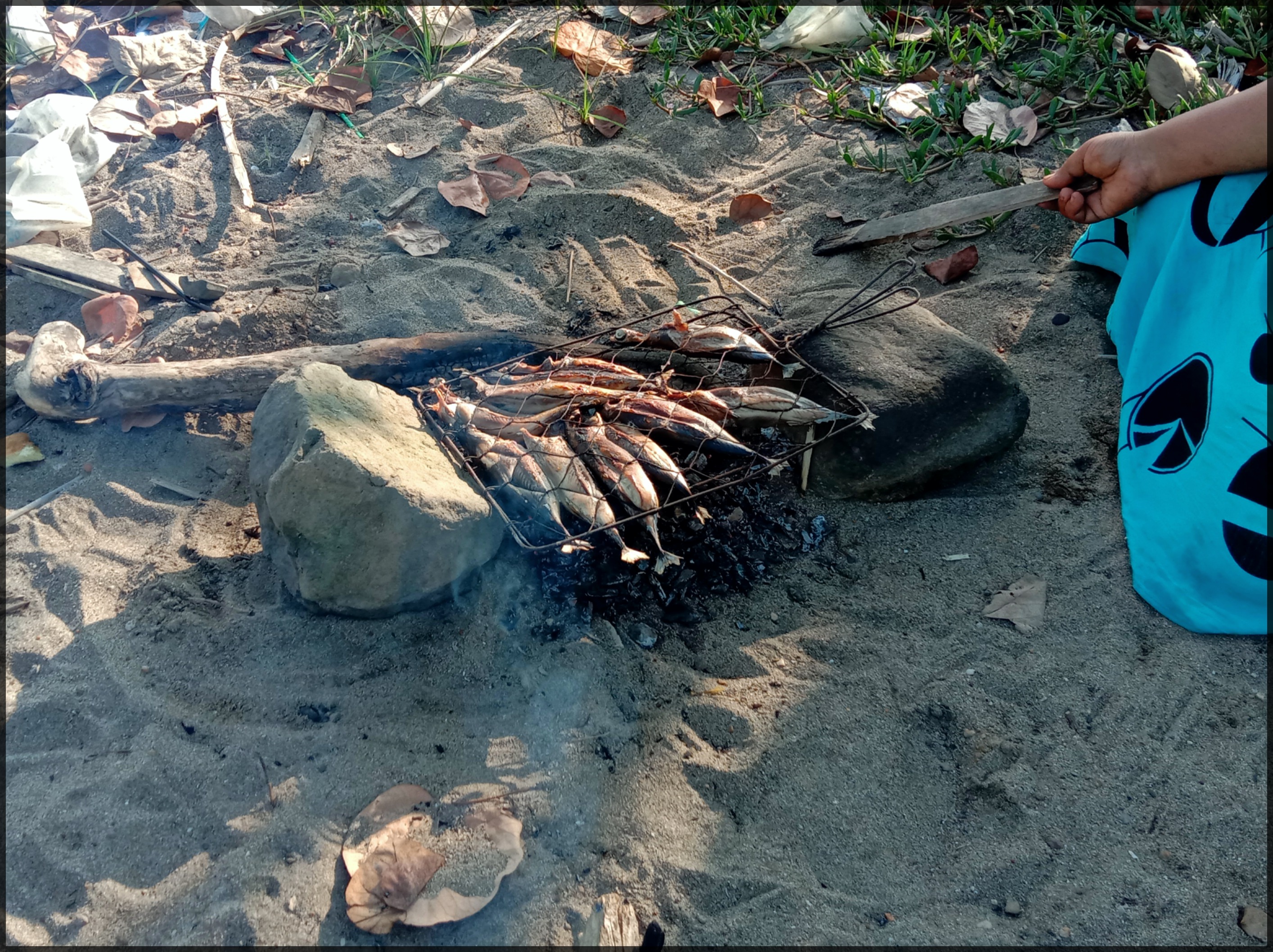 Enjoy the holidays with grilled fish
In contrast to their mothers and sisters, they also take part in weekend holidays by spending their time burning the fish that have been prepared in advance. The fish have been partially cleaned in their respective homes then transported along with other snacks and cooked with natural tools on the coast and then they are grilled according to their own wishes.
In general, people who live on the edge or fishing villages really like to burn small tuna fish or in the language of Aceh Province it is called jeureubok fish. This fish is one of the tuna fish groups that is favored by every Acehnese society in particular and Indonesian people in general because the taste is very crispy and steady and very easy to process according to the tastes of the Acehnese people themselves.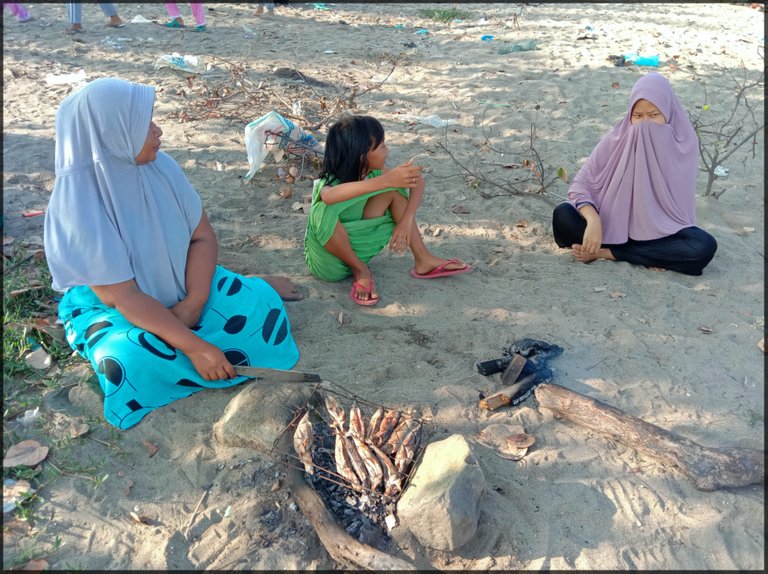 Enjoy the holidays with grilled fish
This jeureubok grilling activity is also one of the routine activities carried out by everyone who will visit the beach, even according to them visiting the beach is not complete without grilling fish.
This grilled fish will later be served to families after they finish the games for young children and adults. Uniquely, anyone in the area will get the food if someone dares to ask for free and generally grilled fish owners will give it for free. However, everyone has their own food. One thing that is very beautiful is that this togetherness can be enjoyed by every beach visitor, both residents who come from one village or if there are other people who happen to be in that area.
This tradition is often seen on the shores of Pusong Lama Village, Lhokseumawe, Aceh Indonesia, this is because there are no hawker sellers on every beachside.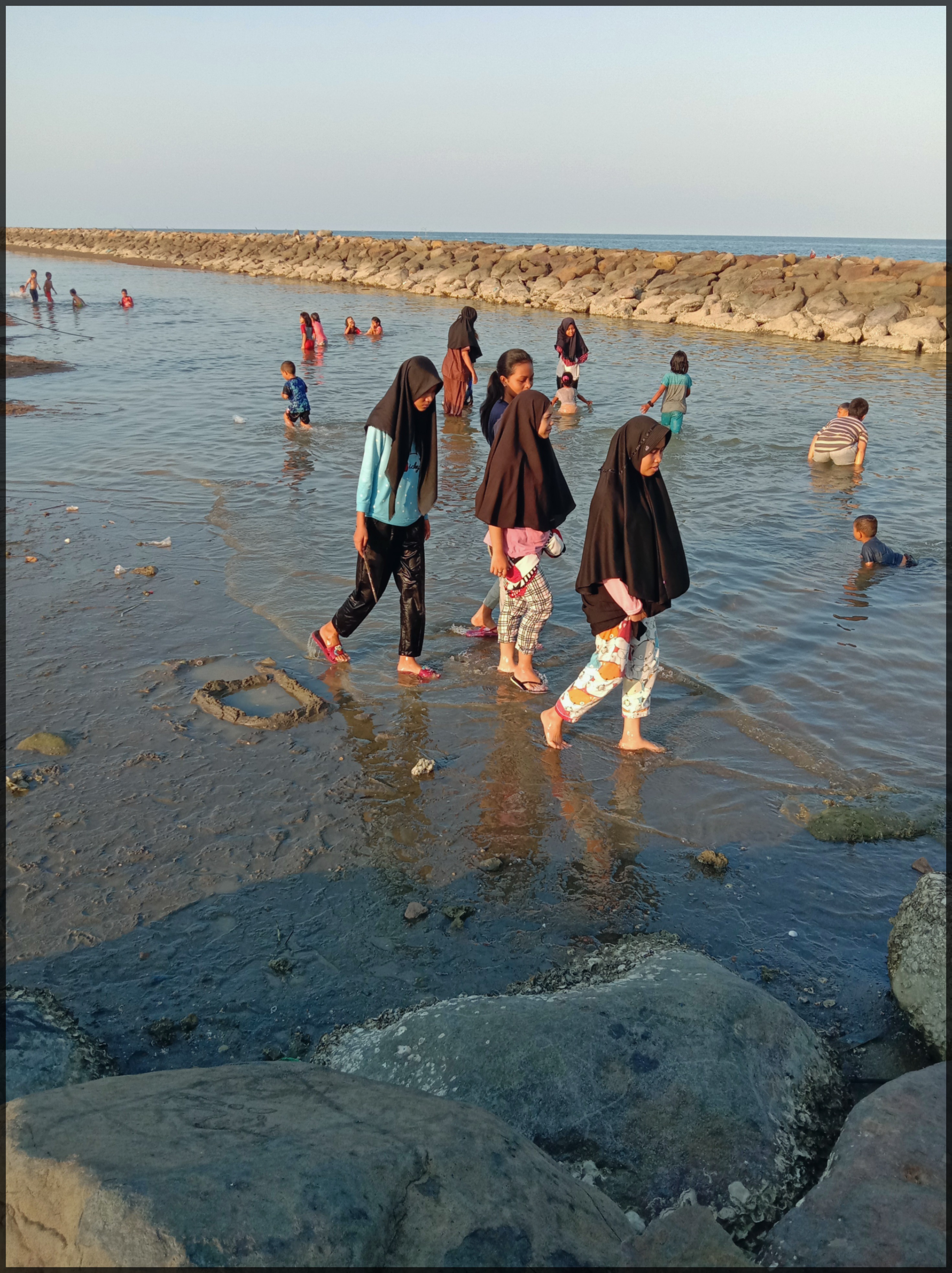 A group of village girls walking down the beach
However, if on a special beach that already provides snacks such as certain foods including grilled fish, visitors do not have to bother bringing snacks from their own homes because they can buy directly from traders who have provided the needs of visitors at that location, which have been prepared in advance or provided in any place that is available special.
When the family is ready to eat every meal (as mentioned earlier), some of the children, both boys and girls, immediately carry out the final agenda, namely swimming in the ocean in natural shallow water locations.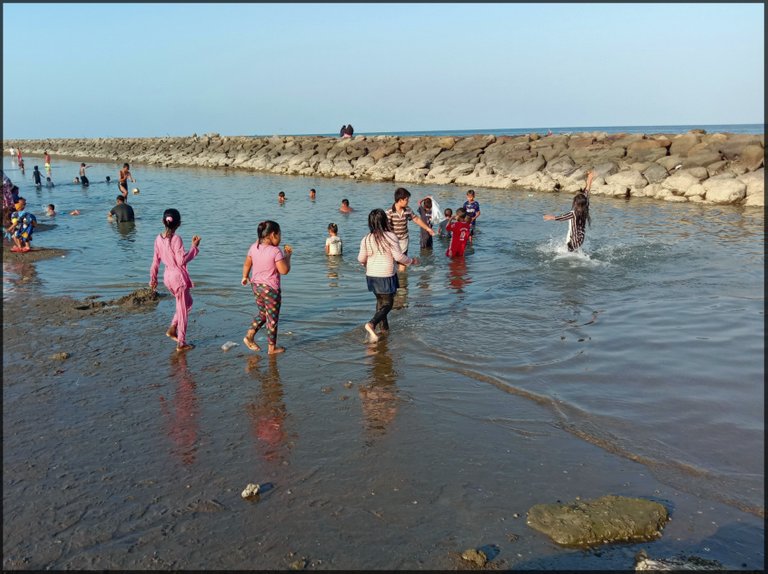 The little ones join in enjoying the fun by the beach
In the Pusong Lama beach area, Lhokseumawe Aceh has its own uniqueness for swimming activities, the unique thing is that each swimming location has its own class. So whoever is present, both children, can choose a location according to their age. Uniquely, the divided classes were created naturally as a result of the influence of nature, not on the basis of human creation. The government only made a wall (breakwater) while the shallow size and depth of the water were made by nature itself.
Why?
Because the area is in the form of a bay that is directly connected to the open sea, while the ocean water enters through the downstream (kuala) which continues to enter the residents' house area, if the tide rises then the salt water will fill the fishing village area while if the water has receded it will form small pools like man-made swimming pools.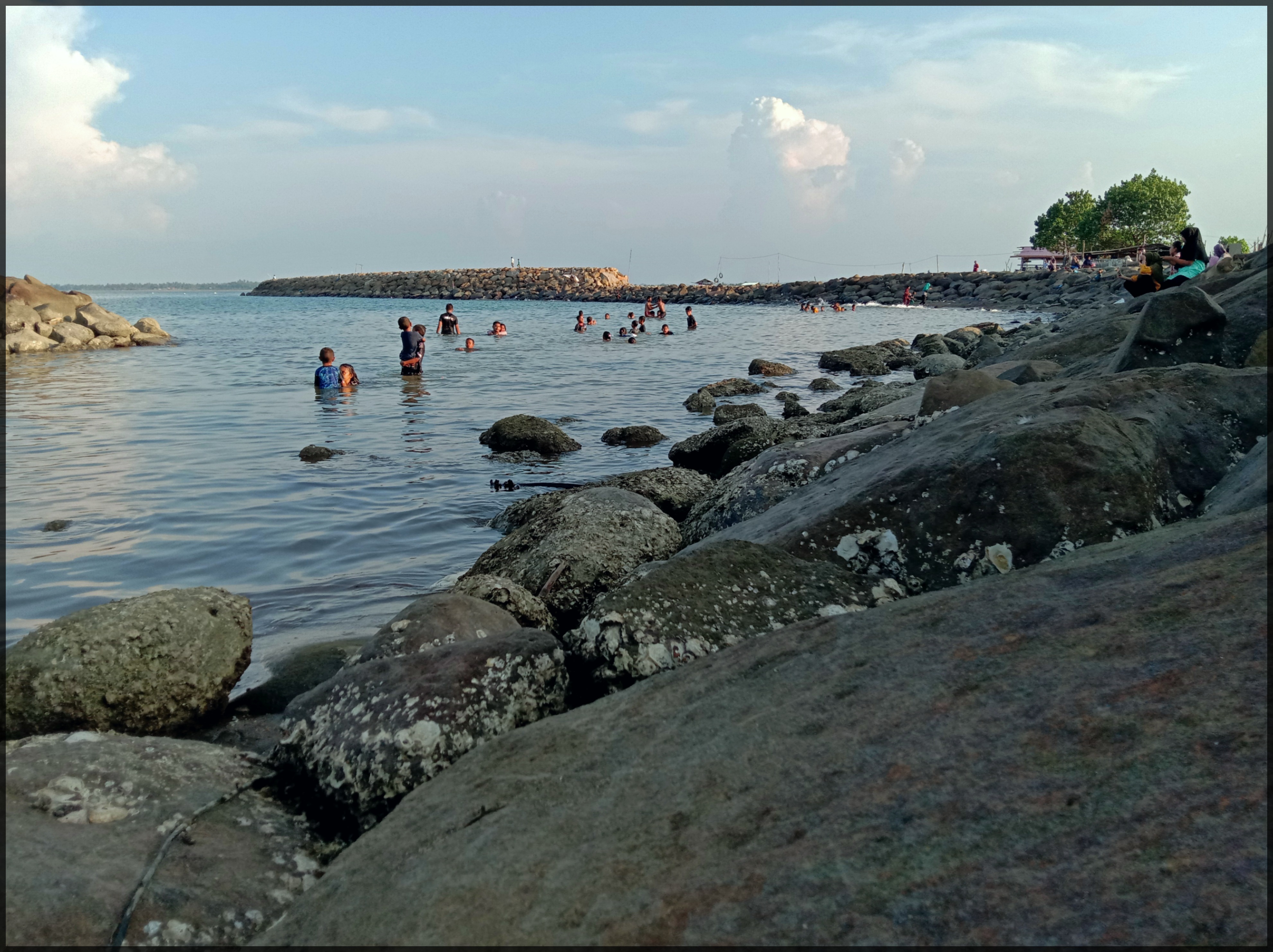 Swimming is the most liked thing by everyone
Adults will take advantage of deep water areas or locations bordering the open seas, while children or teenagers will swim behind their territories.
The water is very clean and healthy without any piles of rubbish or other contamination that can give a negative value to the health of a person's skin and fish that play underwater, especially people who live in the area always maintain cleanliness in the coastal area without direct or indirect pollution in maintaining cleanliness and preservation of marine dam habitat ecosystems in the region.
Maintaining coastal habitats has also become one of the traditions of the local community in protecting and preserving the environment in their area so that the area is always beautiful and comfortable. This habit has grown since the Aceh region was hit by a terrible disaster on Sunday, December 26, 2004, to be precise, several years ago.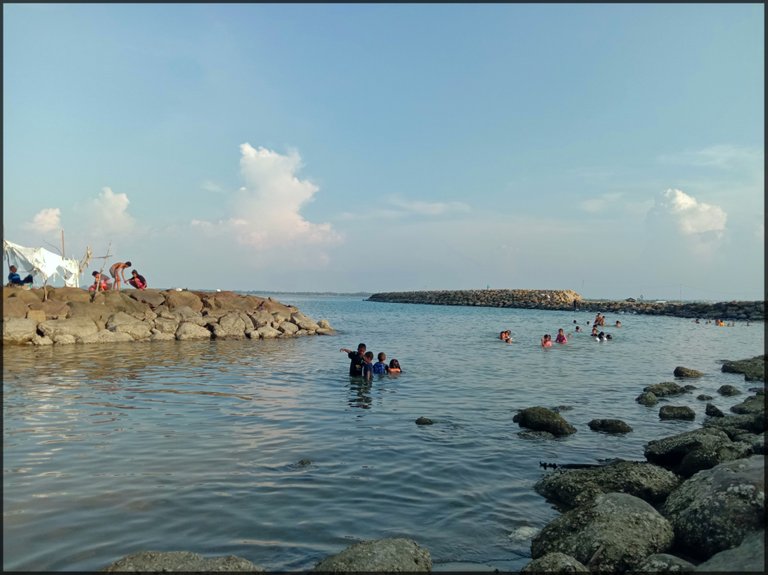 Rejoice in the stillness of clear water
At that time, in the morning to be precise at 08.00 WIB, parts of Aceh were hit by an earthquake and tsunami which in a short time had devastated all of its territory. The village of Pusong Lama Lhokseumawe or the area where I was born and grew up was also accompanied by disasters even though I was 3 years old at the time, I still remember when my father carried me while looking for a high location, thank God, my family and I were safe, even though our house was destroyed by the waves high.
However, we are grateful because my village still looks as beautiful as it used to be, even though it was changed with a few additional large stones as a sea barrier, or there have been several changes in the area with the construction of a large wall in the form of rocks that can withstand waves or it can also be a tsunami defense fortress. It is reserved if it happens again in the next hundreds of years, only if the water comes in a large cotton swab at least we got away before the tsunami touched us.
The tradition that is getting more and more interested by residents, especially our villagers, has become a trending tradition in the last few years.
For example, like our family, and also to other communities who have desires like us too. That is the story of a vacation this weekend, hopefully this story can soothe your soul and as a notification to the world that our village has the value of a comfortable and good and healthy tourist destination.

| Photo and Text Captions | ✎ & 📸 |
| --- | --- |
| 🅿🅾🆂🆃 🆃🅸🆃🅻🅴 | Take a vacation in a fishing village that was formerly damaged by the earthquake and tsunami |
| soʇoɥԀ ɐɹǝɯɐƆ | VIVO Y30i |
| 💥 𝕃𝕠caţเØnˢ 𝓅H𝐨𝓣o⌖ | Aceh, Indonesia |
| 𝗪𝗿𝗶𝘁𝗶𝗻𝗴 𝗗𝗲𝘀𝗰𝗿𝗶𝗽𝘁𝗶𝗼𝗻 | 𝕆𝕨𝕟 𝕨𝕣𝕚𝕥𝕚𝕟𝕘 |
---