Since the human race began evolving we've been creating and inventing things; Necessity forced us to. Homo habilis, one of the earliest human beings, is credited with the invention of tools - Basic shards of rock chipped of larger pieces for use for cutting...With evolution came cognitive thought and...Millions of inventions since then.
The printing press. Computer chip. Writing. Bionic hearing aid, Rubber. Bronze. Push up bra's. Bluetooth. Space travel. Fossil fuels. LCD displays. Mini skirts. Record player. Penicillin. Electricity. Fountain pen. Numbers. Push up bra's. Plastic. Virtual reality. Cinema. Mini skirts. Artificial intelligence. Television. Art. Hydro-electricity. Corn flakes. Healthcare systems. The automobile. Aircraft. X-ray. Push up bra's. WiFi. Robotics. Velcro. Internet. The washing machine. Mini skirts. GPS. Wind farming. The wheel. Fire. SCUBA. Sex toys. LED lighting. Paint. Glass. Production line manufacturing. Music. Insurance policies. Push up bra's. The nail. Optical lenses. The compass. Steam engine. Gunpowder. Paint brush. The plow. Refrigeration. Telephone. Crypto. Calendar. The clock. Soap. Bullets, The toilet. Boats and ships. Fishing poles. Fusion reactor. Mirror. Mini skirts. Concrete. The hammer. Light bulb and...Push up bra's...And mini skirts. Just to name a few.
---
weekend-engagement topic 38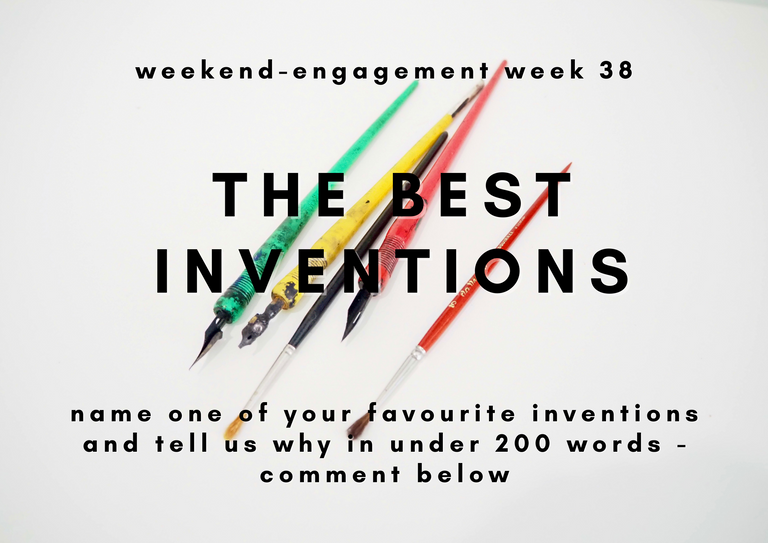 All you have to do is choose an invention, any invention you like, respect, value, find interesting or use...It can be anything but your have to tell us what it is and why you like it or how you feel it's changed your life, or the world.
You can see my list above which could, in fact, be almost endless - So select one of your own, or mine, and tell us why. Get creative, tell us historical facts, the evolution of that invention, who made it, how it's used and so on...Or be humorous and inventive!...Just get involved.
I've used this image I took of some of my dad's nib-pens and brushes...He's gone now, but what he created as an artist using these tools was nothing short of amazing to me - But I'm his son so that's as it should be.
You need to drop your comments of under 200 words below, not post elsewhere and drop the link...That's not what it's all about folks...You'll know this if you actually read this paragraph, or you'll just look like a dick otherwise. This is all about creating a place for users to engage with others over the weekend, so drop your comments below and give people a reason to engage with you.
Read that part up there 👆
---
That's it folks...I'll be handing out hive on Monday to some of those who comment below. Also, feel free to post about this topic in THE WEEKEND as I'll be in there over the weekend. Remember though, don't post links here below, comment!
I hope y'all have a great weekend guys and gals and that I'll see you around below in the comments section. Don't forget to share this post with your friends as they may like to get involved too.
Oh, lastly...Tell someone your care about them and respect and value them...There's always time for that.
---
Design and create your ideal life, don't live it by default - Tomorrow isn't promised.
Be well
Discord: galenkp#9209