This publication was also written in SPANISH and PORTUGUESE.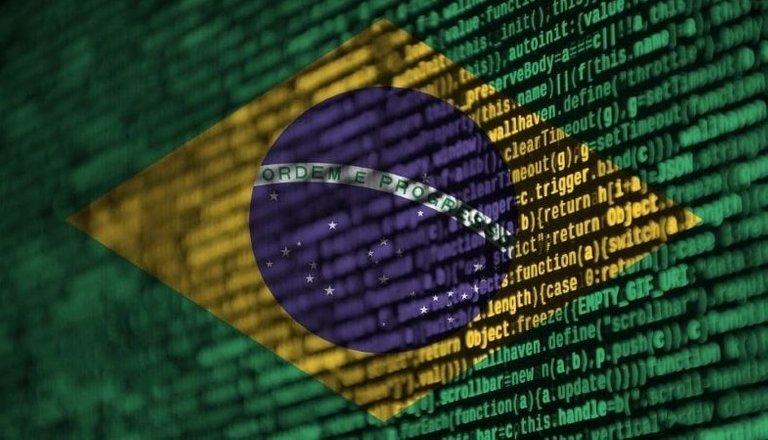 CriptoNotícias
When it comes to technology, in general, Brazil is still far behind other countries. Walking at a slow pace, we are trying to pick up the pace in terms of modernizing things. The scenario is backward, and it has always been so in most sectors. In the case of blockchain technology, the speed is still very slow and the country will need to move much faster to enter a higher level of competitiveness. However, we are growing in the midst of difficulties.
One of the most recent news in relation to this (and which is a clear indication of new paths), is a project for the regulation of cryptocurrencies that the federal government intends to send it to organs responsible agencies for this to happen. In summary, the road is still long (because the process of laws here is extremely bureaucratic), but it is a great sign (and those who live here know this... mainly due to the attitudes of the stupid president who is in control).
In addition to the cryptocurrency financial market, the country has shown interest in cybersecurity using blockchain technology (a proposal involving the control and tracking of weapons... an idea suggested by the strategic minds of the Ministry of Defense) and in the use of the same technology blockchain to try to expand the power, breadth and ramification of the agricultural sector (which has a good export ratio, but could be even greater).
Other interesting points are: A small change related to traditional banking protocols (which are mostly efficient, but still very bureaucratic) that are already seeing the promising future of cryptocurrencies and the popularization of commercials about cryptocurrencies and brokerages on television during daily programming . Little by little, the country has shown that it is becoming familiar with this trend and this is very important to us.
---
El interés del gobierno brasileño en la tecnología blockchain.
En cuanto a tecnología, en general, Brasil todavía está muy por detrás de otros países. Caminando a paso lento, estamos tratando de acelerar el paso en términos de modernización de las cosas. El escenario es atrasado y siempre lo ha sido en la mayoría de los sectores. En el caso de la tecnología blockchain, la velocidad sigue siendo muy lenta y el país necesitará moverse mucho más rápido para ingresar a un mayor nivel de competitividad. Sin embargo, estamos creciendo en medio de las dificultades.
Una de las novedades más recientes en relación a esto (y que es un claro indicio de nuevos caminos), es un proyecto de regulación de las criptomonedas que el gobierno federal tiene la intención de enviarlo a los órganos de las agencias responsables para que esto suceda. En resumen, el camino aún es largo (porque el proceso de leyes aquí es sumamente burocrático), pero es una gran señal (y los que aquí viven lo saben... principalmente por las actitudes del estúpido presidente que tiene el mando).
Además del mercado financiero de criptomonedas, el país ha mostrado interés en la ciberseguridad utilizando la tecnología blockchain (una propuesta que involucra el control y seguimiento de armas... una idea sugerida por las mentes estratégicas del Ministerio de Defensa) y en el uso de la misma tecnología blockchain para tratar de expandir el poder, la amplitud y ramificación del sector agrícola (que tiene una buena relación de exportación, pero podría ser aún mayor).
Otros puntos interesantes son: Un pequeño cambio relacionado con los protocolos bancarios tradicionales (que en su mayoría son eficientes, pero aún muy burocráticos) que ya están viendo el futuro prometedor de las criptomonedas y la popularización de los comerciales sobre criptomonedas y corredurías en televisión durante la programación diaria. Poco a poco, el país ha demostrado que se está familiarizando con esta tendencia y esto es muy importante para nosotros.
---
O interesse do governo brasileiro na tecnologia blockchain.
Quando o assunto é tecnologia, de uma maneira geral, o Brasil ainda está muito atrás de outros países. Andando em passos lentos, nós estamos tentando aumentar o ritmo em relação a modernização das coisas. O cenário é atrasado, e sempre foi assim na grande maioria dos setores. No caso da tecnologia blockchain a velocidade ainda é bem lenta e o país precisará andar bem mais rápido para entrar um nível de competitividade maior. Porém, estamos crescendo em meio às dificuldades.
Uma das notícias mais recentes em relação a isso (e que é um indicativo claro de novos caminhos), é um projeto de regulação de criptomoedas que o governo federal pretende enviar aos órgãos responsáveis para isso acontecer. Em síntese, o caminho ainda é longo (porque o processo de leis por aqui é extremamente burocrático), mas é um ótimo sinal (e quem mora aqui sabe disso... principalmente pelas atitudes do presidente estúpido que está no controle).
Além do mercado financeiro de criptomoedas, o país tem demonstrado interesse em segurança cibernética com uso de tecnologia blockchain (uma proposta envolvendo o controle e rastreamento de armas... uma ideia sugerida pelas mentes estratégicas do Ministério da Defesa) e no uso da mesma tecnologia blockchain para tentar ampliar o poder, a amplitude e a ramificação do setor agrícola (que tem uma boa relação de exportação, mas pode ser ainda maior).
Outros pontos interessantes são: Uma pequena mudança relacionada aos protocolos bancários tradicionais (que são eficientes em sua maioria , mas ainda muito burocráticos) que já estão vendo o futuro promissor das criptomoedas e a popularização de comerciais sobre criptomoedas e corretoras na televisão durante à programação diária. Pouco a pouco o país tem demonstrado que está se familiarizando com essa tendência e isso é muito importante para nós.
Posted Using LeoFinance Beta