This publication was also writen in SPANISH and PORTUGUESE.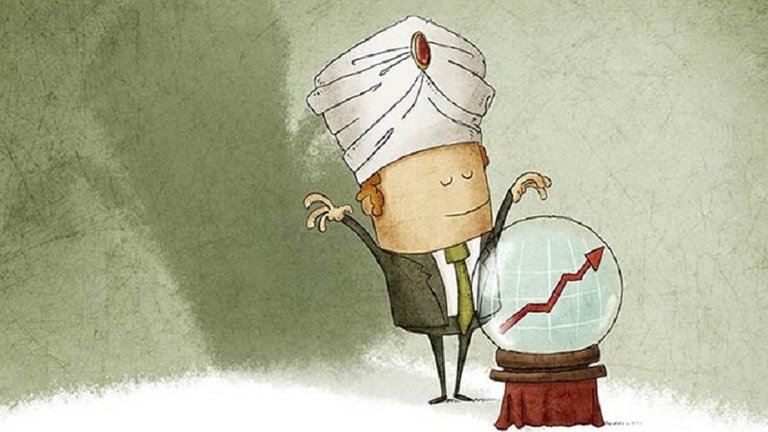 Call Center Helper
The financial market is based on forecasts, not all of them, but a considerable part of them. These attempts to predict everything that is to come is a routine practice in this sector, and every day, those who follow this market more closely are constantly bombarded with the most different types of forecasts. Where to invest? When to invest? How to invest? All these questions are very important, pertinent and should never be forgotten.
The types of predictions made are as different as possible. Often based on facts that happen in the real world (wars, politics, economy and many other subjects), the professionals who work in this area have a slightly more "accurate" look and try to analyze the market and its oscillations with a more sensitive approach. This impacts not only their investments, but it also influences and impacts other people's investments.
After the arrival and popularization of the internet, all these monetary predictions became even more popular and a new trend seems to be coming, investment in cryptocurrencies involving Artificial Intelligence. This is news that is calling the attention of many investors, who are deciding to bet big, running outside in this wild race. The path is still new, certainly full of uncertainties, but it can be very promising.
According to ChatGPT, the most promising artificial intelligence cryptocurrencies at the moment are: SingularityNET (AGI), Fetch.ai (FET), Cortex (CTXC), Numerai (NMR) and DeepBrain Chain (DBC). The names are "strange" to the vast majority of investors, but a portion of investors are already used to them. This dynamism of the sector has positive (and negative) impacts throughout the chain, and it is within these changes that it is possible to find more chances.
---
Prediciendo el futuro.
El mercado financiero se basa en pronósticos, no todos, pero una parte considerable de ellos. Estos intentos de predecir todo lo que está por venir es una práctica rutinaria en este sector, y cada día, quienes siguen más de cerca este mercado son constantemente bombardeados con los más diferentes tipos de pronósticos. ¿Dónde invertir? ¿Cuándo invertir? ¿Cómo invertir? Todas estas preguntas son muy importantes, pertinentes y nunca deben olvidarse.
Los tipos de predicciones hechas son tan diferentes como sea posible. A menudo basados en hechos que suceden en el mundo real (guerras, política, economía y muchos otros temas), los profesionales que trabajan en esta área tienen una mirada un poco más "precisa" y tratan de analizar el mercado y sus oscilaciones con una mirada más sensible. acercarse. Esto impacta no solo sus inversiones, sino que también influye e impacta las inversiones de otras personas.
Tras la llegada y popularización de internet, todas estas predicciones monetarias se popularizaron aún más y parece que se avecina una nueva tendencia, la inversión en criptomonedas involucrando Inteligencia Artificial. Esta es una noticia que está llamando la atención de muchos inversores, quienes están decidiendo apostar fuerte, corriendo afuera en esta carrera salvaje. El camino aún es nuevo, ciertamente lleno de incertidumbres, pero puede ser muy prometedor.
Según ChatGPT, las criptomonedas de inteligencia artificial más prometedoras en este momento son: SingularityNET (AGI), Fetch.ai (FET), Cortex (CTXC), Numerai (NMR) y DeepBrain Chain (DBC). Los nombres son "extraños" para la gran mayoría de los inversores, pero una parte de los inversores ya están acostumbrados a ellos. Este dinamismo del sector tiene impactos positivos (y negativos) a lo largo de la cadena, y es dentro de estos cambios que es posible encontrar más oportunidades.
---
Prevendo o futuro.
O mercado financeiro é baseado em previsões, não por completo, mas uma parte considerável deles. Essas tentativas de acertar tudo o que está por vir é uma prática rotineira neste setor, e todos os dias, quem acompanha esse mercado mais de perto é constantemente bombardeado com os mais diferentes tipos de previsões. Onde investir? Quando investir? Como investir? Todas essas perguntas são bastante importantes, pertinentes e jamais devem ser esquecidas.
Os tipos de previsões feitas são as mais diferentes possíveis. Baseando-se muitas vezes em fatos que acontecem dentro do mundo real (guerras, políticas, economia e tantos outros assuntos), os profissionais que trabalham nessa área tem um olhar um pouco mais "apurado" e tentam analisar o mercado e suas oscilações com uma abordagem mais sensível. Isso impacta não apenas os investimentos deles, mas também influencia e impacta os investimentos de outras pessoas.
Depois da chegada e popularização da internet, todas essas previsões monetárias se tornaram ainda mais populares e uma nova tendência parece estar chegando, o investimento em criptomoedas envolvendo Inteligência Artificial. Essa é uma novidade que está chamando à atenção de muitos investidores, que estão decidindo apostar alto, correndo por fora nessa corrida selvagem. O caminho ainda é novo, certamente cheios de incertezas, mas pode ser muito promissor.
De acordo com o ChatGPT, as criptomoedas de inteligência artificial mais promissoras no momento são: SingularityNET (AGI), Fetch.ai (FET), Cortex (CTXC), Numerai (NMR) e DeepBrain Chain (DBC). Os nomes são "estranhos" para a grande maioria dos investidores, mas uma parcela de investidores já está acostumada com eles. Esse dinamismo do setor tem impactos positivos (e negativos) em toda à cadeia, e é dentro dessas mudanças que é possível encontrar mais chances.