This publication was also writen in SPANISH and PORTUGUESE.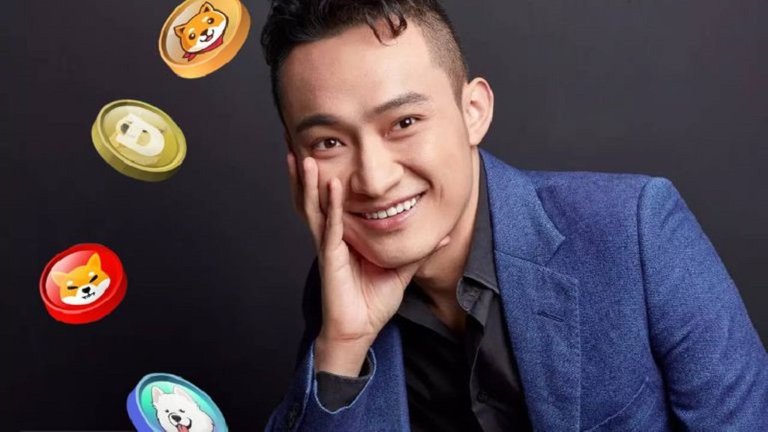 Webitcoin
Everyone who follows the financial market knows that it has a very volatile nature. Within this type of universe, the financial issue is impossible to predict with precision and by indications that may exist, no prediction is totally correct. However, when some very influential players start to enter the game, it's impossible not to imagine everything that could be to come. Even though it is very uncertain, the future can be very promising.
This is precisely the scenario of meme cryptocurrencies these days. Being seen as a joke (which is in fact comprehensible, since the vast majority of them are born in a joke), everything can change when some important name (be it a positive or negative name for the cryptocurrency scene) decides to invest money and time to try to create, or strengthen, a new trend. Whether this is going to be a good thing or a bad thing, nobody really knows.
Webitcoin
Anyone who bets on meme cryptocurrencies can even start smiling, because none other than Justin Sun plans (and is already working to make it happen), investing in meme cryptocurrencies. The idea seems to be to strengthen marketing and, at the same time, create a new "route" for these types of cryptocurrencies, which, in a way, are still not very ignored. If Sun really enters this "metaverse" of digital currencies, the game really could be very different.
Justin Sun is definitely not the best name to bring more credibility to the world of cryptocurrencies and blockchain technology, but it is impossible to deny that his name associated with these types of cryptocurrencies is a move that could work. One way or another, Sun is still a big name in this game and everything he says or says still has some kind of very strong impact that can "change" the financial market for digital currencies.
---
Justin Sun y el futuro de las criptomonedas meme.
Todos los que siguen el mercado financiero saben que tiene una naturaleza muy volátil. Dentro de este tipo de universo, el tema financiero es imposible de predecir con precisión y por indicios que puedan existir, ninguna predicción es totalmente correcta. Sin embargo, cuando algunos jugadores muy influyentes comienzan a ingresar al juego, es imposible no imaginar todo lo que podría estar por venir. Aunque es muy incierto, el futuro puede ser muy prometedor.
Este es precisamente el escenario de las criptomonedas meme en estos días. Siendo vistos como una broma (lo que de hecho es comprensible, ya que la gran mayoría de ellos nacen en una broma), todo puede cambiar cuando algún nombre importante (ya sea un nombre positivo o negativo para la escena de las criptomonedas) decide invertir dinero y tiempo para tratar de crear, o fortalecer, una nueva tendencia. Si esto va a ser algo bueno o malo, nadie lo sabe realmente.
Cualquiera que apueste por las criptomonedas meme puede incluso comenzar a sonreír, porque nada menos que Justin Sun planea (y ya está trabajando para que esto suceda), invertir en criptomonedas meme. La idea parece ser potenciar el marketing y, al mismo tiempo, crear una nueva "ruta" para este tipo de criptomonedas, que, en cierto modo, aún no son muy ignoradas. Si Sun realmente entra en este "metaverso" de monedas digitales, el juego realmente podría ser bastante diferente.
Justin Sun definitivamente no es el mejor nombre para darle más credibilidad al mundo de las criptomonedas y la tecnología blockchain, pero es imposible negar que su nombre asociado a este tipo de criptomonedas es un movimiento que podría funcionar. De una forma u otra, Sun sigue siendo un gran nombre en este juego y todo lo que dice o dice todavía tiene algún tipo de impacto muy fuerte que puede "cambiar" el mercado financiero de las monedas digitales.
---
Justin Sun e o futuro das criptomoedas meme.
Todo mundo que acompanha o mercado financeiro sabe que ele tem uma natureza muito volátil. Dentro desse tipo de universo, a questão financeira é impossível de ser prevista com precisão e por indícios que possam existir, nenhuma previsão é totalmente correta. No entanto, quando alguns jogadores muito influentes começam a entrar no jogo, é impossível não imaginar tudo o que pode estar por vir. Mesmo sendo bem incerto, o futuro pode ser muito promissor.
Esse é justamente o cenário das criptomoedas meme nos dias atuais. Sendo encaradas como uma brincadeira (o que de fato é compressível, pois a grande maioria delas nascem em tom de brincadeiras), tudo pode mudar quando algum nome importante (seja ele um nome positivo ou negativo para o cenário das criptomoedas) decide investir dinheiro e tempo para tentar criar, ou fortalecer, uma nova tendência. Se isso vai ser algo bom ou ruim, ninguém realmente sabe.
Quem aposta em criptomoedas meme pode até começar a sorrir, porque ninguém menos do que Justin Sun planeja (e já está trabalhando para isso acontecer), investir em criptomoedas meme. A ideia parece ser fortalecer o marketing, e ao mesmo tempo, criar uma nova "rota" para esses tipos de criptomoedas, que de uma certa forma ainda não muito ignoradas. Caso Sun realmente entre nesse "metaverso" das moedas digitais, o jogo realmente pode ser bem diferente.
Justin Sun definitivamente não é o melhor nome para trazer uma maior credibilidade para o mundo das criptomoedas e para a tecnologia blockchain, mas é impossível negar que o nome dele associado com esses tipos de criptomoedas é uma jogada que pode dar certo. De uma forma ou de outra, Sun ainda é um nome de peso nesse jogo e tudo o que ele fala ou diz, ainda traz algum tipo de impacto muito forte que pode "mudar" o mercado financeiro das moedas digitais.