Two Days ago I managed to win a Legendary Card from my Daily Quest Rewards. It was obviously an Almo Cambio because that was the only card that was available that was Legendary in rarity. Rare Cards were already gone. It was the lowest valued of all Legendary Cards and was a lowly $27 when it made to my collection.
Things are not all that different in the realm of rentals either. Almo Cambio is lacking in that rarity factor as users were used to get him from Quests and many of the seasoned veterans of the game already have the likes of Lord Arianthus (an NFT that used to be below $1). There is no urgent use case for something like Almo Cambio. At the end of the print, Price has gone up 18.51% and there are no more Leveled Up Cards for cheap. It is just a collection of Level 1 Almo Cambio.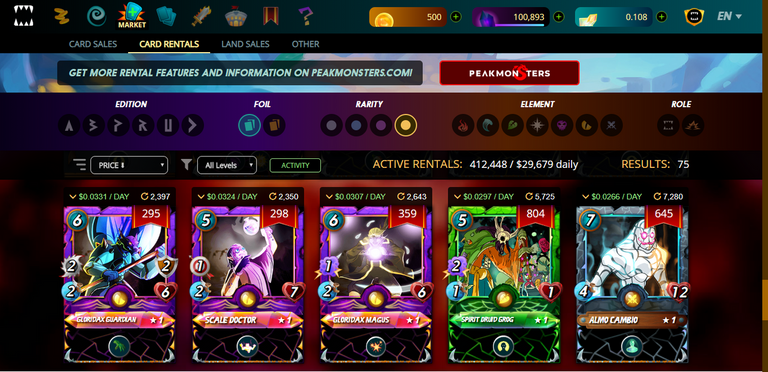 Buying Five of The Cheapest Legendary Card
This act did cost me nearly a quarter of my current DEC reserves. I only added 5000 Collection Power into my account. I'm fully aware that this is not a great thing for my SPS airdrop. I'm making a bet that Almo Cambio will be worth a lot more as the time goes on.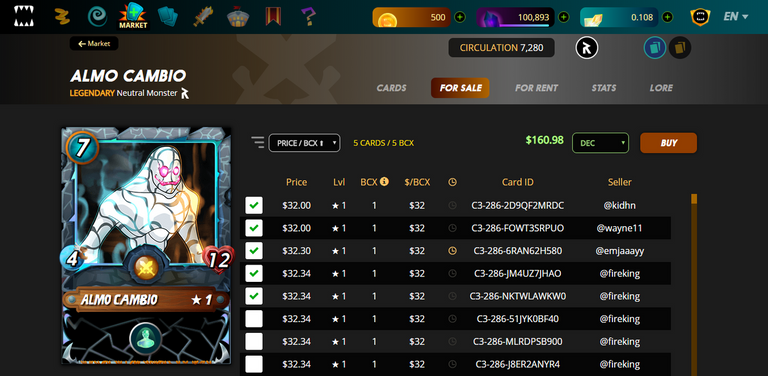 What is Going on With Purchases
Level 3 brings some interesting abilities. Although I only have a Level 1 Byzantine Kitty (great job by everyone who purchased while cheap), I honestly have to say that Almo Cambio will work best with the Kitty at its higher forms.
Lesson To Be Learned
You are not gaining much by simply knowing what another investor is doing. You need to equip yourself with more tools than that. For that I think @kiokizz has some handy tools here. Another amazing place to visit every now and then is https://splintercards.com created by @tehox I highly recommend both of these tools to make your lives better.
These have helped me make better and/or more informed investment decision. The trick is to be ahead the curve and understand the market dynamics before everybody else does.
10K SPS on August 22nd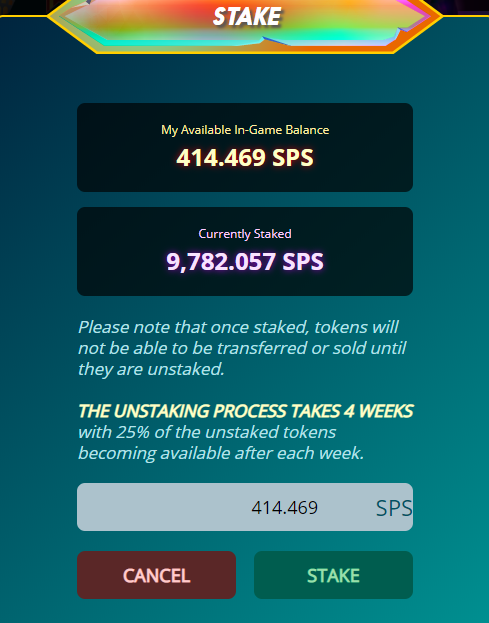 APR has taken a massive hit as the smart people playing @splinterlands figured out staking SPS in game is the best thing to do compared to the lousy returns on expensive yet popular DeFi projects such as PancakeSwap.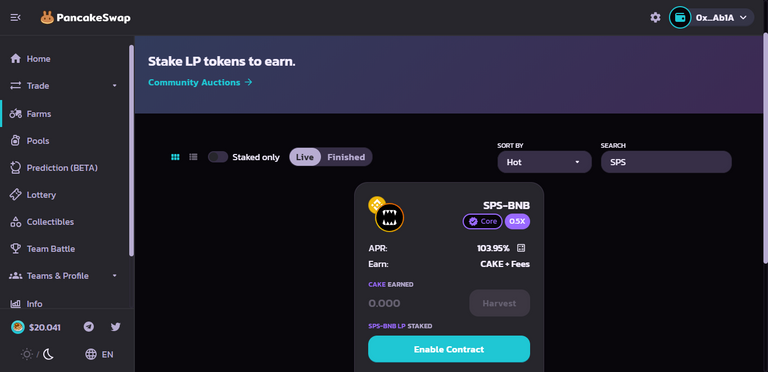 Keep in mind that you have many dollars of fees involved and have to buy into BNB while getting rewarded in CAKE. There is a large amount of complexity and exposure to three separate cryptocurrency.
Despite the falling of APR for staking inside the game, I prefer to stick with this method that has made so much stability and simplicity. I will be reaching 20K SPS goal in about 1.5 weeks. There is currently 17,194 SPS staked. If it wasn't for the recent gains in HIVE, SPS airdrop would have accounted for a valuation bigger than the HIVE investment I have worked to build over 55 months.
Happy Investing!
Posted Using LeoFinance Beta