This is a good marketing move and it does not endanger the network by allowing spam to run amok. This is all a result of nothing short of absolutely amazing design made from scratch. Koinos is built by the geniuses who built STEEM and 6 years ago and the world is yet to come across a better decentralized social media solution.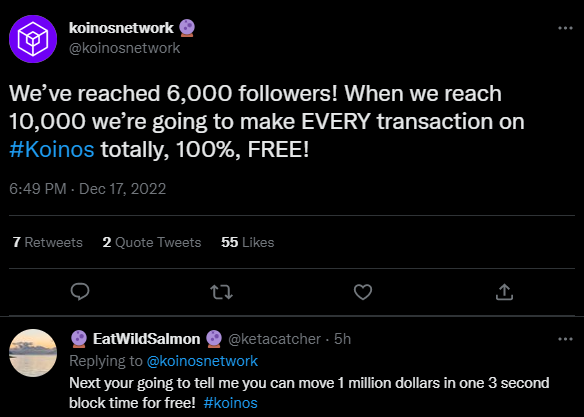 You can check the announcement below on Twitter and give the project some support with a follow and few ReTweets. I do not use Twitter or any Web 2 social media actively. Therefore I'm writing about this on blockchain and promoting Koinos here on a blockchain the developers helped to create.
I have never been this excited about what a blockchain can accomplish. It will take a great deal of time and effort for Koinos to reach the masses and become a well known cryptocurrency like Ethereum, Cardano, Solana, Polkadot etc. I am ready to patiently wait until it happens.
@andrarchy @gerbino @vandeberg @engrave are all part of Koinos and some of them like @andrarchy have been posting some excellent material. I highly recommend checking out their accounts. You will learn a lot from them.
How Koinos Makes Things Better With Decentralization + Utility
A More Beginner Friendly Presentation Discussing Koinos, STEEM, HIVE and Splinterlands
If you have any Friends or family who could potentially be interested in Koinos and you want to educate them, the following video could be a better fit:
If you have wrapped your mind around how Mana works; it should sound like a more convenient and automated version of the system we have with Resource Credits. We could present Koinos as having an automated staking management system for DPoS blockchains. There are more features made on top of this.
Currently, when @splinterlands wants to make sure their newly onboarded users have enough RC to make transactions, the DAPP needs to delegate some RC (it used to be worse requiring HIVE Power delegation). The RC delegated to the user can be used to do all sorts of activities that are completely unrelated to @splinterlands making the developers subsidize usage of other DAPPs on HIVE including potential competitors. On Koinos it is possible for DAPP developers to exclusively subsidize transactions related to their DAPP and nothing else.
What Does Free Transactions Mean?
I assume this is done in order to make Koinos attractive for new developers and users by utilizing the KOIN that is idly sitting on the wallets of Koinos Group. This is not a too good to be situation. Some people become extremely cautious when an offer sound extremely good. This is not one of those situations.
It's A Result of Genius Design!
Koinos Website
Kondor Wallet
Block Explorer
Posted Using LeoFinance Beta