Dash is one of those forgotten and sleeping giants in the cryptosphere that is flying under virtually all hype happy cryptocurrency promoters. Dash is the world's first Decentralized Autonomous organization. It is one of the earliest cryptocurrency to get my attention in 2017 an I have been a great fan of the project ever since.
Dash was created by Evan Duffield and it was a response to the elitist stone age inner circle of BTC developers not wanting to technologically improve the BTC blockchain in a serious way. Most issues concerning BTC will not exist if it had simply adopted what was proposed by Evan Duffield and many other smart minds like his.
Dash is Making Real Change
Those are some of the more ancient marketing material put out by dash. At its height, dash was spending millions of dollars on marketing from their DAO to promote Dash like any other business would. When DHF was announced, I was finally happy to see 10% of newly created supply accumulating on a fund.
The issue is that most of the DHF is not being spend on great DAPPs like @dlux-io or marketing plans that could help HIVE get noticed. HBD stabilizer has helped the ecosystem, but I seriously doubt that was the best possible use for the funds.
How Dash Fixed It Series
Amanda B. Johnson has been a long time employee of the Dash DAO. I first fell in love with Dash and invested into it heavily in 2017 - 2018 in large part thanks to Amanda B. Johnson's videos. This is what great marketing can accomplish.
Dash Platform
Imagine there was a video series like this explaining all aspects of DPoS and features on HIVE along with details about various DAPPs we have! Not everybody takes time to read lengthy technical posts. A large part of the cryptosphere get their information mainly through video content.
With proper usage of funds from DHF we can realistically have all these great things. None of these have to be crowdfunded when there is a DAO to take care of the expenses. We are simply failing as a community to do our marketing!
The Reason Why STEEM is Doing So Well
https://steemhunt.com is the only DAPP on STEEM that I have not seen a replacement for. Everything else on STEEM is inferior to other alternatives. https://steemit.com front end is ancient compared to @ecency or @peakd Yet as a cryptocurrency, STEEM is having such good price performance against HIVE.
They Must Be Doing Something Right!


Both have similar trading volume. Despite all the fundamentals being stacked against STEEM, the cryptocurrency price is doing much better. I only have one explanation. It is the power of marketing! If you have a better explanation, please let me know in the comments. I'm open to other possibilities like some market manipulation conspiracy. Marketing is the reason Occam's razor principle leads me towards.
How Will The Trend Break?
I see two options:
Long form blogging is clearly not a killer DAPP. Most people are not willing to commit their time into writing an article like the one you are reading wright now. Microblogging such as @dbuzz or Project ________ from @leofinance could bring some serious change.
@threespeak already has great competition from LBRY. I'm @splinterlands is so far the best bet we have right now. It is the best performing blockchain game DAPP in the cryptosphere right now. The developers are already working hard with the SPS DAO and Land Expansion. It is hard to do better than that.
Again we are back to marketing or simply creating a whole new DAPP built on HIVE. It could very well be DeFi. Check out https://tribaldex.com from @aggroed and @hive-engine developers or http://dlux.io from @disregardfiat It could be a completely new thing we have not had in the HIVE ecosystem before. I'm open to all great things that can make the platform stronger.
Latest Updates From Dash Core Group
You don't have to listen spend hours watching all of it. Spend 20 minutes at a faster playback speed and skip through few parts. You will notice that unlike BTC there are some serious work being done to create the blockchain alternative to become a PayPal killer.
I started this article after remembering a reply I gave to @forexbrokr Most crypto savvy individuals seem to have lost track of Dash. I will share some of the resources I shared.
You can click on "Dive Deeper" to get to the following page to come across even more insights: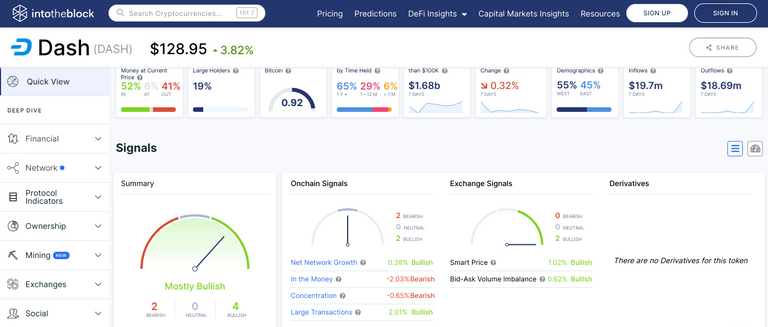 This is one of the easiest places to sell the value of dash. Simply take a look at hat they have delivered over the years and take a look at what is next in the roadmap for the future. BTC cannot and will not ever hold a candle to something great and future thinking as this. Every project comes to its death. But whatever happens, dash will have what it takes to outdo BTC.
You can follow more details on Dash developments on Dash Newsroom. Dash is also one of the first cryptocurrency ever to have real human customer support for those who need it. That is real humans on call to help you deal with problems/questions related to Dash cryptocurrency.
Happy Investing!
Posted Using LeoFinance Beta