The goal of this article is to provide a quick overview of DEC Batteries, its use cases and why they should be purchased. If you have not been up to date on what is happening in @splinterlands economy, reading this article will help you.
February 8th at 18:00 UTC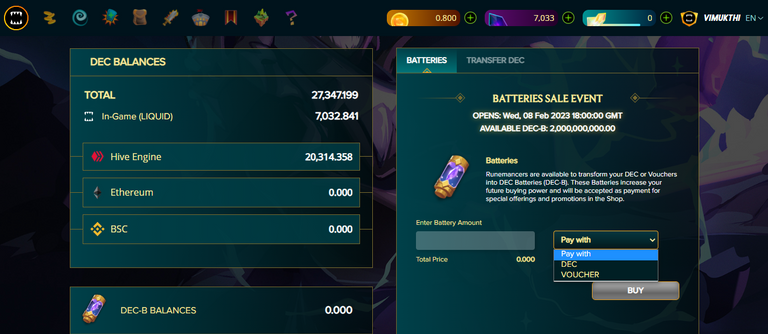 The website will soon come out of maintenance and purchases will be happen with only two accepted Tokens.
0.8 DEC Per 1 DEC-B
0.005 VOUCHER Per 1 DEC-B
If you do not own either of these Tokens, the best way to acquire them is through HIVE-Engine or Tribaldex which offer zero fee trades with an order book. Swaps have a small fee. DSwap is another service built on HIVE that may prove useful. It can be accessed via the website or HIVE-Engine interface.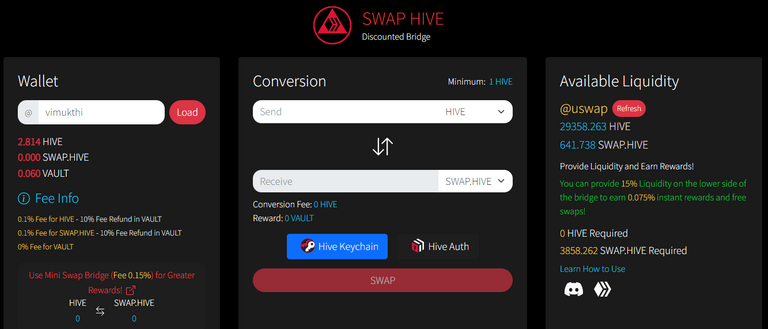 If you are specifically planning to transfer HIVE for the purchase, I highly recommend @uswap as an extremely satisfied user. The website is very easy to use. If there isn't sufficent liquidity, try out the following options:
DEC-B will not be immediately usable right after purchase. The utility will come later down the road.
The first expected Utility will be for Guild Building Upgrades.
A "Starter Pack" for Praetoria (different from the original survey boost proposed).
Additional Upgrades, Maintenance, and Boosts related to Land.
There are no plans for Legendary/Alchemy Potions or Blood/Power Stones to be purchased (this could change in future)
Card Pack Mini Editions (Similar to Orbs, Dice, Riftwatchers)
Skins & Cosmetic purchases
Who Should Avoid DEC-B Purchase
Those who are not a part of a Guild
Those who are not interested in Praetoria Land
Those who don't intend to buy Mini Edition Packs
Those who are not interested in NFT cosmetics
If you fit all four categories, avoid buying DEC-B. These Tokens will be soulbound. You cannot transfer or convert them into anything else.
DEC is a Pseudo Stablecoin
The term @splinterlands team used is a "Product Backed Stablecoin". The upward pressure for the DEC comes from the fact that 1,000 DEC is treated as $1 when buying some assets in the game. The downward pressure towards $0.001 comes from the ability to burn SPS to mint DEC which can be sold at a profit when DEC price is "too high".This is a very important factor to keep in mind when trading and using DEC.
VOUCHERs vs DEC Price Interaction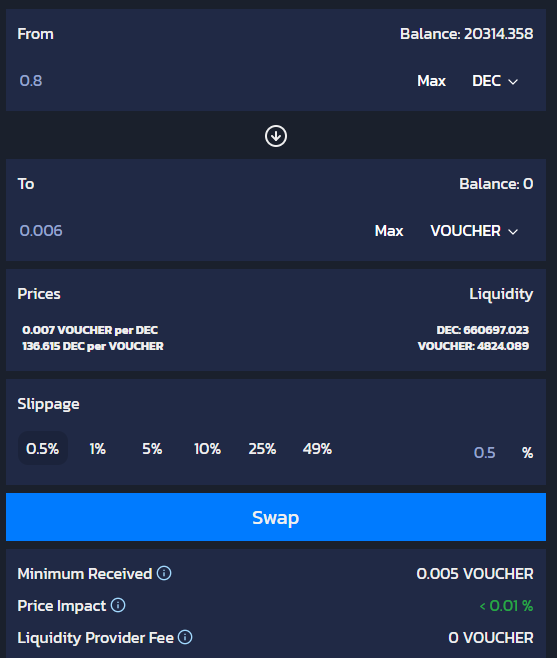 When the ratio for 0.8 DEC is 0.005 VOUCHER, there is no advantage for using one asset over the other for buying DEC-B. Whenever there is a difference, you have an arbitrage opportunity. These are ways to lock in guaranteed profits in a matter of minutes (within few limitations such as trading volume).
Dswap Prices Are Different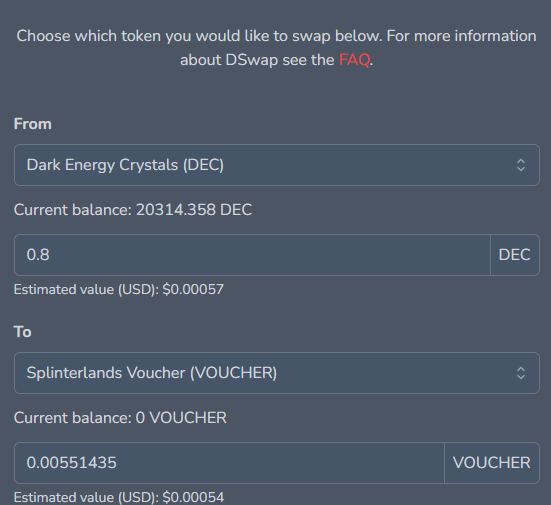 You are not going to find any life changing trades among these. What you will come across are opportunity to make a few extra gains within your trading activities. For a whale, these opportunists will not make much of a difference. The benefits of what I write about will be mostly felt by minnows.
There is 6.39 Billion DEC Circulating
DEC Batteries will end the sale at 2 Billion DEC-B or after 60 days of time pass by. A large percentage of DEC will be burned in the process. It could become a bullish sign for DEC as it is trading below the target price of $0.001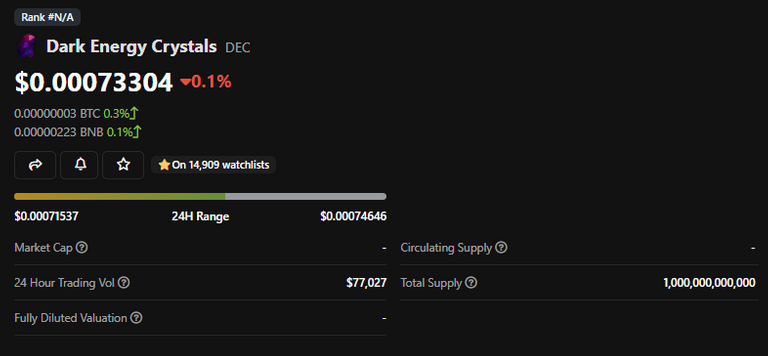 The trading volumes on @coingecko are not accurate. Only the volume on Uniswap and PancakeSwap are calculated. HIVE-Engine has an additional $22,187 volume. There could be few other markets for DEC.
Happy Gaming! Happy Investing!
Now you know about DEC and DEC Batteries. You know about its utility. You know if it is a right purchase for you. I have provided resources to make the best trade when buying DEC-B. World's most used DAPP (on most days) has many new features planned. Do your own research and make the best decisions for your life.
Best of Luck!
Posted Using LeoFinance Beta