Update von der Mozilla-Front: Mozilla hat Spenden in Kryptowährungen bereits seit 2014 akzeptiert, sie jetzt aber überraschend "pausiert" wegen vorgeschobenen Klimawandel-Gründen und betreibt damit Greenwashing, da sie weiterhin Spenden in US-Dollar ("Petrodollar") akzeptieren.
Zu berücksichtigen ist, dass Bitcoin stark in erneuerbare Energie investiert und es darüber hinaus auch zahlreiche energie-effziente Kryptowährungen wie Hive gibt, während der US-Dollar für weit umweltschädlichere Ölgeschäfte und Kriegsfinanzierung eingesetzt wird.
Der Rückzug von Mozilla passierte nach einem hasserfüllten Kommentar eines ehemaligen Co-Founders (Jamie Zawinski), der auf Twitter gegen einen Krypto-Spendenaufruf von Mozilla hetzte.
Dazu muss man wissen, dass ein anderer Co-Founder (Brendan Eich) von Mozilla die Bedeutung von Krypto und Web3 erkannt hat und vor einigen Jahren den Brave Browser gegründet hat. Und das ziemlich erfolgreich, während der Mozilla-Browser zunehmend an Relevanz verliert.
Auch Opera experimentiert mit der Integration einer nativen Krypto-Wallet direkt in den Browser. Alle Chrome-basierten Browser können mit Addons Web3 fit gemacht werden.
Firefox wird mit dieser krypto-feindlichen Einstellung zunehmend abgehängt und droht einen wichtigen technologischen Fortschritt, die Einbindung von dezentralen Zahlungsfunktionen und Micro-Payments in das Web, auch als Web3 bekannt, zu verschlafen.
Was sagt ihr zur krypto-feindlichen Kehrtwende von Mozilla/Firefox?
Mozilla "paused" crypto donations for climate change reasons (greenwashing)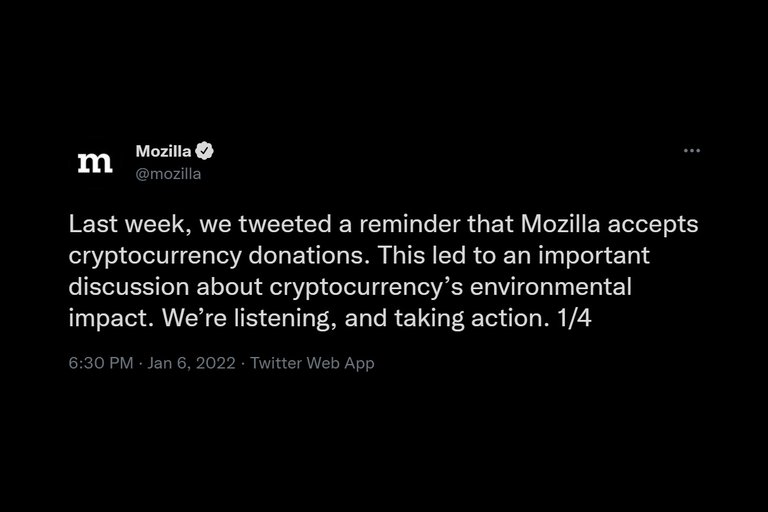 Reactions from the crypto community
English
Update from the Mozilla front: Mozilla has been accepting donations in cryptocurrencies since 2014, but has now surprisingly "paused" them for pretextual climate change reasons, i.e. greenwashing as they continue to accept donations in the US Dollar ("petrodollar").
It should be taken into account that Bitcoin also invests heavily in renewable energy and that there are also numerous energy-efficient cryptocurrencies such as Hive, while the US dollar is used for far more environmentally damaging oil business and war funding.
Mozilla's withdrawal happened after a hateful comment from a former co-founder (Jamie Zawinski) who railed against a Mozilla crypto donation appeal on Twitter.
It's important to note that another Mozilla co-founder (Brendan Eich) recognized the importance of crypto and Web3 and created the Brave Browser a few years ago. And it's been quite successful, while the Mozilla browser is increasingly losing relevance.
Opera is also experimenting with integrating a native crypto wallet directly into the browser. All Chrome-based browsers can be made Web3 ready with addons.
Firefox is increasingly being left behind with this crypto-hostile attitude and is in danger of missing an important technological advance, the integration of decentralized payment systems and micro-payments into the web, also known as Web3.
What do you guys say to Mozilla's crypo-hostile u-turn?
Sources
[1] Mozilla Backs Away From Bitcoin Donations After Backlash https://decrypt.co/89921/mozilla-backs-away-from-bitcoin-donations-after-backlash
[2] Former Mozilla co-founder jwz turns out to be a crypto hater, after Mozilla officially announced accepting crypto donations, blocked me on twitter for pointing this out https://peakd.com/hive-167922/@vikisecrets/former-mozilla-co-founder-jwz-turns-out-to-be-a-crypto-hater-after-mozilla-officially-announced-accepting-crypto-donations-block
Live your Secrets and Hive Prosper 🍯
xx Viki @vikisecrets