Chipmangel: Wie sieht es derzeit mit Grafikkarten aus? Würdet ihr jetzt eine kaufen oder lieber noch warten?
Hab mich kurz einmal umgesehen, wie die Situation derzeit mit Grafikkarten aussieht.
Generell kommt mir die Lage ein wenig besser vor als letztes Jahr. Es gibt vereinzelt GPUs der aktuellen GeForce 30xx-Generation, jedoch zu horrenden Preisen.
Gefühlt kosten Grafikkarten mittlerweile das Doppelte bis Dreifache als noch vor Corona.
Eine "günstige" Zotac GeForce RTX 3060 Twin Edge gibt es zum Beispiel schon ab 805 Euro.
Eine MSI RTX 3070 Ti kommt auf 1080 Euro und ist im Moment sogar verfügbar.
Allerdings Asus ROG Strix-Modelle sucht man vergeblich. Ebenfalls immer noch nicht verfügbar sind Konsolen, weder die Xbox Series X noch die PS5.
Eine kleine Überraschung gibt es aber von Microsoft, die neue Xbox Series S, das kleinere Modell, ist verfügbar, zum Listenpreis von nur 299 Euro. Schnäppchen.
Zum Vergleich, vor Corona konnte man mit etwas Glück eine Asus ROG Strix GeForce 2060 unter 400 Euro kaufen.
Denke, werde auf nächstes Jahr warten, da mir die Preise im Moment einfach zu teuer sind.
Was denkt ihr, würdet ihr jetzt eine GPU kaufen oder lieber noch warten?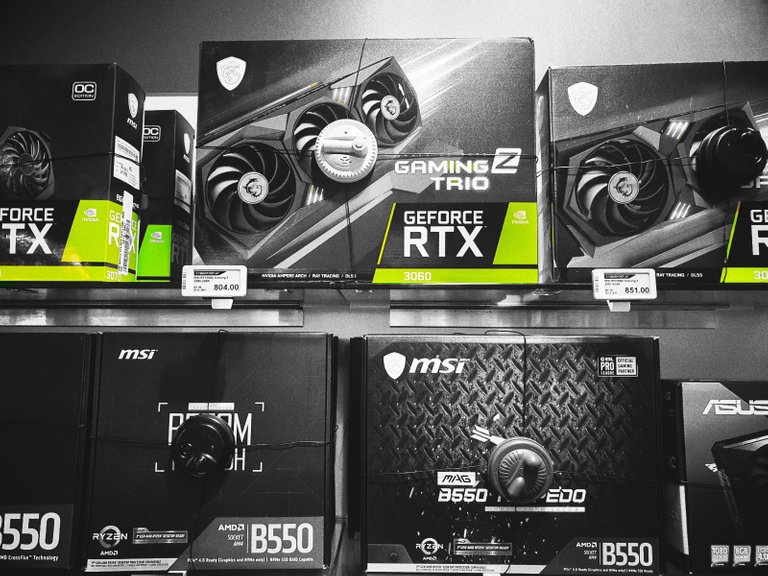 Cyberport Wien
English
I took a quick look around to see what the current situation is with graphics cards.
In general, the situation seems a little better than last year. There are a few GPUs of the current GeForce 30xx generation available, but at horrendous prices.
Graphics cards now cost double or triple what they did before Corona.
For example, a "cheap" Zotac GeForce RTX 3060 Twin Edge is available starting at 805 Euros.
An MSI RTX 3070 Ti comes to 1080 Euro and is even available at the moment.
However, you will look for Asus ROG Strix models in vain. Consoles are still unavailable, neither the Xbox Series X nor the PS5.
However, there is a small surprise from Microsoft, the new Xbox Series S, the smaller model, is available, at a list price of only 299 Euro. Bargain.
For comparison, before Corona you could buy an Asus ROG Strix GeForce 2060 for under EUR 400 with a little luck.
I think I'll wait for next year, since the prices are just too expensive at the moment.
What do you think, would you buy a GPU now or rather wait?
Live your Secrets and Hive Prosper 🍯
xx Viki @vikisecrets