"Best Friend" ist ein dystopischer Kurzfilm, wo Menschen mittels VR/Augmented Reality Freunde simulieren und nach der Technologie süchtig werden.
Eigentlich so, wie in RL jetzt auch schon 😂
Aber das Beste ist, dass die Recharge-Units für die VR im Kurzfilm mittels Bitcoin bezahlt werden 🤩
Allerdings zu einem ziemlich heftigen Preis oder es wird in Zukunft bereits alles in Bits (₿0.000001) berechnet, was wahrscheinlicher ist. Bits ist eine Einheit von Bitcoin, die praktischer für den alltäglichen Einkauf ist.
1 Bit sind 100 Sats bzw. $1, wenn 1 Bitcoin in der Zukunft 1 Million Dollar wert wird.
Was sagt ihr dazu?
Best Friend Short Film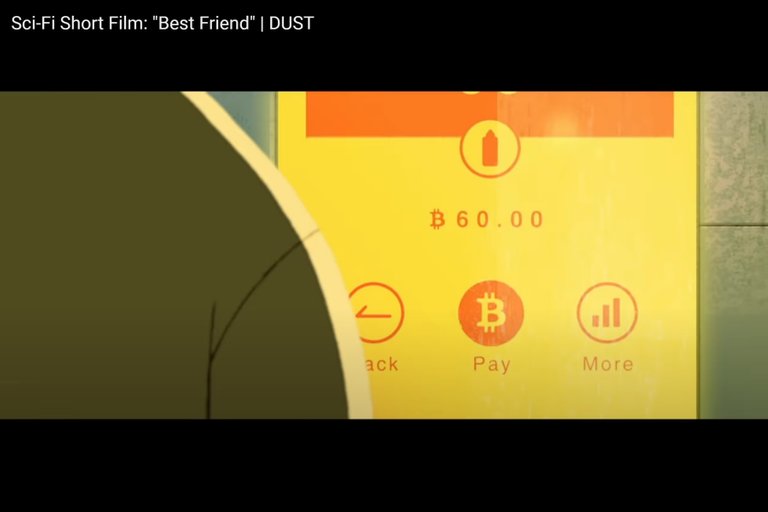 Bitcoin Pay Button in the Sci-Fi Short Film "Best Friend".
Video credit: DUST
English
"Best Friend" is a dystopian short film where people simulate friends using VR/Augmented Reality and become addicted to the technology.
Actually, just like in RL already 😂
But the best part of the short film is that the VR recharge units are paid for in Bitcoin 🤩
However, at a pretty hefty price or more likely in the future everything will already be priced in Bits (₿0.000001), which is a more practical unit of Bitcoin for everyday use.
1 Bit are 100 Sats or $1 if 1 Bitcoin becomes worth $1 million in the future.
How did you like the short film?
Live your Secrets and Hive Prosper 🍯
xx Viki @vikisecrets