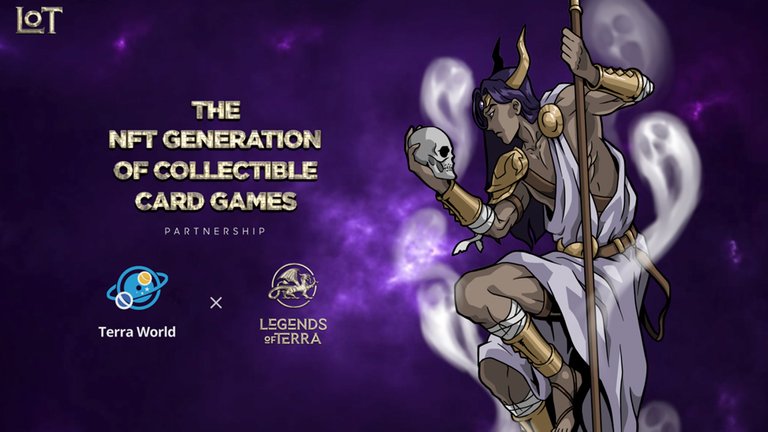 source
The Alpha Pack Sale of Legend of Terra (LOT), which is the first collection of Terra ecosystems (Pick 2 Earn) and One NFT Multi User, will be started on December 27, 2021.
The Alpha Pack Sale of Legend Of Terra will be divided into white list sale and public sale. There is not a lot of sales volume, but it is expected that it will be a plate in the white release stage, but it is already an end of the fried events.
What is Legends of Terra?
Legend of Terra is a game of Magic, Collectible Card Game (CCG), such as Magic, Collectible Card Game (CCG) genre, the most hot trend, the most hot trend in the game ecosystem (P2E), not a player, they are also showing a new concept called Pick 2 Earn, which can benefit from NFT's investment.
Existing P2E is a way that Pick 2 EARNs can support their own players that are expected to increase by NFT owners to enjoy the game directly and to get a compensation for play.
Legend of Terra is still in the development, according to the currently released roadmap, which is expected to release the alpha version in the first quarter of 2022, It looks like.
The card type is largely divided into four rare cards, according to the regular card VS gold card and rare degree. The alpha pack contains a total of 35 kinds of cards, and it contains 5 pieces per pack and guarantees at least one RARE grade card per pack. Information related to each card is scheduled to be introduced in the future.
For those who have not participated in the Whitelist registration event that has been in the existing Legend of Terra, the Collaboration event with the Legend of Terra team will be held. With this event, 50 people winning a first-come-first-served basis can benefit from the following benefits:
Packing up to 5 packs per pack of 70 UST per pack.
This event is held on a first-come-first-served basis and can be exited when the first-come-first-served basis is finished. The rights of this event winner and the deadline are for the Legends of Terra Team.
When Legend of Terra seems to have been watching the Benchmarking Splinterlands, when we watched the experience of the game, the trading card game is the most appropriate genre based on a blockchain, but the game is definitely grown and some user base there is also a limit that you have to take quite a pretty time until you get it.
Therefore, it is not recommended that you participate in the LOT's pack sale. However, due to that the total pack sales are not much, the initial sales volume may be evenly distributed due to the less purchasers per capita, and they can participate as a large burden, and they are interested in I do not think it would be okay to participate.
For more information, please visit the following links.
Homepage: https://playlot.io
Twitter: https://twitter.com/legendsoferra
Discord: https://discord.gg/cwbqcnvp95
Telegram: https://t.me/legendsofterra
Posted Using LeoFinance Beta