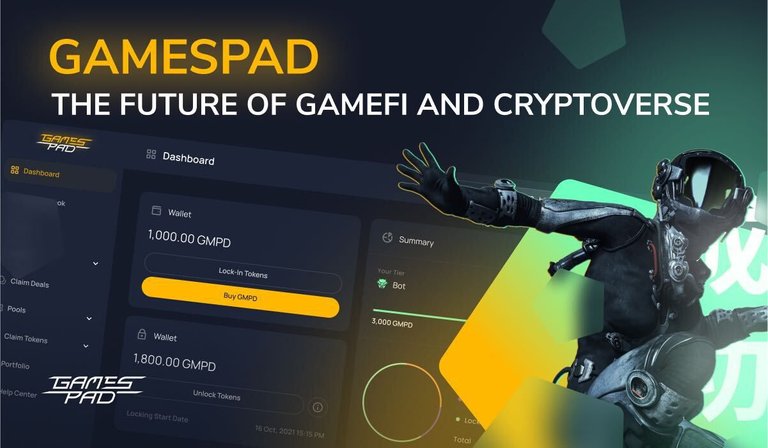 source
A launchpad is a cryptocurrency pre-sale platform, it is a web page or application where we will be able to buy the tokens of new projects before they go out at a low price. The objective of the launchpads is to get financing to all new projects that are seeking to start in the Crypto world, in this way these platforms allow you to invest in those projects to help them carry out their operations and in exchange you give tokens of it at the price of Presale, tokens that usually explode just going on the market if it is a good project.
In this way, projects can be financed decentralized and we can get a lot of profitability with a low investment, since basically we are buying a coin before it goes to the public and at a very low price.
GamesPad is a new Launchpad that offers us new projects related to the gaming ecosystem, NFT and metaverse. Three trends that were leaving huge profits during this last time.
What does GamesPad offer us?
GamesPad brings together all aspects of these three trends and offers us a complete ecosystem formed by a decentralized investment fund, a multi-chain launchpad and a Blockchain video game incubator. A just platform that gives ordinary investors and current the opportunity to invest early in the same projects that invests a gigantic investment fund and under the same terms.
GamesPad will offer us three types of very interesting products:
It will give us the possibility to participate in Igos, Initial Game Offering, initial offer of videogame projects.
They will also offer us the well-known Inos (Initial Nft Offering) initial offer of NFTs. We can access a new product known as IMO, initial offer of metaverse. So we can invert early in Blockchain video games, NFT collections and metaverse projects.
We will also have:
A transparent and decentralized investment fund.
A game incubator with a mentoring system and advice, helping and guiding new projects that want to be launched.
Associations with videogame studies.
An aggregator and Marketplace for fully exclusive NFTS.
A multi-chain liquidity aggregator with which we can generate returns on our assets through different Pools of Liquidity Farmement.
We will have access to a STAKING system and different pools.
They also have their own study to produce NFTS, games and metaverse.
GamesPad is a very complete and different project to others, since this is not just a platform of launches, but it is also a complete ecosystem that helps incubate and do mature all the projects with which it works. It is also going to have multi-chain features, something essential as it will allow us to access multiple Blockchains projects, either Ethereum, BSC, Solana, Polychain and also Cardano. Some of the most used and popular blockchains on the market.
Posted Using LeoFinance Beta