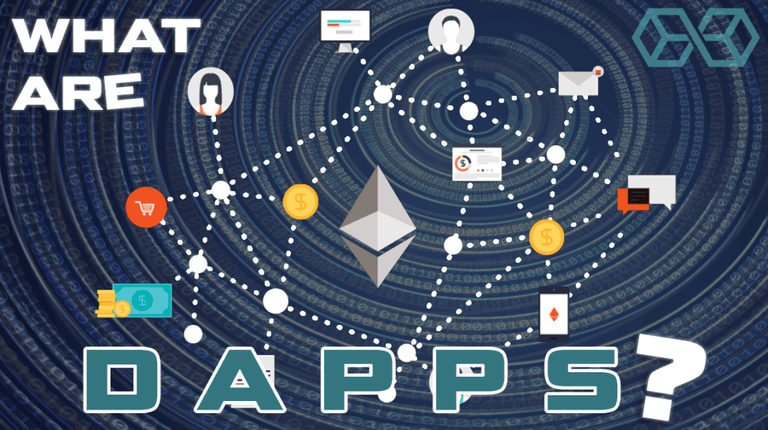 source
Decentralized Applications (DApps) are all those apps that are not being managed by some company, but users can interact with them without problems and through a Blockchain where users have all the power of it where each is a node of The network and can enter it from different devices securely.
For an application to become a DAPPS first must be open source, operate autonomously, be decentralized and public, offer tokens to users as incentives and use a cryptographic algorithm in a standard manner, guarantee fluidity and safe transactions, messaging of Like equal, keep user data safe. For this reason, applications such as Facebbok, Instagram, among others are not DAPPS, but common apps and current.
There are many dapps in the current market, but there are many more with different options. And all of them supervised and managed by users and when operating using the peer-to-peer network ensures our data, distributed security and we can share the information we want.
Working system of a DAPP
As mentioned above, there are certain features that differentiate the DAPPS of the Apps, the DAPPS depends on two aspects mainly: the Blockchain (allowing the application to have the infrastructure of a decentralized network and information storage) and the execution element (allows that the DAPPS can be designed and executed under an established work framework).
The Blockchain of Ethereum is the most used for the development of a DAPPS because it also grants resources for the correct functioning of application, such as memory, storage, processing power, among others. While the execution element used is the Ethereum Virtual Machine and Solidity that the DAPPS run, this can be done thanks to the SMART CONTRACT using SOLIDITY and the EVM executes the start code.
First, a programming language is built where we explain the application and its operation and must be reflected in a Smart Contract or Intelligent Contract where the Agreement is plans between the people involved in the operation and thus verify quickly and fluid in a chain of block In Ethereum Solidity is used for being an official language, but we can use anyone who generates bytecode and that can be executed in Ethereum Virtual Machine as HTML5. In addition, in Smart Contract you have the necessary for the DAPPS to work perfectly.
In addition, the DAPPs operate with a peer-to-peer system (P2P) where the computer network works without a fixed server, therefore, there are no third-party people involved in the verification of transactions and therefore, the transaction rates They are paid through the token of the DAPPS, therefore, this system allows the direct exchange of information.
How can DAPPS developers promote their applications?
There are many ways to promote decentralized applications and in the digital age is much simpler. The simplest forms are:
Generate interest in the DAPPS before being launched: we can use our social networks to show the public the next DAPPS, you can generate interest when you show videos of the DAPPS, show you the interface and its uses, among others, of this way you can make you Users want to use it when it comes out.
Create content, whether you are videos or exhibitions, to present the DAPPS to users, it must be quality and interesting, but true, the last thing that is wanted is to deceive users. Showing the usefulness and benefits of DAPPS.
Promote using a web page, you can create your own website for DAPPS or launch a download page, you can also join other DAPPS developers who believe DAPPS similar to yours and between both power work to attract the public.
Contact Influencers To promote your DAPPS, influencers arrive at the young public and a promotion of them can be very effective, because they can generate interest to their audience, in addition, with good promotion it could be more than enough.
We can take advantage of one of the most interesting activities, such as the Airdrops, which give cryptocurrency to the Interested community, the good thing is that this type of event attracts many users and can be a good opportunity to promote a DAPPS.
Decentralized applications arrived to offer developers to create applications with Blockchain technology, as we could see, there are DAPPS of all types and where the user can have different rewards and there is DAPPS of all kinds for each user, as we can see, but we can find many more like good, of course there are also scams that just want to steal your money, therefore, before investing time and money in a DAPPS, you must first investigate and make sure it is a one DAPPS trusted. We can say that a DAPP is an excellent way to invest and know a little more about Blockchain and cryptocurrency.
Posted Using LeoFinance Beta