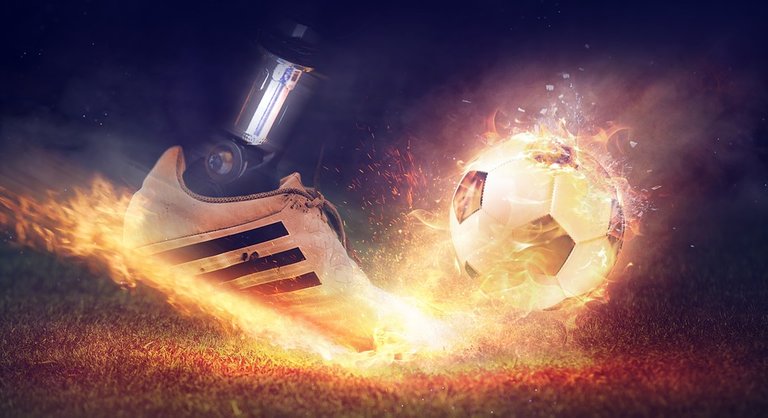 source
I cannot tell why I am now concerned with researches relating to sports. Maybe it's because of my huge SPORTS stake which gives some good value in upvotes to quality #sportstalk posts. Sports is fun and we all know it. I have not been very physically actively involved in sports, though I sparingly give it some leisure time to watch.
My interest of late has been technology adoption in the world of sports. I am an advocate that the sports sector would adopt technologies like blockchain and cryptocurrencies. However, I advocate that caution is needed with Artificial intelligence adoption due to the possibility of displacing human workforce.
While stumbling the banner image used in this post, I had been thinking wide and I decided to google "robot application in sports" where I got a wide range of entries from google. As I went through the links, I remembered that at some point in my life, I so loved Play Station and was so dedicated in building my skills in the game that I had to attempt a state-wide soccer competition.
This article contained most of the very detailed data with video examples that were very intriguing. One of the very interesting entry is the below "Robot Combat League Clip – Axe & Game Over".
It was fun to watch wrestlers use the computer to control their root representatives in a ring in a fight. These are reality games with realtime effects on the players which are filled with emotions and jerks. As I watched , it occurred to me that this may be a widely acceptable application of robots in the wrestling game. I hate to see those punches on humans but would even love to play them with robots.
However, we know that such application as above in the video cannot be applied to sports which requires a variety of body movements and motions in higher speeds that may not be well synced with physical robots. One could argue that with robots in the scene, injuries to players would be much reduced. If that goes, I have a few questions to pen:
What happens to players pay cheque? would they still go home with the weekly "juicy".
Who will earn the bulk of the money, the player or the robot developer?
How then do we quantify skill as robotic control is more of cognitive than psycho-motor?
We all have to come to terms with this truth that tech is sweeping through all sectors and a fast pace. It becomes a more relevant at this time when corona virus pandemic is prohibiting human close contacts. Are we expecting that reality artists would begin to create human demo that could replace actual players but powered by AI using the players' intelligence reports.
I need answers and I hope I can find them here.
Posted Using LeoFinance