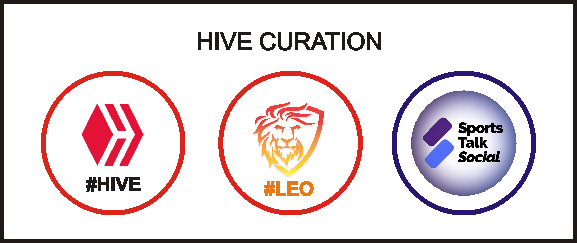 I'm excited that my curation strength on Hive blockchain continues to improve with each passing day. I have resolved to make the most of these bear days by investing into curation rather than dump my Hive for fiat in the market.
With curation, I can draw some more value from my Hive earnings. These curation activities are mostly carried out with the Tribes tokens, specifically, LEO, SPORTS and CHARY. However, only LEO and SPORTS give tangible curation reward while CHARY is basically for charity funding.
Content curation on Hive blockchain involves a user's expression of his level of acceptance/support for a content which he consumes with a "like" in a process known as upvote/downvote. When a content is curated, both the author and the curator share in the rewards on a 50%/50% basis. Besides, curation is also a learning opportunity for the curator.
For my understanding, curation is one of the sweet ways of making money in the Hive blockchain because it affords the curator the opportunity to learn from the array of contents he reads and then earns part of the author's rewards in the process.
Hive tribes also provide curation opportunities with their native tokens which helps the curator to earn additional rewards to HIVE. For example, if a post is created on https://leofinance.io, both the author and the curator would be able to earn HIVE and LEO token after at payout. LEO and all these tokens are exchangeable for HIVE via https://dex.leofinance.io/ or https://hive-engine.com/. Below is my statistical computation of my curation capacities and earnings with HIVE, LEO and SPORTS stake.

From the Table entry above, I hold curation capacities for HIVE (1,603), LEO (24,102 tokens) and SPORTS (16,512,000 tokens) which gives upvote values: $0.028, 5.53 LEO and 12,085 SPORTS at full upvote. I detailed the computations of the daily and weekly curation value with their corresponding ROI for each of the cryptocurrency stakes. The charts below shows a graphic representation of the data. The reduction in upvote worth is due to crypto bearish markets.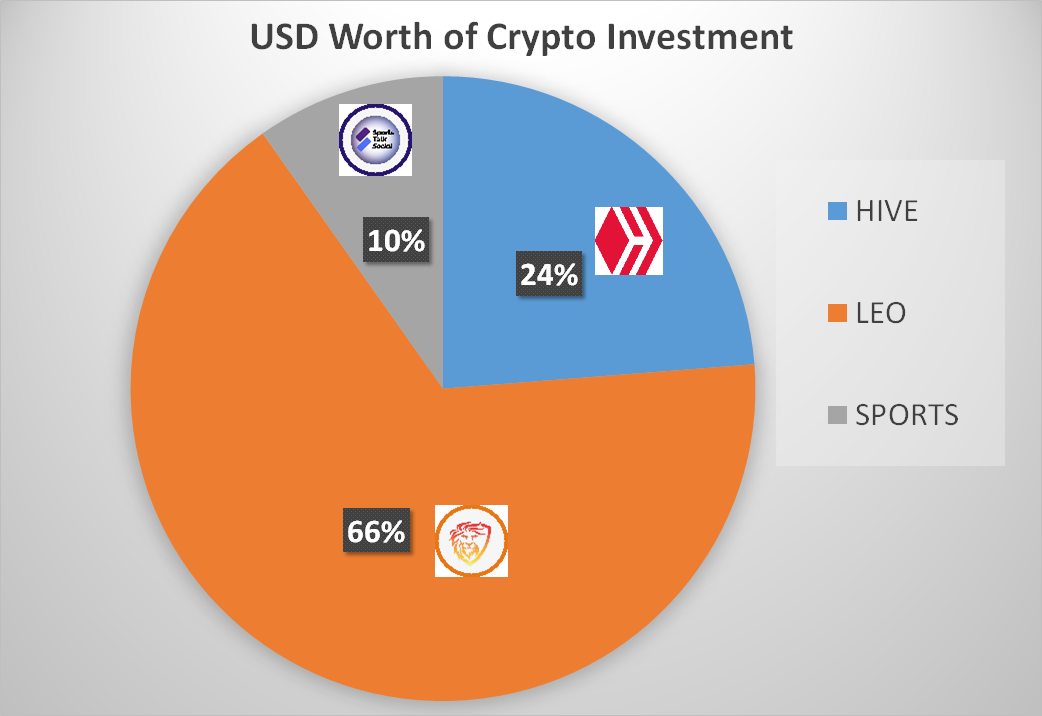 The pie chart above shows that my curation investment has a distribution of 66% for LEO, 24% for HIVE and 10% for SPORTS. While LEO still leads in the investment ration, SPORTS and HIVE are beginning to gain. The distribution of the curation earnings from the above investment for HIVE, LEO and SPORTS is shown in Chart below.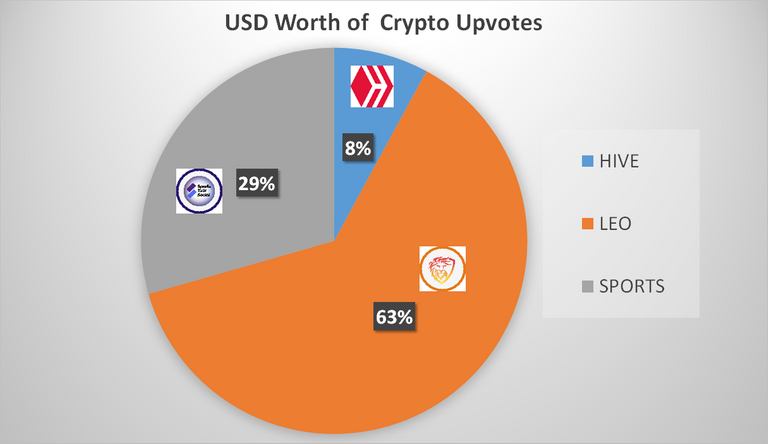 From my curation investments, LEO still tops in earnings with upvote value worth $0.22 in a single vote. This is followed y SPORTS with $0.103 worth of upvote and lastly HIVE with $0.028 upvote worth. This keeps LEO as a top contributor to my total curation rewards with 63%. SPORTS seconds with 29% while HIVE trails with 8%.
Gradually, HIVE and SPORTS are growing to level-up with LEO contributions. A 30:40:30 for HIVE: LEO: SPORTS would be cool. I'm still looking forward to adding more cryptocurrencies to my curation portfolio.
---
All computations and charts are made manually by me using Microsoft Excel 2013. I'll love to engage you in the comments section of this post.
I am consciously sharing blogs on my investment activities in Hive blockchain to help show prospective investors the awesome opportunities already available on Hive Blockchain. Besides, this serves as a reference point top rack my growth within the communities involved.
---
Disclaimer: In all, the above are my personal views about HIVE, LEO and SPORTS tokens that fuels my convictions to invest in the cryptocurrencies. These are not investment advice. Always make your extra research before investing in any cryptocurrency.
Posted Using LeoFinance