It greatly thrills my heart that I made it again to be mentioned in today's statistics on LEofinance in the first 7 days of June, 2020. The report shared yesterday identified that I ranked among the top 10 users that staked and earned LEO in the last 7 days (1st to 7th June).
1,229 LEO Earned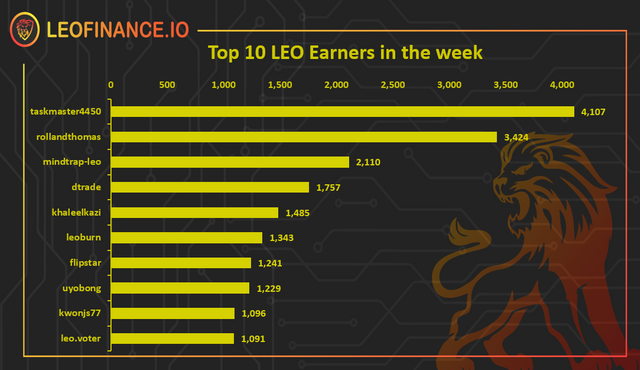 Within the past 7 days, I was able to earn 1,229 LEO tokens from creating posts and making comments on https://leofinance.io/. This amount of LEO was earned from 23 posts and tens of comments (I hope @Dalz would be able to track the top 10 post creators and commentators in the next report).
Being able to create all those Leofinance contents is inspired by my love for the Leofinance community and the readiness to give my quota to its growth. Most of my logs have enumerated my achievements within this community to inspire other Hive users to join us. It's not been in vain as our number of new unique users keep growing by the day.
6,500 LEO Staked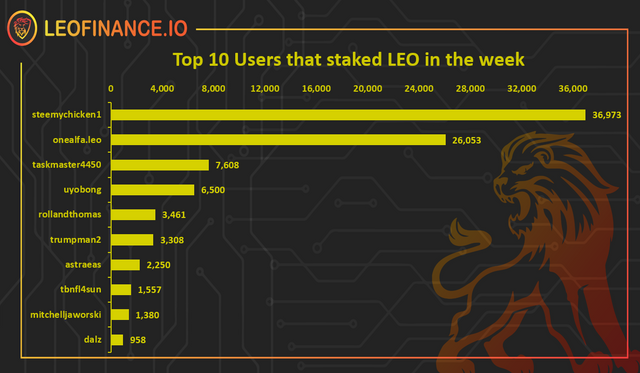 It is also on record that I was able to stake as much as 6500 LEO tokens which ranked as fourth top user that staked LEO. The stake helped me to reach the 19,000 LEO stake mark as reported in this post. It wasn't an easy task to achieve in 7 days but looking at the good it does to the LEO ecosystem as well as the value saved, it was worth the investment. Now, I can give as much as 6 LEO in a full 100% upvote. That's a great achievement for me. That's equivalent to the value an Orca gives on the Hive main chain.
My Investment Sustainability Index
While engaging with @rollandthomas in the report post, I reasoned what I call the "Sustainability Index" of my investment on LEO.
The Sustainability Index is simply a ratio of staked tokens to earned tokens (S:E).
I earned 1,225 and staked 6,500 LEO tokens.
Therefore,my S/E (Stake/Earn) Ratio = 6,500/1229 = 5.3
Every S/E value greater than 1 denotes a healthy investment whereas when less than one indicates that more was taken from the system than it was added.
I'm of the opinion that such index could be computed for investments in a DPoS systems. I hope analysts here would give it a thought and share their opinions.
Meanwhile, I'm glad I made innovated an index in the blockchain investment computations. winks
Calculate your own Investment Sustainability Index for your choice token or crypto and let's see how healthy it is.
It's really been fun all through since when I started sharing contents in the LeoFinance community.

Meanwhile, I'll be glad to curate a fresh #leofinance content published from the https://leofinance.io interface. The post must not be older than mine. Feel free to submit the post link to the comments section of this post and consider adhering to the #posh rule. Already, I have made a couple of guide posts to help you create acceptable leofinance posts seamlessly:

Know the LeoFinance Ecosystem
https://leofinance.io is an online community for crypto & finance content creators, powered by Hive and the LEO token economy.
---
Want to Start Earning Hive and LEO Tokens?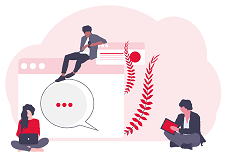 Not got an account yet? Sign up to Hive!
#LeoFinance- A Next-Generation Community for Investors

Join us On Discord --> LeoFinance Discord

Posted Using LeoFinance