Last week, I advocated for the development of standardized indices to check the health of cryptocurrencies. My key propositions are that "Token Stake/Unstake Ratio" and "Token Utility" are solid indices to check if a cryptocurrency built on a Decentralized proof of Stake (DPoS) system is healthy.
I consider these health indices crucial for any investor or proposed investor. It is important that while profitability is important in every investment, the sustainability of such profit must also be maintained. By sustainability, I mean the value given by a system being ale to satisfy the needs of the present without compromising future value.
---
Healthy DPoS Cryptocurrency = Vol. of Staked Tokens/ Vol. Unstaked Tokens > 1
---
LEO tokens is my case study today. Always leveraging the LeoFinance Weekly Stats by @dalz is great way to check on the health of LEO tokens. I wish I could have similar statistics for other cryptocurrencies I invest in.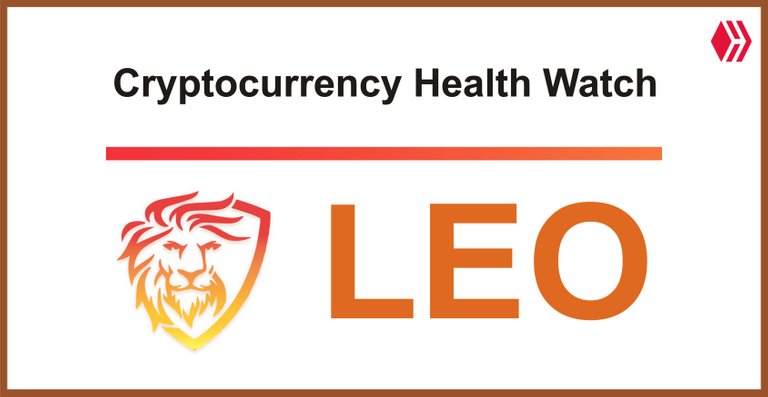 Figure 1
---
The statistics in this LeoFinance report covers June 8th through June 14th, 2020. This was apparently the second week of June. The report detailed: Issued LEO Tokens, Top LEO Earners, Rewards to HP delegators trough the leo.bounties program, Daily stats on tokens staking, Share of tokens staked, Top Users that staked, Unique number of LeoFInance users, Posts/comments activities on the platform, Posting from LeoFinance.io interface and the Price Chart for LEO token.
The first catchy spot on the report was the Daily staked tokens (Figure 2). It was beautiful to see that LEO was staked each of the seven days of the week. The amount accumulated to about 80,000 or more tokens ove the seven days which the report covered.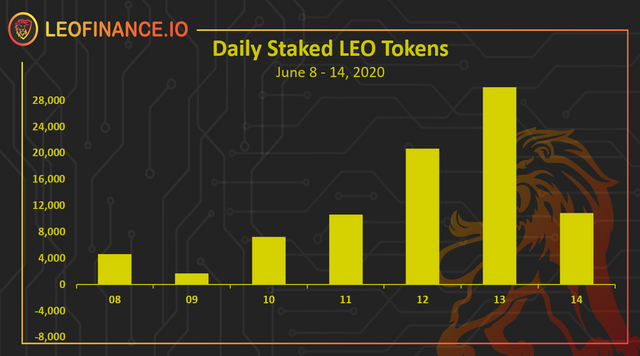 Figure 2
More interesting is the fact that over the seven days (08/06/2020 to 14/06/2020) no single powerdown of LEO tokens occurred. This means that LEO token was 100% healthy in respect to the Token staking ratio. This value surpasses the 82.6% that was evident during the previous week as I fielded in this analysis.
By simple arithmetic,:
Total quantity of LEO tokens staked = 80,000
Total quantity of LEO tokens unstaked = 0
LEO Health Ratio = [LEO Staked/(LEO staked + LEO unstaked)] *100%
LEO Health Ratio = 80,000/(80,000 + 0) * 100%
LEO Health Ratio = 100% = 1
Furthermore the LEO Staked: LEO Unsataked approached infinity.
The implication of the above analysis is that investors that are futuristic about the growth of LEO tokens were 100%. This is evidenced y their willingness to stake the tokens against powering down.
Over the week, we see that LEO sell orders was solidly pegged around 0.2 HIVE, even when buys exceeded. We may say that 0.2 may become the baseline value for LEO tokens. I am hopeful to see LEO go bullish in the coming days. I'll keep pushing my investment until I reach my target 50k LEO Stake mark.
Disclaimer: In all, the above are my personal views about LEO tokens that fuels my convictions to invest in the token. These are not investment advice. Always make your research before investing in any cryptocurrency

Meanwhile, I'll be glad to curate a fresh #leofinance content published from the https://leofinance.io interface. The post must not be older than mine. Feel free to submit the post link to the comments section of this post and consider adhering to the #posh rule. Already, I have made a couple of guide posts to help you create acceptable leofinance posts seamlessly:
Know the LeoFinance Ecosystem
https://leofinance.io is an online community for crypto & finance content creators, powered by Hive and the LEO token economy.
---
Want to Start Earning Hive and LEO Tokens?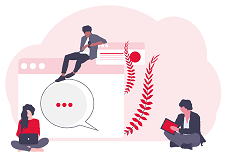 Not got an account yet? Sign up to Hive!
#LeoFinance- A Next-Generation Community for Investors

Join us On Discord --> LeoFinance Discord

Posted Using LeoFinance