Hurrah, it's exciting that little efforts to promote HIVE and Hive projects off the chain is yielding some great attention. I am anticipating the onboarding of a sports organization to hive blockchain. It is linked to this callout I made to Vandrezzer Football Club few days ago. As for Vandrezzer FC, I am soon expecting a response from the management of the football club.
---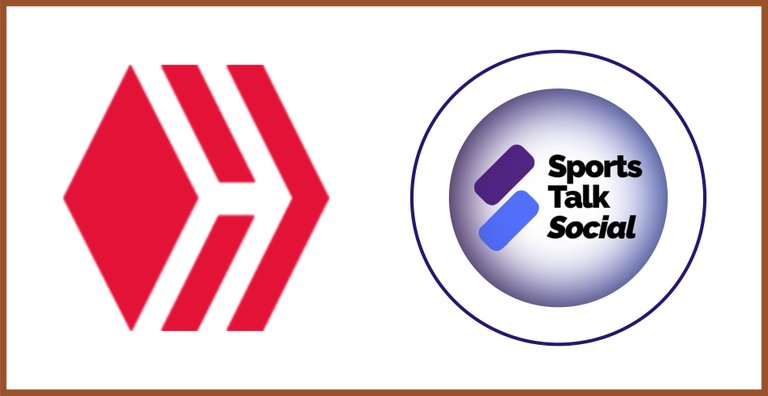 Figure 1
---
Another sports organization braved to ask how they could invest in HIVE and SPORTS tokens. I decided to create this guide post on how SPORTS investment works and the possible investment returns (ROI). The link to this post will be sent to the quarters concerned.
Before I start, it is imperative to note that cryptocurrency prices are very volatile and may not always respond to price predictions of individuals. This is because there are many triggers that affect cryptocurrency prices (that's a talk for another day). The analysis I will e making may change following price fluctuations, but I assume, things remains the way they are for the next 2 weeks.
I will try to use the question format (as was asked) to guide on how to invest in SPORTS token on the Hive blockchain. I'll try to make approximations with +/- 5% alterations.
---
"Assuming we invest about $250 into HIVE, how would we benefit from the investment, remember, sports is our priority."
---
Let's take HIVE Price at $0.25,
$250 will afford 1,000 HIVE.
I'll say keep 100 HIVE in stake for account stability
There is 900 HIVE ready for investment in SPORTS token.
SPORTS prices at Hive-engine fluctuates often. Let's peg the price at 0.000045 HIVE. Currently, the viewable market order has around 2.3 million SPORTS at 0.00004 HIVE (See Figure 2).
700 HIVE will purchase at least 20 million SPORTS tokens at an average price of 0.000045 HIVE
Stake the entire 20 million SPORTS token.
Use staked tokens to curate #sportstalk quality post.
Ideally, that stake should give about 16,000 SPORTS on each vote.
Giving out a total of 160,000 SPORTS daily would be ideal.
That would give a curation reward of say 70,000 SPORTS on the average daily.
Over 7 days, curation rewards would be 490,000 SPORTS.
490k SPORTS is 2.4% of staked tokens (20 million)
Over 42 weeks, about 20 million SPORTS would have been recovered in curation in addition to the original stake.
This means a 100% ROI in 42 weeks.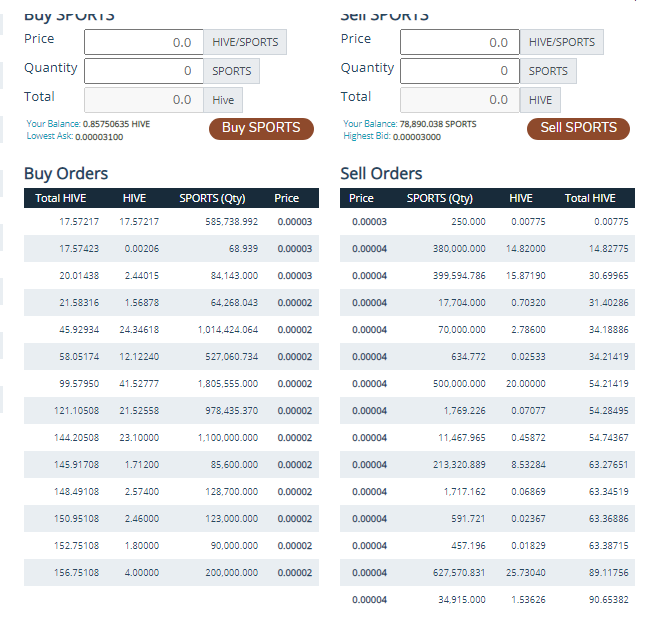 Figure 2
---
Note that SPORTS payout as 50%stake, 50% liquid. However, powerdown is just 6 weeks.
With the above, any sports team that come to HIVE would be able thrive within their first 10 months assuming they just curated with their investment. All the figures are approximation and are taken at lower limits.
---
Disclaimer: In all, the above are my personal views about SPORTS tokens that fuels my convictions to invest in the token. These are not investment advice. Always make your extra research before investing in any cryptocurrency.
---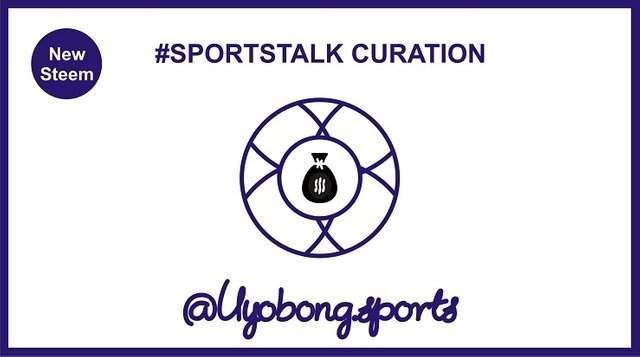 If you have made a recent "quality" #sportstalk post of at least 200 words, drop the link in the comments section of this post and rehive the post for a huge upvote from my 14.4 million stake.
Please consider following @uyobong.sports to be able to see our upcoming give away.
You may also consider delegating SPORTS to @uyobong.sports to enjoy daily Curation.
Posted Using LeoFinance