One of the great ways pf growing one's account on the Hive blockchain is by powering up tokens to enhance curation activities as wells as reduce token liquidation which may lead to dumping. This also applies to the tokens built on the side chain of Hive.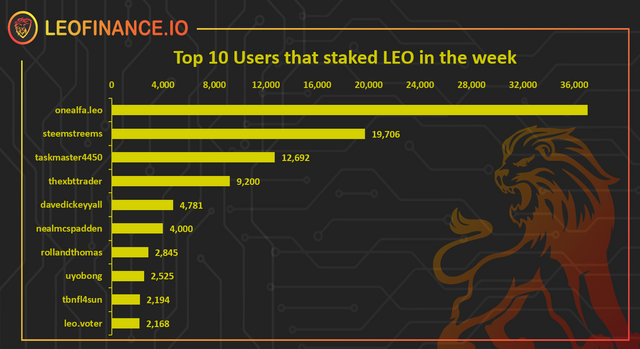 Figure 1
LEO is one of the Hive-engine tokens that wins my trust due to the development around the leoFinance community. An array of development from https://leopedia.io/ which offers cryptocurrency and blockchain education to https://dex.leofinance.io/ which serves as an exchange for Hive-engine tokens and the grand https://hivestats.io/ which serves a dashboard for all users of Hive blockchain with its unparalleled data tracking; is enough convictions of the potential growth of the community and the LEO token.
The LeoFinance community publishes a weekly statistics of the activities and operations that characterize the community. The most recent stat which covered June 8th through June 14th, 2020, again had a record of my account in two top operations within the LeoFinance ecosystem.
Over the week, June 8th through June 14th, 2020, I was able to stake a total of 2,525 LEO tokens which placed me on the 8th position on the list of top users who staked LEO for the week. This accounts for 2.38% of the top total 106,048 LEO tokens that were staked over the week.The below pie chart shows that clearly.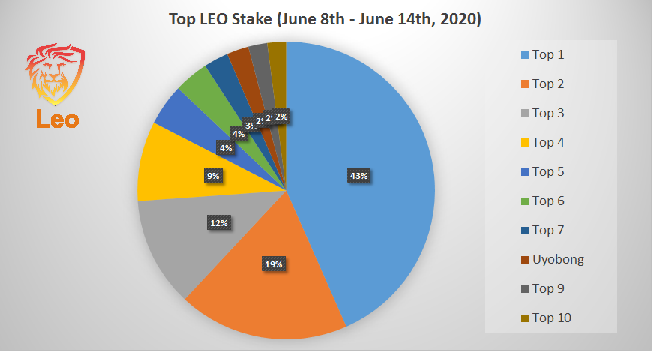 Figure 2
Within the week (June 8th through June 14th, 2020), I was also able to earn 1,550 LEO tokens. This amount accounts for 61.3% of the amount of LEO staked over the same week. It means that about 975 extra tokens were purchased and staked in addition of the tokens earned over the week. My LEO Stake/LEO Easrn ration was therefore 1.63 for the week.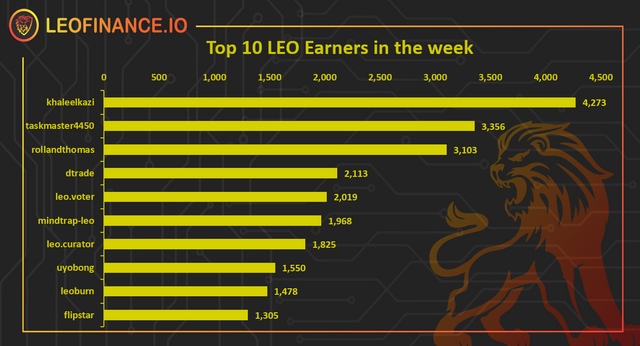 Figure 3
I have been questioned on why I would powerup all LEO tokens earned over a week and even additional tokens. The simple truth is that earning that much comes in response to the responsibility of helping to grow the LEO ecosystem by staking my tokens.
I am willing to do more to grow LEO while storing some more future value for myself. On reaching the target 50,000 LEO stake, I wish to be able to support tangible blockchain projects with $5 worth of upvote through LEO tokens.
---
It would be educative to read this post I made on "Viscous Circle of Poverty" as it relates with DPoS like Hive.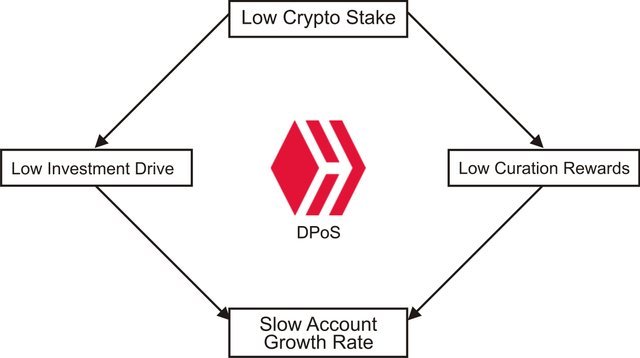 ---
Disclaimer: In all, the above are my personal views about LEO tokens that fuels my convictions to invest in the token. These are not investment advice. Always make your research before investing in any cryptocurrency

Meanwhile, I'll be glad to curate a fresh #leofinance content published from the https://leofinance.io interface. The post must not be older than mine. Feel free to submit the post link to the comments section of this post and consider adhering to the #posh rule. Already, I have made a couple of guide posts to help you create acceptable leofinance posts seamlessly:
Know the LeoFinance Ecosystem
https://leofinance.io is an online community for crypto & finance content creators, powered by Hive and the LEO token economy.
---
Want to Start Earning Hive and LEO Tokens?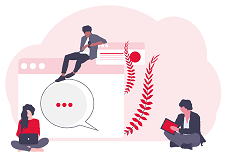 Not got an account yet? Sign up to Hive!
#LeoFinance- A Next-Generation Community for Investors

Join us On Discord --> LeoFinance Discord

Posted Using LeoFinance