Initially I planned to make a post about ape mining club, the new hive game by Marky in case you havent heard about it, and how it's connected with the stem token, which is the token of stemgeeks, again a tribe by Marky.
It seems though @ecoinstant has already made a good post about that so click here if you want to learn more about the game, how it works, the stem burns etc.
To be honest, I never had a thing about blockchain games so I won't be playing it much. However, I know I will throw a few hive everyday to buy stem, with the ultimate goal to sell it for a profit, as long as the price remains at current levels. Just look at this:

And that's in what? Two days only?
Not to mention how Marky already does a good job at keeping inflation low and burns at VERY respectable levels: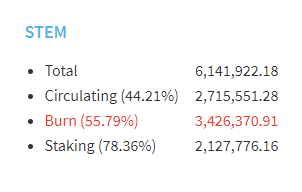 Yeah, some may argue that there is already lots of fomo about stem and a dump is imminent. However, Marky has promised that he plans to release a new game soon that will also involve and probably burn stem. Worst case scenario, price goes down, and I just lower my price buy average 🤷
w
At least, that's how I feel it will go... as always NFA!
Posted Using LeoFinance Beta