Cryptocurrency thefts through hacking of crypto exchanges, DeFi protocols and bridges have only become incessant over the years. The space has recorded series of hack cases, with whooping amounts of money being stolen.
---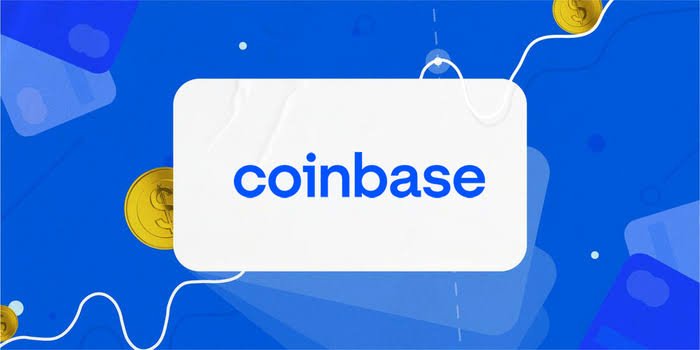 source
---
This happens to be one of the major setbacks and demerits associated with the financial technology. Undoubtedly, the issue of hacking won't cease as we continue to have bad actors in the space and a faulty security system, especially for decentralized finance protocols.
---
Recently, a hacker or could be group of hackers with the name, 'Tree of Alpha' came to the rescue of one of the biggest centralized cryptocurrency exchange, Coinbase. The White hat hacker discovered a vulnerability in the lines of codes of Coinbase's advanced crypto trading platform.
---
Having discovered this vulnerability that would have been exploited by crypto robbers, he sent a message to Brain Armstrong via a tweet. However, the details of the loopholes found weren't shared publicly by the hacker.
---
In a case where this major problem was left uncovered, it would have been a passage for third-party attackers to push all Coinbase's order books to arbitrary prices. That's a problem Coinbase would not have wanted to have. So, if we can have more of these white hat hackers then the space would be crime-free to some extent. Sadly, everyone can't be good guys.
---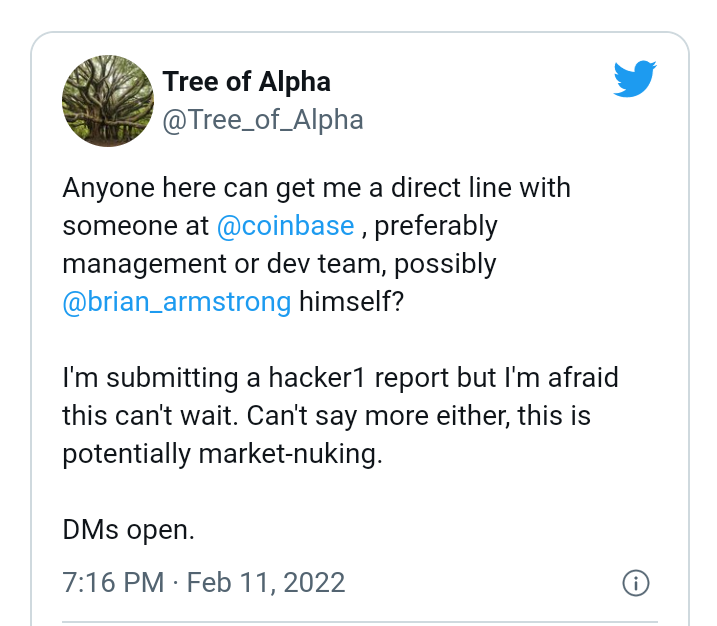 ---
The tweet read thus;
Anyone here can get me a direct line with someone at @coinbase, preferably management or dev team, possibly @brian_armstrong himself? I'm submitting a hacker1 report but I'm afraid this can't wait. Can't say more either, this is potentially market-nuking. DMs open. — Tree of Alpha (@Tree_of_Alpha) February 11, 2022
---
Moments later after the above tweet by Tree of Alpha, Coinbase posted that trading on its Advanced Trading platform would stay suspended due to some technical issues. This then proved that the white hat hacker was right after all. It also tells us that vulnerabilities could always exist irrespective of how care a developer could be.
---
For technical reasons, we are disabling retail advanced trading. This service will continue to be accessible, but new orders cannot be placed at this time. Existing orders are in cancel-only mode. — Coinbase Support (@CoinbaseSupport) February 11, 2022
---
However, Coinbase announced again that the exchange was set for users to carry out full and a more secured retail advance trading.
---
We've re-enabled full service for retail advanced trading. Greatly appreciate the patience and understanding of those retail advanced trading customers using our exciting new platform before the full-public launch. Customer funds remain safe and were not impacted. — Coinbase Support (@CoinbaseSupport) February 11, 2022
---
White Hat Hackers
Think of white hat hackers as hackers with good intentions. This category of hackers study projects in order to uncovered possible loopholes and then collaborate towards the patching of the problem. That was such a noble act by Tree of Alpha and we hope we can have more of such hackers who work for the good of the crypto community.
---
On the other hand, it is important for exchanges to frequently carry out some inspections for bugs and then fix them. That would go a long way in protecting the users. Users too should always apply personal security measures for their assets.
Posted Using LeoFinance Beta