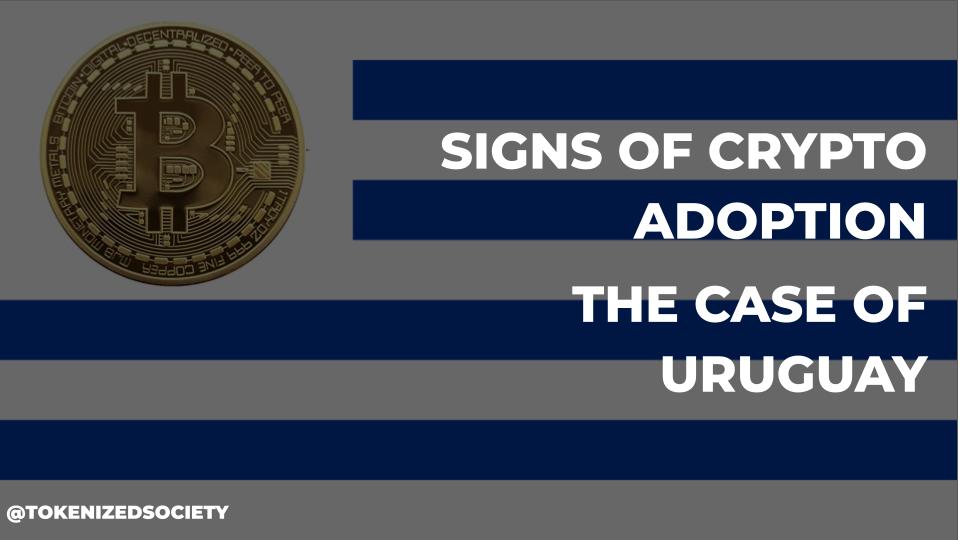 I believe some signs show a country is a suitable candidate for mass crypto adoption. In this article, I will go over some of the signs that explain why Uruguay can be one of those countries.
In a recent article, I talked about the "Bitcoin Law" that's being prepared by the government of Uruguay and how that is a sign that more countries are contemplating and even preparing to incorporate cryptocurrency and blockchain technologies into their systems.
That was not too much of a surprise for me, as I've said before. I've said many times that I believe Uruguay can be the country that will spark the adoption of cryptocurrency and blockchain technology in South America.
Of course, as always, there is a good bit of speculation on my part - this is crypto, after all - but a few signs lead me to believe that Uruguay is an excellent candidate to be at the forefront of crypto adoption in the continent. I want to go over them briefly in this article.
Progressive thinking
This is probably not the most important thing, to be honest, because when it comes down to money, I've seen some very conservative people give up their more sacred principles in times of need but still, I believe that because crypto is so disruptive, so new and, thanks to mainstream media, surrounded by tales of terrorism, money laundering and all sorts of criminal activities, having a progressive mindset can help the case for adoption.
Uruguay is probably one of the most progressive countries in South America and perhaps in all of Latin America. It was the first country in the world to legalize Marijuana back in 2013.
It may be a stretch to believe that the same principle used on a widely researched substance will also be applied to something that most people in the world still struggle to understand but, again, I think it doesn't hurt to have that mindset in the first place.
Good education
Blockchain and crypto are very complex subjects, and that's why education is the key to mass adoption. Despite being a small nation in South America, Uruguay ranks quite well in education being 1st place in the continent and 33rd in the world ranking.
Proper education is crucial to addressing three significant obstacles to crypto adoption: financial literacy, trust and safety.
It is estimated that 15% of the world's Bitcoin supply circulates in Latin America, but, ironically, a recent report showed that 99% of Brazilian and Mexican respondents failed a basic assessment on crypto literacy. Maybe Uruguay has what it takes to change those statistics and help spread crypto over the continent.
Renewable Energy
Last but not least, one of the most controversial topics in crypto at the moment. The old argument that cryptocurrencies require a ton of energy and have a colossal carbon footprint is one of the favourites of the mainstream media.
It doesn't take much to find out that this argument is flawed in many ways, but the cold truth is that it sells, and it's one of the first things that someone that is anti-crypto will throw into a conversation around that subject.
Uruguay is well-positioned in that arena as roughly 98% of electricity is generated from renewable sources. The country's geographical location is ideal for solar, wind and hydropower generation, so it's not a surprise that it is one of the leading nations in wind energy production.
One possible barrier here is every cost. The average price per kW is around 0.2 USD which is high compared to neighbouring countries, but the country has been investing heavily in more efficient ways to generate energy, so maybe we will see that price decrease.
Final thoughts
Progressive thinking, education and access to clean energy are, in my opinion, some important signs that a nation is a good candidate for crypto adoption. I used the Uruguay example here because it's a country I recently talked about, but I believe a similar analysis could be done for other countries.
While these are not the only factors, I think they are important ones because crypto adoption is a social phenomenon as much as a technological and economical one, which is something that some people tend to forget.
Posted Using LeoFinance Beta