Sometimes going against the narrative can be tough especially when it is completely wrong.
Have you heard of this thing called inflation? This is some scary stuff because it is highway robbery. And now, with all the money printing by the Federal Reserve and others, we are going to see hyperinflation.
There is only one problem with that narrative: it is false. Money printing is only one factor in the inflationary argument and really not a large one. In fact, supply is often a far bigger factor when prices go up. We see this quite often in energy and food.
Speaking of that, did you know that central banks "printed" $23 trillion in the decade of the 2010s? This does not even account for the negative interest rates that the ECB implemented in 2014. Essentially, we saw stimulus on steroids during that decade.
So what happened? Naturally we have to see inflation going through the roof. The mantra is that money printing means we will have too much chasing not enough goods and services.
If we take a look at the GSCI, we see how the global economy is viewed through commodities. This index includes everything from gold to silver to orange juice and coffee. It even includes volatility for good measure.
This is what the last decade looked like: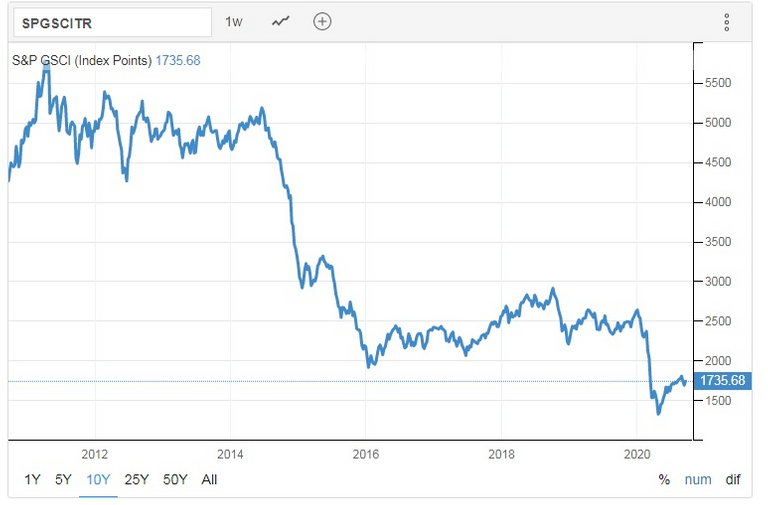 Notice we are off 60% from 2011. The index was flat even during the Federal Reserve's money printing through 2014. Of course, then it collapsed led by the collapse in oil prices.
The last leg down is, of course, the implosion of the economy due to the lockdowns with COVID-19. We see a bounce from the lows when oil contracts actually went negative. Notice the bounce back is not that strong in spite of lumber prices raging to record highs.
The GSCI is now lower than both the commodity crash of 2014-2016 AND the Great Recession in 2009. Seeing lower lows is a sign of a declining market.
Commodities are still at the core of all we do. Food, energy, and raw materials are all contained in this index. The idea that we are rapidly entering a period of high inflation is out of touch with what is truly taking place.
Trends that happen over extended periods of time take along time to reverse. If inflation is such a problem, in spite of all this money printing, how come things are actually slowing down.
Here is the Federal Reserves velocity of money. This is vital to an economy since money flowing through the economy stimulates output.

As we can see, much like interest rates, the downtrend since the early 1980s is evident. Money is slowing down to almost a standstill. If inflation was a factor, the velocity of money would be increasing as the transactions would moon as a buying frenzy took over due to all the money printing.
Quite frankly, we have not seen that happen in four decades and it will not start anytime soon.
There is one other important point to add to this from Investopedia:
MZM, or money zero maturity, is a measure that includes financial assets with zero maturity and that are immediately redeemable at par. The Federal Reserve relies heavily on MZM data because its velocity is a proven indicator of inflation.
Their own chart even shows that inflation is non-existent. Of course, the Fed has no idea why that is in spite of all the money printing that took place.
Maybe they would have some clue if they understood the big elephant in the room: technology.
---
If you found this article informative, please give an upvote and rehive.

gif by @doze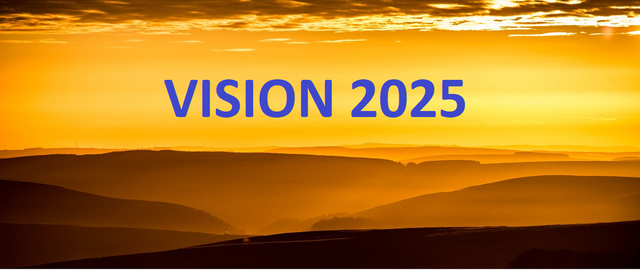 Posted Using LeoFinance Beta